An innovative solution to take people's temperatures in public spaces
Detecting a person with a high temperature who could be carrying Covid-19 isn't as easy as it may seem, especially in a crowd. Yet that's what public health authorities want to do in countries around the world. A quick and reliable solution may well come from Scotland, where Thales is testing a system combining thermal imagers with artificial intelligence and producing some very promising results.
Thales is conducting a feasibility study with the NHS Scotland (National Health Service) for a new system to detect individuals with high temperatures, whether they're on their own or in the middle of a crowd. The trial is being conducted at the emergency department of the Queen Elizabeth University Hospital in Glasgow.
The initial phase has involved studying the possibility of using a thermal imaging system coupled with AI to detect patients admitted to the emergency department with a high temperature. Thales, whose Glasgow site is right next door to the hospital, is providing the thermal imagers, the data analytics system and expertise in machine learning algorithms. These algorithms work from a basic temperature measurement to compile a complete thermal picture of the person's face to assist with triage. 
This first phase was performed over a four-week period with around 100 patients — a relatively small sample, admittedly, but big enough to show some interesting correlations and confirm the validity of the concept. The trial could now be extended to a much broader population of patients. 
Fast, accurate and easy to use
"It has been a really good experience working with the Queen Elizabeth University Hospital," says Willie Alexander, Technical Director for Thales Optronics. "With their medical knowledge and our technical expertise, we want to ensure a solution that is fit for purpose, medically grounded and practical to use and maintain. It has been a fantastic demonstration of complementary skill sets brought together to fight a common cause. It's as easy as setting up a webcam and firing up an app. We're just using commercially available cameras — the real magic happens in the software."
"Most existing solutions are based on industrial systems and they're not designed for medical uses," he continues. "They can only scan one face at a time, they're less accurate, and they need to be calibrated and operated by specialist technicians. With our system, we can scan entire groups of people at the same time and focus on the parts of the face with the same temperature as an ear thermometer, which is the standard equipment for healthcare professionals. And the solution uses machine learning, so the more patients we work with the better the model gets."
If the promising initial results of this trial are confirmed, the solution could be used in other sensitive public spaces where groups of individuals need to have their temperatures taken quickly and reliably, such as border areas, airports and ferry ports. And because it's entirely contactless and none of the data is retained, the method is reassuring for both the testers and the people being tested.
From the start of the pandemic, Thales teams around the world have been rolling up their sleeves to put their skills to work in the battle against Covid-19. In the UK, they've been working with the NHS to test drones for delivering medical equipment to remote Scottish islands, and developing ventilators for hospitals. 
 
Measuring people's temperatures accurately is vitally important for medical teams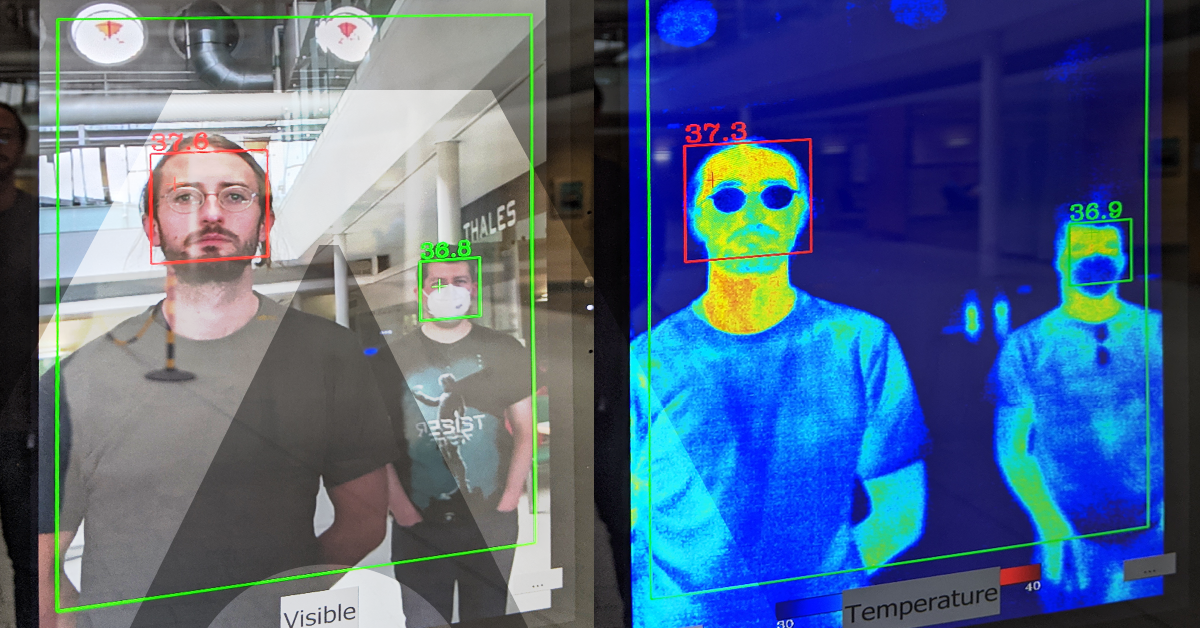 Current systems are accurate to between +/–0.5°C and +/–0.3°C. The solution tested in Glasgow reduces this margin of error to +/–0.3°C and even +/–0.1°C, which cuts the number of false positives (and false negatives) by a factor of 2.5.