How digital is transforming today's trains
An old school train chugs through the scenic landscape of the Ore Mountains in central Europe. But instead of transporting children to classes, it's being used to develop and educate a whole new generation of train operators. The objective: transforming the current generation of trains with today's technologies for improved passenger journeys and more efficient and profitable rail systems.
Dubbed "Lucy", the train is a rolling laboratory that Thales uses to test and validate technology in co-development with customers. Operating on a dedicated 22-kilometre test track outside Annaberg-Buchholz, close to Chemnitz, Germany, the prototype is designed to prove that the latest innovations in rail technology extend the life cycle of today's trains and optimise their operations.
"Lucy allows us to demonstrate to operators that their rolling stock can be upgraded with new technologies to stay in use," says Kai Taylor, Thales Marketing & Communications Director, Main Line Rail Signalling. These innovations include leading edge sensors for position detection and train integrity, as well as video analytics. At first they will be used to support drivers, but eventually they will lead to real train autonomy, which will benefit both drivers and travellers.
Whilst automated, driverless metros are already operating in urban areas, taking train autonomy to the next level means applying it to mainline freight and passenger traffic. Automation means, for example, that the next generation of trains will be able to locate themselves in their environment and interact with other train traffic without human assistance. They will have the ability to detect and manage, on their own, all elements of their environment, orchestrated by a connected traffic management system.
Boosting train performance and autonomy with digital
"The transition toward train autonomy is accelerating," says Kai Taylor, Thales Marketing & Communications Director, Main Line Rail Signalling. "And the reason for that can be summed up in one word: digitalisation."
In the meantime, remote control and more autonomy will make life easier for today's train drivers, allowing them to take more breaks, for instance, whilst automation keeps the system running. Users will benefit from fewer delays and safer, smoother travels.
Lucy has already been used in a remote test drive in Schlettau, Germany. Thales provided control and safety systems for a 5G project with Vodafone, including installation of the test environment and sensors, along with a remote control system for the train in cooperation with the German Aerospace Centre (DLR) and train positioning and control specialist Railergy.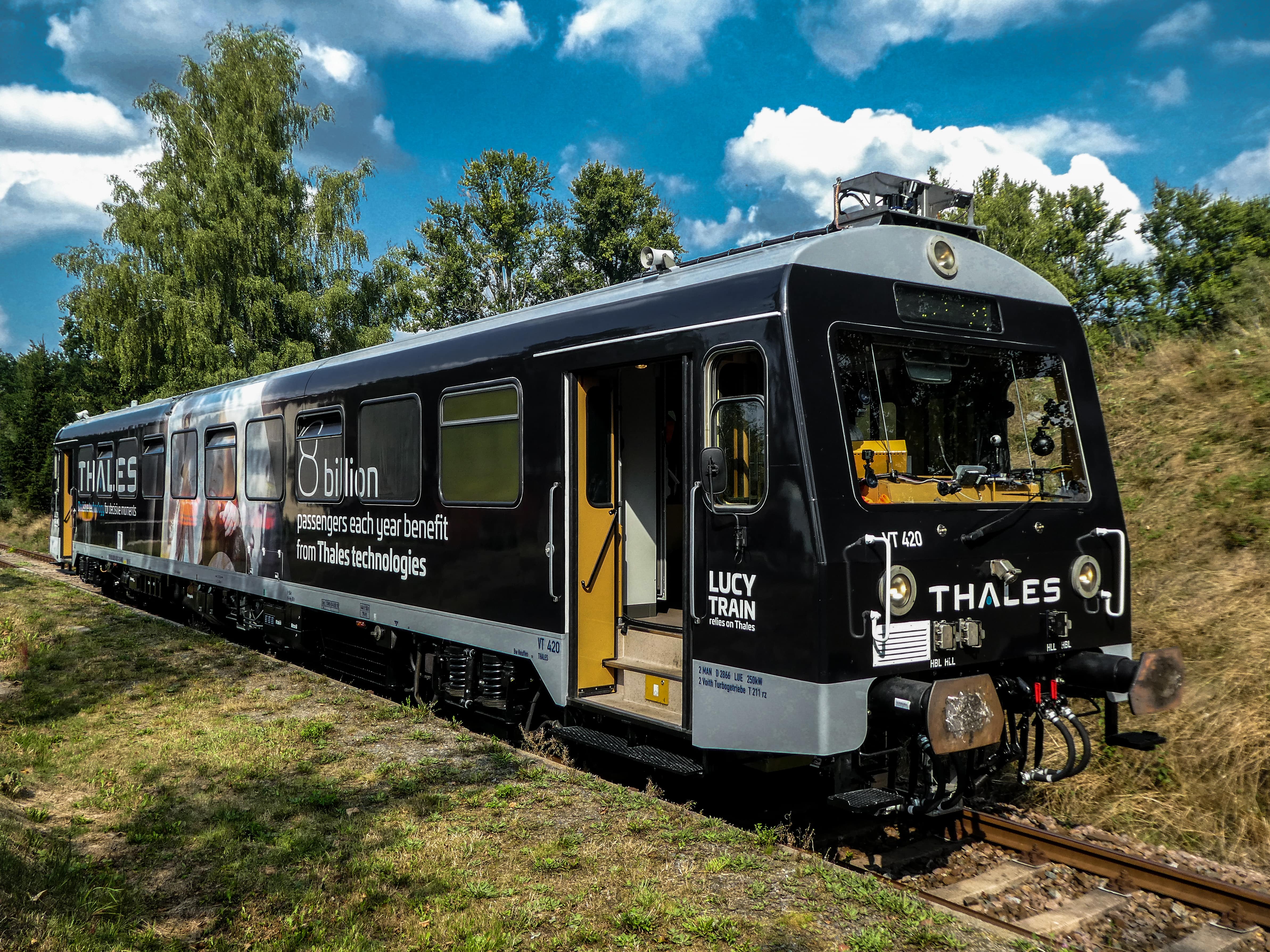 Lucy incorporates technologies that are key within the Thales group, and which represent ways to achieve real train autonomy, such as artificial intelligence, big data, connectivity, the internet of things  – linking trains to intelligent railway switches – and built-in cybersecurity. These also include sensors for obstacle detection from the defence domain, as well as safe and precise satellite positioning that derives from the fields of space and avionics.
All these technologies form the basis of Thales's ground and air transportation expertise, which enables it to provide efficient, safe and reliable travel. Taken together, they will provide trains with true autonomy for safe and efficient operations — to the benefit of both passengers, freight transporters and rail operators.
Learn more about our solutions in