Thales welcomes Greece's decision to acquire six Rafale and three Belh@rra® frigates
The Greek Navy will receive two Belh@rra® type frigates in 2025 and a third in 2026, becoming the first export customer to select the new defence and intervention frigate (FDI) built by French industry.
The frigates will be equipped with the Sea Fire radar in the first export success for this new digital radar system.
The contract extends a long-standing partnership with the Greek armed forces.
Thales welcomes Greece's decision to acquire the Belh@rra® export variant of Naval Group's FDI defence and intervention frigate for the Hellenic Armed Forces. A firm order for three frigates, with another one on option, has been signed by the Greek authorities.
Designed to conduct a broad range of naval missions and to adapt to new technology and changes in the operational context, Greece's Belh@rra® frigates will be equipped with a complete set of primary sensors developed by Thales and integrated with the warship's combat system. 
Thales will provide its Sea Fire radar, a fully solid-state multifunction radar with a fixed, four-panel antenna that simultaneously performs long-range air and surface surveillance as well as guidance for anti-air missiles. This is the first export success for the Sea Fire radar, which is designed to deliver outstanding performance in high-intensity combat situations. The frigates will also be equipped with an IFF (Identification Friend or Foe) solution and fire control radar. 
In addition, Greece's FDI frigates will rely on a complete Thales sonar suite comprising the Kingklip MK2 hull-mounted sonar and the Captas-4 Compact towed-array sonar, as well as a digital electronic warfare suite and a full range of integrated naval communication systems to guarantee interoperability and seamless connectivity for the frigates and their crews.
The contract will sustain employment at Thales's industrial facilities, particularly in France, the Netherlands, Belgium, Germany and Greece.
 
"Thales thanks the Greek authorities for the trust they have placed in us by selecting our state-of-the-art naval systems. The new contract further strengthens the strategic ties between Greece and France." Patrice Caine, Chairman & Chief Executive Officer, Thales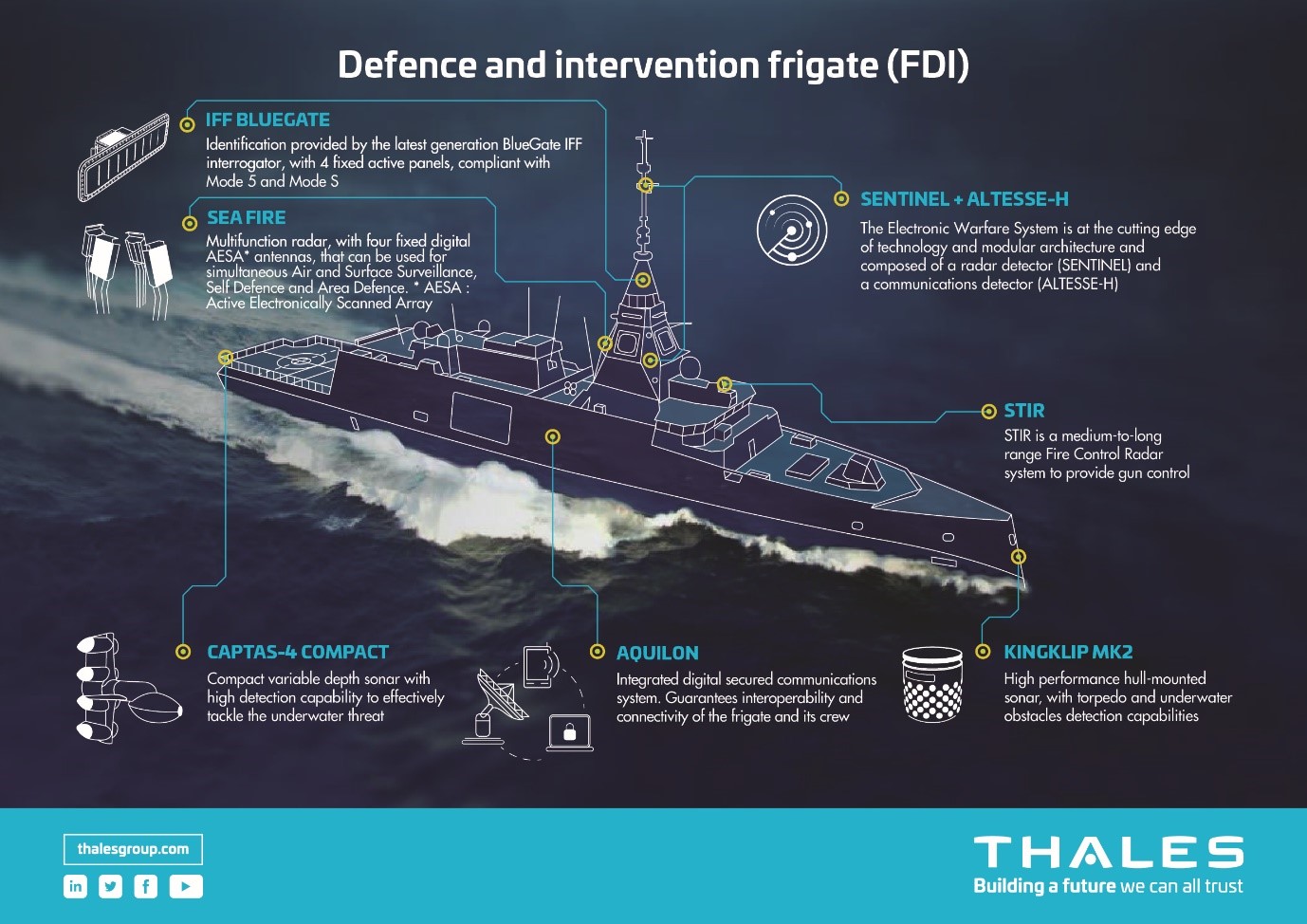 About Thales 
Thales (Euronext Paris: Thales (Euronext Paris: HO) is a global high technology leader investing in digital and "deep tech" innovations –connectivity, big data, artificial intelligence, cybersecurity and quantum technology – to build a future we can all trust, which is vital to the development of our societies. The company provides solutions, services and products that help its customers –businesses, organisations and states – in the defence, aeronautics, space, transportation and digital identity and security markets to fulfil their critical missions, by placing humans at the heart of the decision-making process. 
Thales has 81,000 employees in 68 countries. In 2021 the Group generated sales of €16.2 billion.
Thales in Greece
Thales has been active in Greece for 45 years, expanding its historical presence in defence to serve the air traffic control, transport and space markets.
The Group supports an ecosystem of local industry partners in development projects for Greece and is an active member of industry organisations including SEV (Hellenic Federation of Enterprises), HASDIG (Hellenic Aerospace & Defence Industries Group) and EVIDITE (Greek Space Association). Thales is also an accredited supplier of defence systems to the Greek Ministry of Defence.