The Vendée Globe: single-handed, but not alone…
The skippers taking part in the extraordinary adventure that is the Vendée Globe race can count on Thales technologies to keep them safe in the extreme and solitary conditions they have to face, out in the middle of the ocean for weeks on end…
All of the IMOCA  Class vessels involved in this legendary single-handed round-the-world sailing race, non-stop and without assistance, have a secret weapon at their disposal: Thales's cutting-edge VesseLINK communications system, connected to the Iridium Certus satellite network.
Thanks to this system, the skippers enjoy non-stop connectivity from sea to land wherever they may be on the world's oceans, enabling them to share calls, text messages, photos and videos.
"When you are 5,000 nautical miles from the coast, it is no longer possible to use a GSM mobile network," says Antoine Mermod, President of IMOCA. "The only solution to communicate with land is through satellites." Hence the use of the VesseLINK system and the Iridium Certus  network, within the framework of a partnership between IMOCA, Iridium and Thales.
Mermod adds: "We install an antenna on the boats to send and receive messages. The signal goes from satellite to satellite, before ending up at a land station in Arizona; it is then injected into the Internet network to route the information on to the final recipient."
A core system of vital importance
The device provides valuable – and in some instances, essential – assistance in the extreme weather conditions that the Vendée Globe skippers have to face. And this 9th edition of the race has once again proved to be exhilarating, with its fair share of boats withdrawing, being involved in collisions and even capsizing (see the story of Kevin Escoffier's rescue below).
"When you set off on the Vendée Globe, knowing that you will be cut off from the world for almost three months, it is important to have a communication system that works perfectly," skipper Jérémie Beyou explained before the start of the race. "You need it in order to stay safe, to communicate and to get weather forecasts; the system is therefore essential."
Brian Aziz, one of the system designers at Thales, describes the process: "We spent a lot of time talking to the system's users, in order to find out what they needed, to understand this unique environment, and to develop a reliable, user-friendly system that works, regardless of the elements, in hot or cold weather and in calm or rough waters. At the end of the day, I think it's safe to safe that we have designed the most sophisticated L-band (broad band) solution on the market today."
Like his fellow competitors, Jérémie Beyou also uses his onboard system to share photos and videos, and to speak to both his fans and to the media covering the race. "It's also a way of staying in touch with family and friends – the Vendée Globe is a long race, and there are times when you need to talk to somebody," he acknowledges. "And of course it's even better when you the connection is good, the sound is of a high quality and you're able to recognise your children's voices. That is what this technology provides."  
Watching from space
More than 100 satellites are closely monitoring the Vendée Globe skippers' circumnavigation of the world, enabling icebergs to be located well in advance, communication with those on land to be maintained and, sometimes, lives to be saved!
On 30 November Kevin Escoffier's boat was split in two by huge waves. He just had time to put on his special survival suit, to trigger an emergency beacon, and to send a WhatsApp message through the boat's
VesseLINK system
, before boarding his lifeboat.
A few minutes later, Galileo satellites detected Kevin's distress signal. Three minutes after that the signal was detected by the MEOLUT Next ground station in France, and was rerouted to the CNES (National Space Research Centre) control centre. Eleven hours later, Kevin was rescued, safe and sound, by rival skipper Jean Le Cam, nicknamed "King Jean".
Proof once again – if proof was needed – of how important space-based technologies are!
Follow the race live, with videos sent by the skippers via Thales VesseLINK.
[1]
IMOCA (International Monohull Open Class Association) was founded in 1991 to manage the Open 60 class, i.e. monohulls measuring 60 feet (18.28m), with a draught of 4.5m. These extremely fast monohulls are made from composite materials. Despite being very light, they can withstand the harshest of conditions at sea, and are mainly geared towards single- and double-handed ocean races such as the Route du Rhum and the Vendée Globe.
[2] 
The Iridium NEXT constellation is made up of 66 Low Earth Orbit satellites built under Thales Alenia Space prime contractorship.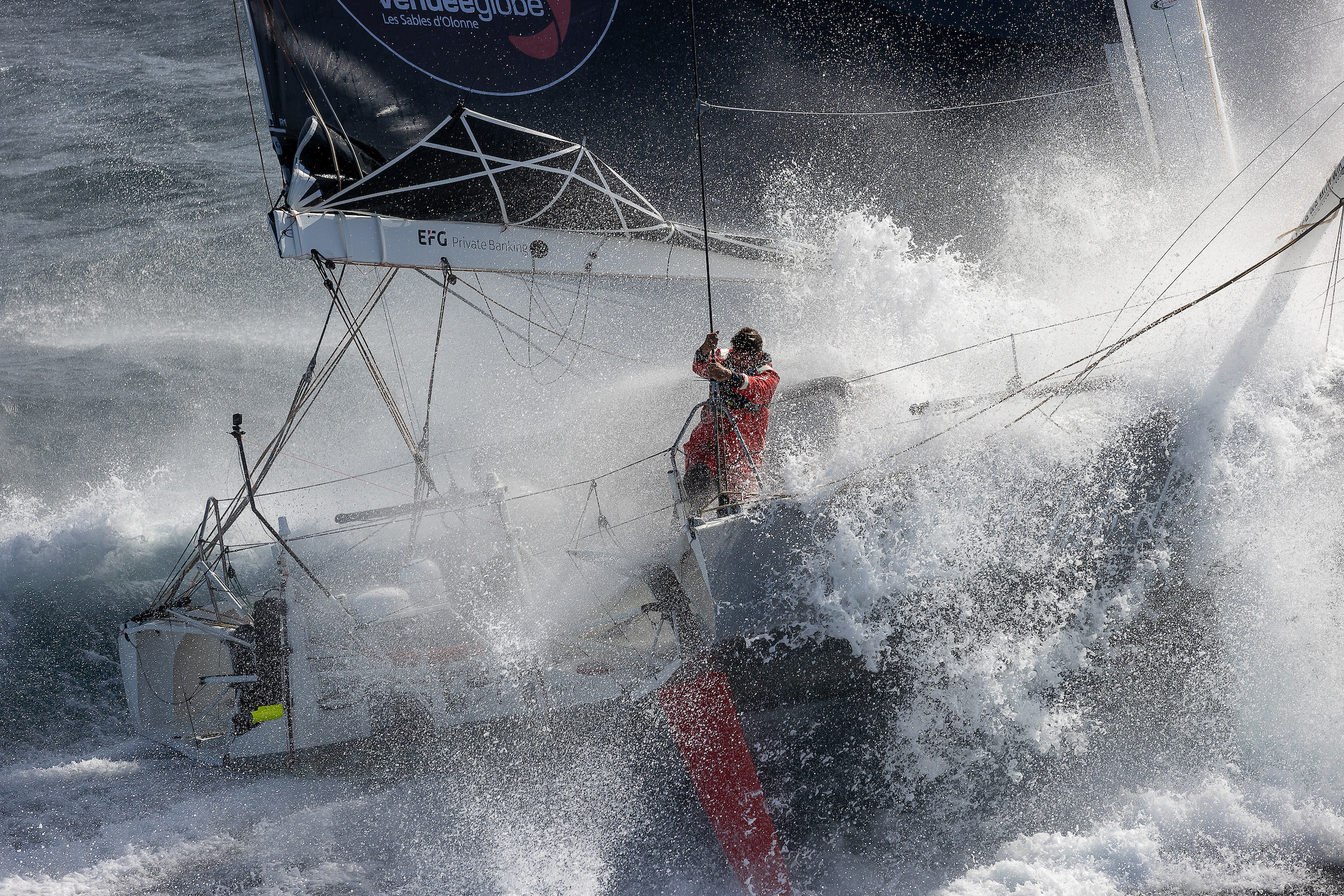 © Jean-Marie LIOT
© Jean-Marie LIOT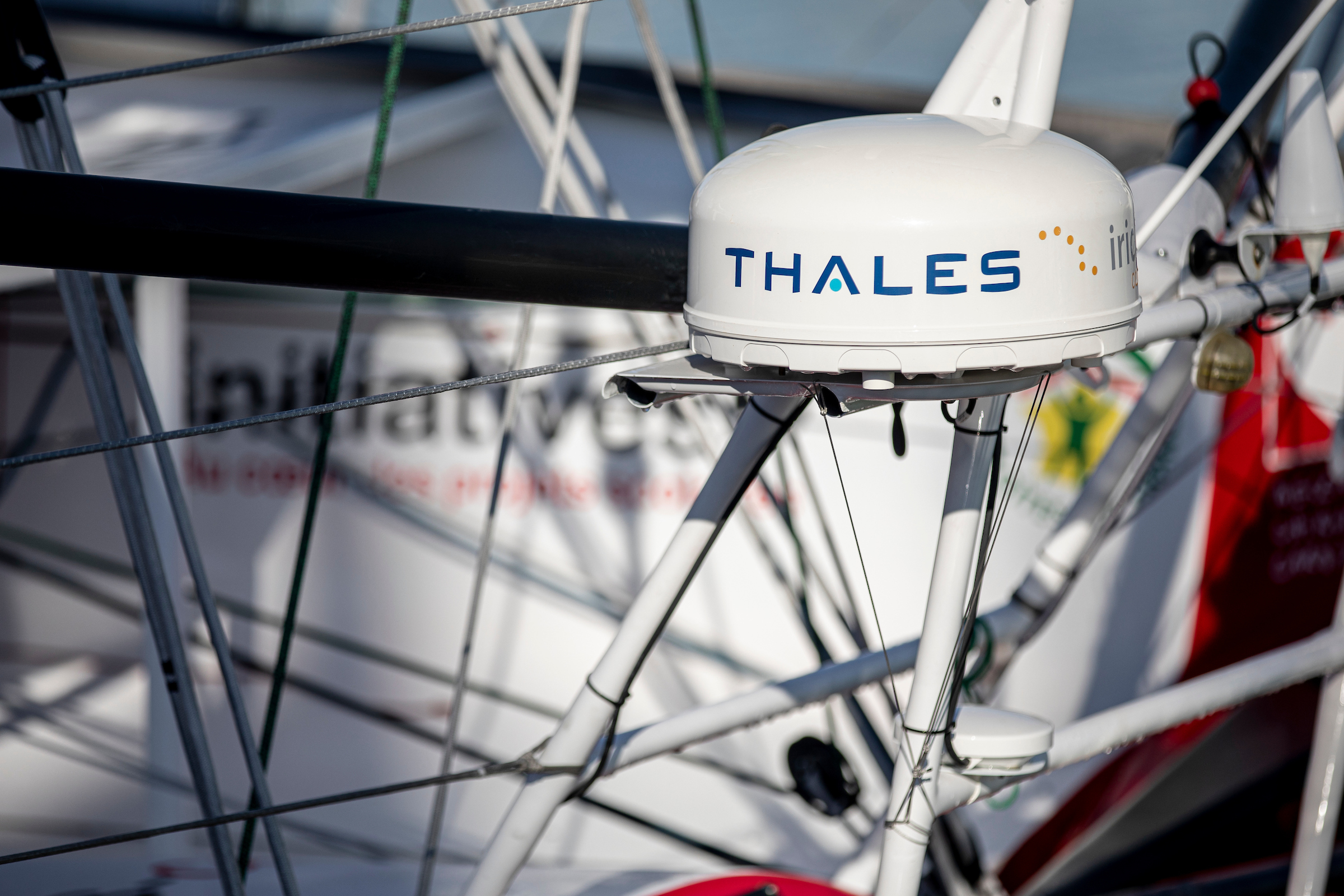 © Eloi Stichelbaut-polaRYSE/IMOCA