How Thales puts its industrial expertise at the service of regional economic development
As a major company, Thales is committed to contributing to the vitality of the regions where it operates, and has implemented several initiatives to achieve this objective. Focus on one of the initiatives in France that is putting the expertise of Group volunteers at the service of start-ups and SMEs.
It's March 2021, and Benjamin Taunay, an Optical Engineer working for Thales in Saint-Héand in the south of France, is taking stock. "I was a decade or so into my career, and I was looking for a boost," he explains. He is happy at Thales, but is looking for an opportunity where – temporarily - he can discover new working methods. He knows that his experience and know-how could be of use to other local actors, in a region where he is very active.
A few kilometres from Saint-Héand, QiOVA, an innovative high-tech company specialising in laser marking, is at a crossroads in its development. Sébastien Landon, CTO and one of the founders of the company, is enthusiastic but also a little anxious. "We had raised €1.3 million in funds which would enable us to evolve from a design office model towards the manufacture and supply of industrial equipment based on our VULQ1™ technology with a dedicated site. To lay the first bricks of this industrialisation, create a management team and launch a new product, we needed to surround ourselves with senior and experienced profiles, but this type of recruitment is never easy."
Benjamin and Sébastien know each other well. They studied together at the SupOptique school, and remained friends when their career paths led them to the same region of France. Aware of the needs of QiOVA, Benjamin wondered if a solution existed that would enable him to contribute to the development of this company. "I met with my local HR manager at Saint-Héand who was very understanding and encouraging. He introduced me to the Pass'Compétences scheme, and afterwards, everything happened very quickly."
An innovative cooperation tool
What exactly is the Pass'Compétences scheme? "It is an innovative CSR tool that promotes cooperation between large companies and smaller actors," explains Francine Pierre, in charge of mediation between large and small companies in the Thales territorial industrial ecosystems at Géris. "In concrete terms, it's a device that enables experienced employees at large companies to perform temporary missions at SMEs or ETIs, to carry out structuring projects for the development of the company." 
Together, Francine, Benjamin and Sébastien defined the contours of Benjamin's mission at QiOVA and the objectives to be achieved, as well as the duration of the mission and how it would be financed. In general, the missions last 18 months, and Thales re-invoices 60% of the salary of the person made available. 
Qiova picked up the Innovation prize at Laser World of Photonics 2022 Munich 
At QiOVA, Benjamin was in the heat of the action, and the experience provided him with a new career perspective at Thales. "For me it was a huge difference. I went from a multinational of 80,000 people – 300 at the Saint-Héand site – to a four-person start-up. This meant multitasking and being flexible, and being able to act with the resources at hand."
« I felt very useful, and fully involved in the development of QiOVA. I had experience that I had acquired in a large group, and QiOVA had needs that corresponded to what I could offer. »
Even if the project steps took more time than expected due to a delay in funds arriving, Benjamin's mission was a success. "Thanks to his experience at Thales and his expertise, Benjamin brought us an industrial working methodology, and was able to set up management and monitoring tools. In fact, everything you need to launch a new product line. In addition, Benjamin participated in the recruitment carried out during his mission with us: during this time, QiOVA went from a company of four people to a company of eight people," points out Sébastien. 
« The support – both human and financial – that we received from Thales through the Pass'Compétences scheme was an important element in our growth. »
Recently back at Thales in Saint-Héand and armed with new skills, Benjamin has started a new position. "As well as being an Industrialisation Manager, I am now also an Industrial Architect, an interesting and rewarding role which is a continuation of my recent activities at QiOVA."
For Francine, this mission is great example of the Pass'Compétences approach. "The three-way relationship between Thales, the volunteer employee and QiOVA was always exemplary. The mission helped QiOVA to grow and enabled Benjamin to develop his career at Thales with a new position that rewards the experience he gained. It was a team that was not only easy to set up but also clearly relevant," she explains.
« We often say that for each Pass'Compétences mission, there are on average three jobs created in the beneficiary companies. Here we did even better!  »
In Saint-Héand in the Auvergne-Rhône-Alpes region, as in all the regions of France where the Thales group is established, the economic development of the territory is a vital issue. Pass'Compétences operated by Géris helps to respond to this, by offering employees of large groups an opportunity to live a secure professional adventure and to carry out large-scale projects that promote job creation. In the end, everyone is a winner!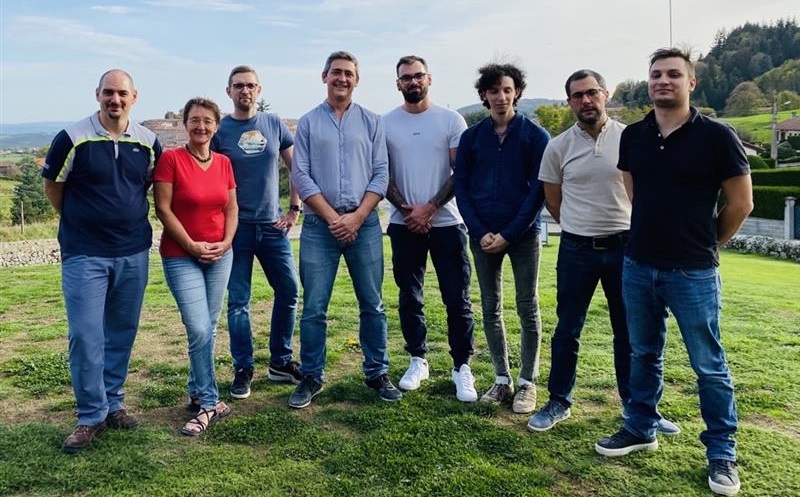 The Qiova team is rapidly expanding! Sébastien is first left, Benjamin second from the right.