Thales contest sparks new ways to make technology more frugal
From 2023, the goal of Thales is to apply eco-design principles to 100% of the Group's new products, but this ambition doesn't stop there. A recent internal 'Frugal by Design' contest inspired engineering and technical teams to propose new ways to reduce the environmental impact of Thales's products even further. Here's a quick look at the two winning projects.
Launched by Bernhard Quendt, Thales Chief Technical Officer, and Olivier Flous, the Vice President of Engineering & Digital Transformation, the 'Frugal by Design' contest challenged the Group's technical and engineering community to propose new solutions to make Thales products and services more frugal and reduce their environmental footprint. 
The participants put forward over 60 entries covering hardware, software and the tools required to support frugal product development, with the proposals being assessed against criteria including environmental impact, technical feasibility and how the solution could inspire and motivate similar propositions across the Thales technical community. 
After a pre-selection and a final presentation before a jury, two winners were chosen to receive a full project launch and funding.
The winning projects
Recovery, recycling and purification of Cesium Iodide: on the road towards circular industry
A team at Trixell, a Thales majority controlled joint venture (alongside Philips Healthcare and Siemens Healthineers) based near the French Alps, have proposed a solution to a key environmental and supply challenge. 
Trixell (France) design and manufacture X-ray flat-panel detectors for medical radiology, which operate using a screen that contains Cesium Iodide (Csl).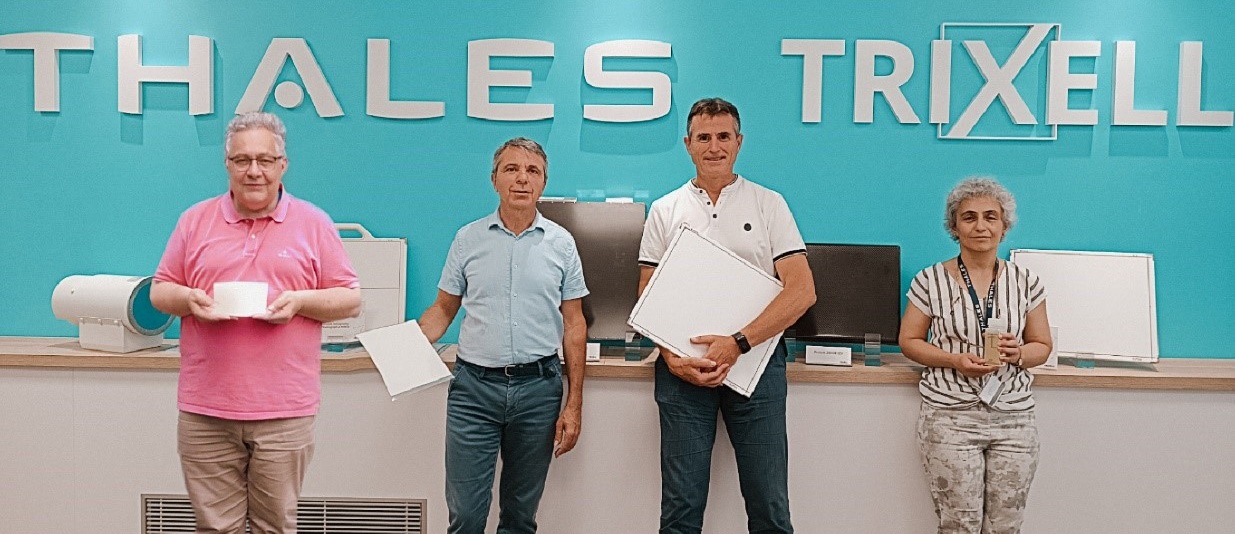 A long-term project based on innovation and technological excellence to meet environmental requirements. A first step towards circular-economy scintillator screens.
Increasing the production of these detectors thus requires, in parallel, an increase in the use of Cesium Iodide. However, Cesium being a highly constrained mining resource, it is important to limit its consumption and reduce losses, as part of a responsible environmental policy. With this in mind, Trixell pays particular attention to the optimal use of this raw material.
The team, comprising Marc Dorel, Bruno Commere, Laurent Chevallier and Murielle Beranger, has therefore launched a Cesium Iodide Purification Unit to recycle the CsI from its waste, so that it can be reintroduced into the manufacturing process. With this solution, almost all of the CsI will be used, and the quantity of waste will be drastically reduced.
"It is an example of an approach, a model and a change of culture which can be transposed to other activities inside and outside Thales, helping to ensure the continuity of an important medical activity whilst also lowering its environmental impact."
Bernhard Quendt
REEF: Resource Efficient Data Processing Functions
Distributed data processing applications are often composed of one or several central platforms that aggregate data for a fleet of edge systems and devices, consuming a significant amount of energy. How might it be possible to reduce this energy consumption without compromising on performance and security? A team at Thales seeks to answer this question with a new innovative solution.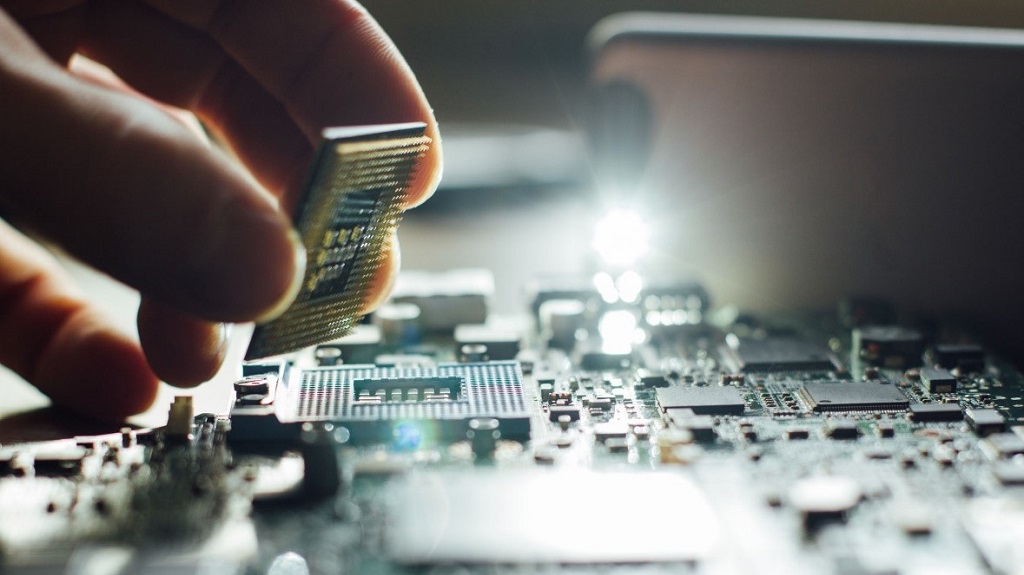 The project team, composed of Dimitri Tombroff and Reyyan Tekin, has proposed a function-as-a-service framework that significantly reduces the CPU and RAM resources of data processing pipelines. Named Reef, this serverless platform leverages the outstanding performance and efficiency of the booming 'Rust' programming language and 'WebAssembly' to drastically reduce the energy and hardware footprint at the edge and back-end, and deploy smart data functions closer to the data sources.
As well as deploying lightweight data processing functions and machine learning models to edge devices simply, quickly and securely, the solution also opens the possibility to update remote devices with new functions without the need of firmware update or any heavy validation phase.
"Reef represents a low footprint, high performance, secure and safe data processing function framework for modern distributed data science applications with stringent safety and security requirements."
Olivier Flous
 
_____________________________________________ 
---
"We know we still have a long way to go"
More than 80% of the Group's total carbon footprint comes from the utilisation of its products and services. Therefore, their design is a crucial channel towards the lowering of both Thales's CO₂ emissions and those of its customers. "This is why it is so important that all of our products now integrate eco-design principles," points our Olivier Flous. 
Introducing greater frugality in the Group's products is not seen as a constraint, but as a way to produce better and more competitive solutions. "It encourages people to go outside of their comfort zones. The product becomes lighter and more economical because they are concentrating purely on the added-value features," he adds.
For many years, the constraints of embedded systems have led the Group to work on energy efficiency, and on "SWaP" (Size, Weight and Power). Research into Artificial Intelligence (AI) that is both data and energy efficient, nanotechnologies and quantum technologies, are leading to breakthroughs in this field. In addition, the rise of trusted AI in the "embedded world" will allow all kinds of optimisation.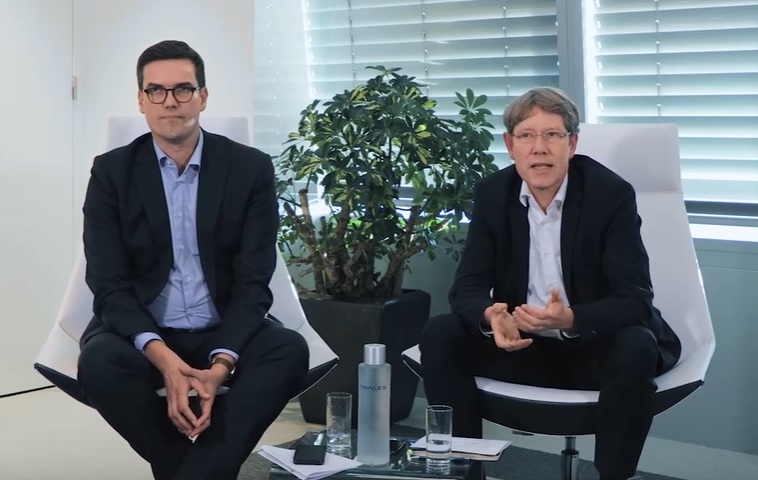 Olivier Flous and Bernhard Quendt
"However, we must be aware that technology alone will not solve everything," says Bernhard Quendt. "From now on we will have to go beyond "business as usual", beyond the operational requirements usually specific to the embedded world and beyond what we thought was technically possible."
"Frugality and innovation have to be combined," adds Olivier Flous. "The Thales digital ethics charter is firmly in line with this philosophy".
Frugality concerns the saving of natural resources in an attempt to limit raw material depletion and the consequences of energy consumption on climate change and ecosystems. It challenges the cultural tendency to 'add' rather than to 'remove', encouraging a 'less is more' philosophy instead. 
"We are embarking on this ambitious transformation with great confidence in our assets and our teams. We jointly – alongside our clients - have the capacity to move more than ever towards material and energy frugality," concludes Bernhard Quendt. "We are nevertheless aware of the long road we still have to travel together."