From sensor data to information exploitation
HORUS X is designed to provide the user with information obtained from the connected sensors, external information sources like AIS for ships or ADS-B for airplanes and Command and Control systems.
 
Sensor integration
When a sensor is connected to HORUS X, the user can automatically view over the map its position and status, along with the area covered by the sensor.All the relevant information coming from the sensor is recorded and provided to the user on a user-friendly interface, including real-time video, thus providing to the user a comprehensive view of the situation on a single screen.
Information exploitation
HORUS X allows the user to link information from different sensors and to fusion information. Orders can be given to one sensor taking into account information from other sources, like automatically following a radar track with a camera. The user can improve the video visualization via the Augmented Reality functionality included in HORUS X.
HORUS can provide an easy-to-use planning tool to schedule the use of the different sensors and to help the user to locate the sensors in the best possible position taking into account the type of sensors and the terrain.
HORUS is designed to be used in both desktop applications and Web browsers, allowing the user to work in almost any environment and in all type of devices, from computers and laptops to tablets and Smartphones.
 

Sensors integrated on HORUS
The HORUS X suite allows the integration of different types of sensors at the same time, including:
Remote Piloted Aerial Systems (RPAS), likeFulmar.
Thermal portable cameras, like Sophie.
Integrated optronic systems, like Gecko which includes a thermal camera, a daylight camera and a laser range finder.
Surveillance radars, like Squire, BOR-A 550, GO 12 and GO 80.
Unattended tactical systems, like SURICATE.
Radio detection finders, like Black Finder.
Jammers, like Eclipse and Black Gun.
Positioning systems, like GPS terminals and tactical radios with embedded GPS.
Sensors from other vendors.
Main applications
Counter-UAS: long-range detection and tracking (up to 3 Km) of mini-drones.
Surveillance and reconnaissance: detection, tracking and identification of possible threats in an area.
Protection of Critical Infrastructures: ports, power plants, transport facilities, etc.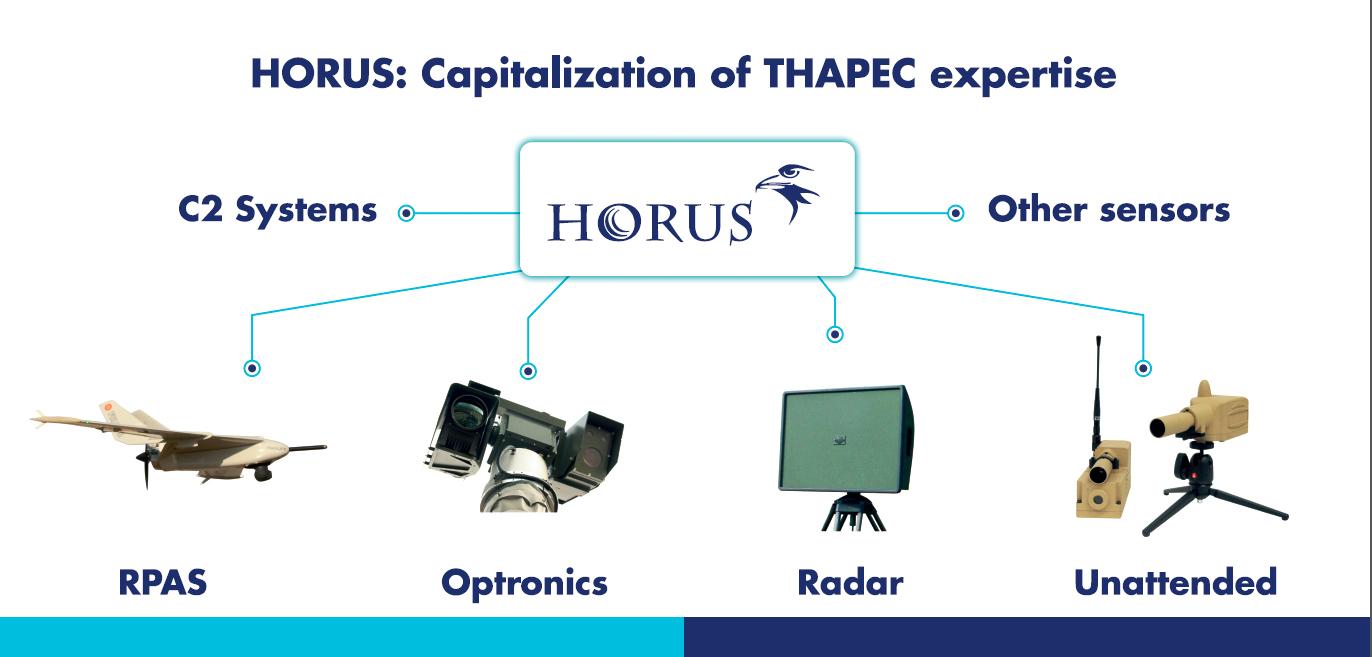 © Thales 2017