Last updated: 27 January 2022 - Average reading time: 5 minutes
Launching a connected product can be a daunting prospect.
Luckily, there's a wealth of how-to guides, expertise, and success stories available to help and inspire budding beginners just discovering the IoT ecosystem.
This means new IoT players don't need to start their projects entirely from zero. Instead, they can stand on the shoulders of well-established businesses in the IoT sector to take their project from proof of concept to massive scalability. 
In this video of our IoT Masters series, Francis D'Souza, Head of Strategy for Analytics and IoT Solutions at Thales, gives a short rundown of how new entrants can boost their IoT deployments in 3 steps.
Simplify your IoT journey in 3 simple steps
D'Souza details 3 IoT components where "buy" is better than "build "in 2022.
IoT has started to mature. There are a lot of success stories and use cases out there that people have implemented. So you don't need to begin from scratch.
Let's see 3 best practices that have proved successful in accelerating IoT deployments.
#1: Rely on IoT modules and gateways.
For example, you've decided that it is crucial to have a stable network, a resilient network, a secure network, and an out-of-the-box experience for the installer.
Then cellular is probably your best bet.
But you don't need to begin building a cellular device from scratch. You can take a device like this, a cellular device with interfaces into which you can connect your existing centers and equipment, put in a SIM, and have the data going to the cloud.
Buy vs Build– Why use ready-made solutions?
As time-to-market is concerned, this is a no-brainer. In 2022, off-the-shelf IoT solutions will allow companies to deploy quickly and start iterating faster. These built-in solutions also support regular updates and decommissioning.
There's more. Certifications and compliances can be a painstaking and costly process for custom-made solutions. It's one of the many benefits of ready-made IoT modules, modems, and gateways. So rely on the generic functions of IoT modules and gateways.
#2: Get a head start with IoT platforms.
Once the data are in the cloud, you have many tools available from the cloud platform, open-source software, or things like GitHub.
So you have the Eclipse IoT Foundation, AWS, AZURE, …you can build your cloud application soon enough.
IoT platforms will give you a head start in creating your IoT solutions.
IoT platforms deliver built-in tools and features to make your IoT project cheaper and easier to manage. An IoT platform will help you make a more robust integration with the data flow and storage in the cloud, the device management, and your application features.
#3: Leverage existing life-cycle management solutions.
But there's is an element as well on the whole life cycle management.
Because one does not deploy, you would not deploy an IoT device – if you want to scale – for just a few months.
It's going to be out there for years.
And you need to be able to do its management, manage the quality of the data from the device, manage the statistics on that device and its SLA (Service level agreement).
You could build that yourself, but it is going to take you a lot of time.
There's more, in that case.
It's going to drive up your total cost of ownership (TCO).
You could work with existing platforms that do precisely that for you. And do it for millions of devices.
So you can rely on that infrastructure.
Where do we fit in?
Thales delivers innovative IoT technology to support its clients in simplifying and speeding enterprise digital transformation.
For 25 years, our customers - in a wide range of industries - trust our IoT solutions to seamlessly connect and secure their IoT devices, maximize field insights, and accelerate their global business success.
Now it's your turn
If you have a question about IoT developments and best practices or the IoT architecture in general or want to learn more about how IoT technology is transforming the world, we'll be glad to help.
We're looking forward to hearing from you.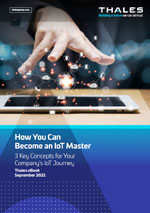 How do you become a true IoT Master?
All the things to keep in mind for a strategic approach – now in our new Thales eBook.
Download our free eBook!