Watch this video for a step by step guide from Francis D'Souza, Head of Strategy for Analytics and IoT Solutions at Thales on how to successfully implement IoT security into your IoT deployments.
Let's jump right in.
Francis D'Souza shares the key IoT security concepts that determine the make-up of every successful IoT project.
Three key elements to consider for IoT security
In this video of our IoT Masters series, Francis D'Souza, discusses the three key elements you need to consider when securing the IoT:
Secure the device
Secure the cloud
Secure the channel in-between the device and the cloud
Two additional topics to keep in mind
Francis also discusses the two areas that are most overlooked when designing IoT solutions:
Security by Design. Security in IoT cannot be retrofitted. It needs to be built in from the start or, at least, have the mechanism available to increase the layer of security later on.
Security as a combination of technology and best practices. You need to make sure you combine the right technology with the best practices such as using encryption keys to make a solution secure.
More resources on IoT security concepts, best practices, and solutions
We have our finger on the pulse of security standards, compliance, and regulations that businesses should be aware of. 
We also know security is a critical dimension of every IoT design. 
We'll be delighted to share more resources to help you understand how to properly secure IoT devices and mitigate risks.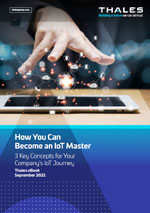 How do you become a true IoT Master?
All the things to keep in mind for a strategic approach – now in our new Thales eBook.
Download our free eBook!