Unless you've taken the unlikely decision to build your IoT device as a single-use product, you'll almost definitely need an element of lifecycle management in place.
Why?
This ensures that your product remains working efficiently and securely - as well as stays compliant - long after it's gone to market.
As with many other aspects of equipping your device for the IoT, this is an important consideration that needs to be made at the start of your application design. 
Get the maximum value of your IoT applications.
In this installment of our IoT Masters series, Andreas Haegele, VP of IoT at Thales, gives essential insights into how IoT beginners can equip their devices for the long-term by making sure they are versatile and secure.
In this video,  Andreas talks about: 
Updating devices over the air (OTA) to ensure a seamless customer experience
The benefits of incremental firmware updates to devices
Using campaign management to easily rollout software or security updates across your entire fleet 
He also discusses how machine learning can help define and monitor campaign management KPIs, migrate a fleet of devices from one cloud to another, and the practicalities of ongoing lifecycle maintenance. 
More resources on IoT and market best practices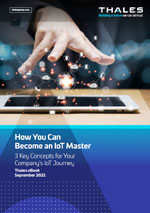 How do you become a true IoT Master?
All the things to keep in mind for a strategic approach – now in our new Thales eBook.
Download our free eBook!