For many companies, regardless of their size, the connectivity journey starts with the decision to digitally transform their business.
Connectivity allows you to explore new business cases such as moving from a product developer to a service provider. This enables business owners to continuously improve customer service by collecting insights on how customers use their devices.
In this instalment of our IoT Masters Interviews, Andreas Haegele, VP of IoT at Thales, discusses the various considerations developers need to keep in mind when choosing the right connectivity for their device.
These include:
The amount of data you want to transmit
How the device is powered
The level of security you need
The number of devices you're deploying
Technologies and tactics that would be fit for deployment with the next generation of mobile connectivity, 5G.
He also discusses in further detail other connectivity options available today such as LPWAN (Low Power Wide Area Network), LTE and LTE Advanced Pro. Andreas then goes on to explore the right technology to choose for connectivity: wired or unwired, Wi-Fi or cellular, SIM or eSIM, etc.  
The different type of connectivity solutions to choose for your device depend on the maturity of your business. In the last video of the series, Andreas provides insights on the connectivity solutions available, depending on your business case.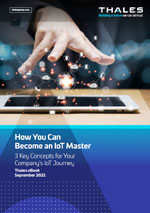 How do you become a true IoT Master?
All the things to keep in mind for a strategic approach – now in our new Thales eBook.
Download our free eBook!