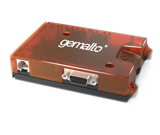 Plug-and-Pl​​ay 2G M2M Connectivity
Thales's Cinterion® BGS5T Gateway is a reliable and straightforward plug-and-play communication device that quickly allows new M2M implementers to connect their industrial applications using 2G wireless technology.
It provides a cost-effective, swift solution for enterprise optimization technology with very little integration and approval efforts.
Embedded Ja​​vaTM
With Java embedded, the BGS5T device offers smooth and fast application development, a broad choice of tools, existing reusable code, easy maintenance, a proven security concept, on-device debugging as well as multi-threading programming and program execution.
​Highly Flexible ​Mounting Concept
About the size of a credit card and encased in a robust plastic housing, the miniaturized Gateway works in virtually any application providing secure 24-7 connectivity.
For quick and easy implementation, the Gateway is compatible with a variety of mounting schemes, including DIN rail mounting, C-rail mounting, screw fixing, and the use of cable ties.
Documents & Resources