Next Generation LTE Efficient Gateway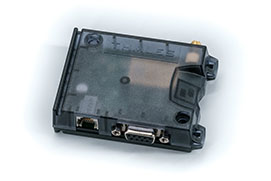 Expanding on the proven Cinterion IoT Gateway EGX81, Thales' next generation plug-n-play IoT gateway EGX82 features out-of-the-box worldwide Cat-M or NB-IoT connectivity with 2G fallback for legacy or new equipment. The new gateway adds support for USB and embedded processing via the Cinterion SDK ThreadX. The affordable LTE gateway is perfect for remote maintenance & control, smart meters, smart cities, vending machines, agriculture, connected sensors and healthcare applications.

Thales' gateway connects sensors and smart devices to the cloud and gives devices access to the Internet with edge-computing. The plug-n-play EGX82 offers reliable and efficient worldwide coverage and is ideal for low-power applications.
Compact, affordable solution
The Cinterion EGX82 provides affordable LTE connectivity with data speeds up to 300 kbps for applications requiring cost effective, efficient data speeds. Designed to operate in extended temperatures of -30° - +75° C for industrial applications, a USB2.0 interface, Driver for Windows® 10/11 and Linux distributions; as well as trusted identity for for easy enrollment into public IoT clouds and an optional eSIM. In the same EGX81 form factor, EGX82 reduces time to market with simplified integration, manufacturing and logistics for a wide range of applications.
Documents & Resources