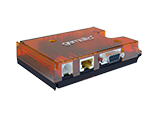 ​​​4G LTE Cat 1 Gateway for Japan
Thales's Cinterion® ELS31T-J LTE Cat 1 Gateway offers highly efficient 4G connectivity using LTE Cat.1 for Japanese Networks.
The plug and play Gateway works out of the box to quickly connect industrial applications to the Internet with pre-approvals, virtually zero design time, and minimal integration effort.
Delivering M2M optimized LTE speeds of 10Mbit/s download and 5Mbit/s uplink, it's ideal for industrial automation, vending, security, smart city solutions, and others that are not dependent on speed that still requires the longevity of 4G.
This IoT product is part of a broader range of IoT devices offered by Thales.
Power over Ethernet (PoE) for cost savings and flexibility
Offering PoE as an option, the ELS31T-J Gateway runs data and power together over the same cable, eliminating additional power supply components, simplifying design, and reducing costs.
Highly Flexible Mounting for quick and easy implementation
The Gateway offers a highly flexible mounting concept enabling quick and easy implementation via DIN rail mounting, C-rail mounting, screw fixing, or use of cable ties.
Pre-approval speeds project timelines.
The Gateway come with Full Type Approval (FTA) and certifications, ensuring a speedy go-to-market timeline.​
Snap EDA Schematic Symbol and PCB footprint
Documents & Resources