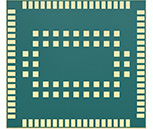 LTE Cat.1
Full-Service LTE Cat.1 Single Antenna module for flexible, future-proof and highly secure designs
LTE single antenna with 2G fallback provides full design flexibility, fast time-to-market, and future proof technology ideal for security solutions, e-metering, smart cities, and many more. The Thales Cinterion ELS62 enables device makers to take advantage of all LTE Cat.1bis advantages while fully benefitting from Thales' industry-leading quality, security and support expertise.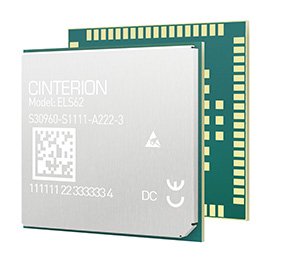 Benefit from the opportunities of LTE Cat.1bis, rely on the Thales Advantage
The Thales Cinterion® ELS62 "plug and play" module delivers multi-region, LTE network coverage with 2G fallback. The industry's first LTE Cat.1bis with single antenna, ELS62 offers the latest LTE bands grouping 1, 2, 3, 4/66, 5, 7, 8, 20, 28, 38, 40, 41 and supports voice service with VoLTE and CSFB. Delivering IoT-optimized speeds of 10Mbit/s download and 5Mbit/s uplink, ELS62 LTE Cat.1bis is ideal for applications such as connected security and home-alarm systems, smart-metering and more that would benefit from a more compact footprint as well as efficient, long-term, 24/7 connectivity and easy integration.
Full flexibility with smart product family concept
Utilising the Cinterion industrial form factor, the ELS62 offers footprint compatibility with Cinterion IoT modules ranging from 2G to LTE. The module is part of a smart product family concept of compatible multi-regional and focused variants. Thales' future-proof roadmap, continuity and footprint commitment enable easy migration to other cellular standards or to global LTE Cat1bis variants in the future and protect the investment of device makers. The ELS62 also offers the Cinterion AT commands compatibility with Cinterion IoT modules ranging from 2G to LTE.
The most secure solution in the market
Outstanding safety features of the ELS62 include a Secure Boot, secure communication TLS 1.3/DTLS 1.2, secure mode, secure keystore, secure debug interfaces, firmware encryption, and secure credential preloading, handling & management. Additionally, Thales cybersecurity consulting as well as Thales support from design-in to production are available. We combine decades of industrial cellular module design and an unrivalled expertise with eSIM (optional) technology to strengthen security, authenticate devices, encrypt data and securely manage connections to cellular networks.
SnapEDA Schematic Symbol and PCB footprint
Documents & Resources