Global High Speed IoT
LTE Advanced M.2 Modem Card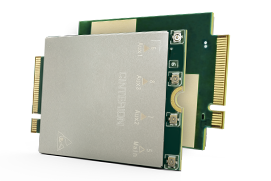 With the proven Cinterion Industrial form factor, Thales' high speed LTE IoT module MLA31-W features LTE Category 9 Multi-mode with 3G fallback. It's designed to be compatible with other LTE and 5G Cinterion IoT M.2 modem cards and optimized for the most demanding high-speed applications. The latest in high speed LTE connectivity provides one global SKU for worldwide coverage, compact size, eSIM and reliable connectivity in a flexible form factor.
Compact, affordable solution
The Cinterion MLA31-W offers affordable LTE connectivity with data speeds up to 450 Mbps for applications requiring fast data speeds in a compact package and standard M.2 footprint. Ideal for routers, laptops and tablets, the MLA31-W comes with an embedded eSIM. Designed to operate in extended temperatures of -40° - +85° C for industrial applications, the LTE modem card features integrated GNSS (GPS/GLONASS/Beidou/Galileo), a USB 3.0 interface and driver support for Windows 10/11, Linux and Android.
Documents & Resources