Easy Plug and Play LTE Cat. 4 Modem Card with 3G Fallback for Global or Regional IoT Connectivity
The Thales Cinterion mPLS83-X IoT Modem Card simplifies global high-bandwidth IoT connectivity by providing instant access to fast LTE Cat. 4 networks with 3G fallback. The mPLS83, which is available in a convenient Mini PCIe™ modem card format, simply plugs into an existing Mini PCIe™ modem card slot to connect assets anywhere in the world via 10 Band LTE Cat.4 and Three Band 3G UMTS/WCDMA. When a global solution is not needed, a regional variant with the latest network band grouping delivers targeted connectivity for North America.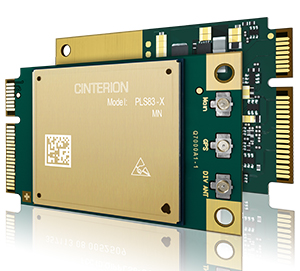 Looking for High Speed Data and Continuous Coverage?
The mPLS83 IoT Modem Card device delivers LTE Cat. 4 speeds of 150 Mbit/s download and 50 Mbit/s uplink, making it ideal for applications that require high speed, network longevity, and continuous global coverage even in areas that lack 4G networks. This includes transportation solutions, tracking and tracing applications, industrial gateways, and points of sale.
It's Cost-Optimized, Feature Packed and eSIM Enabled!
The mPLS83 IoT Modem Card is packed with features that help lower the total cost of ownership. This includes features like integrated IP connectivity, voice over LTE (VoLTE), circuit switched voice, GNSS, and a comprehensive AT command set for simplified device control. A dual SIM interface and optional Thales eSIM strengthen security and reduce complexity by providing MNO flexibility at the time of deployment. What's more, it also supports easy remote provisioning and dynamic subscription management for the lifetime of the device. Advanced security capabilities, including a secure boot, secure key storage, and key lifecycle management, protect both the device and data.
Looking for Easy Deployment and Evolution?
Just plug the mPLS83 IoT Modem Card into a Mini PCIe™ slot to instantly add high bandwidth cellular IoT connectivity or to update connected assets with new capabilities. The card is part of a suite of award-winning modem cards offered in a variety of cellular standards and global and regional variants that simplify migration from 2G and 3G technologies and also offer an easy path to LTE Advanced and 5G capabilities as technology needs evolve.
The Cinterion IoT Suite of Lifecyle Management Services Protects Your IoT
To ensure your assets remain connected and secure over their long lifespan, the mPLS83 Modem Card is supported by the Cinterion IoT Suite. Offering OTA software updates, lifecycle management, trusted digital identity management, and secure cloud interworking plus zero-touch connectivity activation, the Cinterion IoT Suite ensures cost-effective lifecycle management and IoT investment protection.
Documents & Resources