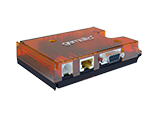 4G LTE Cat.1 Gateway with 2G / 3G Fallback for Seamless​ Global Connectivity
Thales's Cinterion® PLS62T-W LTE Cat 1 Gateway offers highly efficient 4G connectivity with seamless fallback to 2G and 3G networks.
The plug-and-play Gateway works out of the box to quickly connect industrial applications to the Internet with pre-approvals, virtually zero design time, and minimal integration effort.
Delivering M2M optimized LTE speeds of 10 Mbit/s download and 5 Mbit/s uplink, it's ideal for industrial automation, vending, security, smart city solutions, and others that are not dependent on speed but still require the longevity of 4G.
Supplied in both -USB and -LAN options, the PLS62T-W is suited for many applications. Furthermore, the -LAN option also supports Power Over Ethernet.
This IoT product is part of a broader range of IoT devices offered by Thales.
The IoT Gateway for Global Deployments
The PLS62T-W Gateway provides easy-to-integrate connectivity on globally deployed mature networks, with 12 bands of LTE Cat.1, 7 bands of 3G, and Quad Band 2G.
Java for fast application development
Embedded Java eases and speeds application development by offering a broad choice of tools, reusable code, a proven security concept, on-device debugging, and multi-threading.
The IoT Gateways also enable on-device pre-processing and analytics that help optimize wireless network efficiency.
Highly Flexible Mounting for quick and easy implementation
The Gateway offers a highly flexible mounting concept, enabling quick and easy implementation via DIN rail mounting, C-rail mounting, screw fixing, or use of cable ties.
Pre-approval speeds project timelines.
The Gateway comes with Full Type Approval (FTA) and certifications from global network operators, ensuring a speedy go-to-market timeline.
Intelligent Cloud Connect Ready
Using Intelligent Cloud Connect, the PLS62 Gateway makes IoT development simple. This AWS Certified solution automates connectivity of the PLS62 Gateway into AWS IoT Core.
Documents & Resources