Ready to deliver the future of 5G? 

Thales has the solution!

 

The Cinterion 5G M.2 DevKit

The Cinterion® 5G M.2 DevKit is the ultimate IoT design environment to get started innovating 5G today. The 5G M.2 DevKit simplifies 5G and IoT connectivity and provides everything developers need to turn 5G ideas into innovative IoT prototypes in no time.

Flexible Design Board Supports everything you need to start on 5G

The flexible development board is designed to support easy integration of the Cinterion MV31-W 5G IoT Modem Card to get you up and running on 5G in no time.

 

 
Simplified Cellular IoT Connectivity and Flexible Development Support IoT Innovation
The Cinterion 5G M.2 DevKit connects easily over USB or PCIe to any host application with high bandwidth requirements. Cellular 5G is simplified providing immediate connectivity – just plug it in, power it up, and unleash complete design flexibility. You can choose different interfaces, switch antennas, and change SIM cards to suit your needs.
What's more, you can design against a reference setup and validate and debug each step with ease and simplicity. Tap into the full capability of Cinterion 5G M.2 modem cards, allowing you to do full multifunctional test runs to verify your final application. 
What's included in the 5G M.2 DevKit?
The 5G M.2 DevKit is comprised of a single development board with everything you need to get your 5G designs off the ground:
1x USB 3.0 extention cable
1x USB type C cable
4x MHF4 type antenna cables
4x 5G NR/LTE/UMTS antennas
1x Thermal pad
1x Screw to fix the 5G M.2 card
4x MHF4 to SMA antenna pig-tail cables including washers and nuts
Additionally for the 5G M.2 DevKit PCIe version:
All of the above
1x FFC Cable
1x 5G M.2 Interface board
In case you are missing something or are looking for further explanations, please join our IoT Developer Community and let us know.
Getting Started with the 5G Modem Card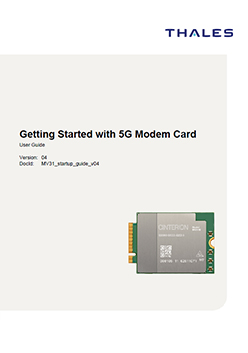 Get started today!
Just plug-in the Cinterion 5G M.2 DevKit to your application, turn on the power … and evaluate, design, prototype, test, and deploy!
We have worldwide distribution partners who will gladly take care of your order. Below you will find the order number you need.
5G M.2 DevKit USB version

Order Number

5G M.2 DevKit PCIe version

Order Number

L30960N6901A100
L30960N6902A100