Let's start with LPWAN
Billions of new industrial IoT solutions are expected in the coming years, and leading developers are eager to use Low Power Wide Area Network (LPWAN) technologies for connectivity. 
LPWAN (in standards such as LTE-M and NB-IoT) offers key benefits that make it an excellent fit for IIoT (Industrial IoT). 
It provides exceptionally efficient connectivity using existing LTE networks and forthcoming 5G.
It has a very long-range coverage, so connected devices located many miles from the gateway offer reliability and extended coverage inside buildings. 
It is extremely energy efficient, so batteries in remote devices can last up to 10 years. 
There's more.
Its low throughput is ideal for the majority of industrial solutions that need the longevity of LTE and 5G but not the horsepower of traditional 4G technologies. 
As great as this technology is for the IIoT, there are always hurdles to cross when it comes to deployment.  
Here comes FOTA (Firmware Over The Air)
Unlike any other cellular IoT technology, LPWAN was never used or tested with smartphones or consumer devices before being deployed for IoT. 
Consequently, performance updates and fine-tuning to accommodate network expansion must be resolved in the field. This is typically easily achieved with Firmware Over The Air (FOTA) updates. However, successful FOTA updates usually require high speed and extra power which draws down the batteries. 
The challenge LPWAN innovators must overcome is, ironically, about the benefits. 
The same features that make this standard perfect for IIoT become critical issues to surmount when it comes to essential FOTA updates. 
To ensure success, developers need to carefully consider LPWAN-optimized incremental FOTA.
The unexpected cost of FOTA updates
Unexpected firmware updates have taught developers some hard lessons about the importance of a well-planned FOTA strategy. 
Consider the case of an IoT smart city developer who ordered 20,000 Cat M IoT modules to be shipped to its warehouse for a large customer order. 
After the devices were manufactured, the cellular operator made a network update that required an update to the module's firmware. The device's incremental FOTA solution was effective in reducing the firmware update image size and improving efficiency, but it fell far short of success. 
Leveraging LTE M1 connectivity, it took an hour to update just ten devices. 
Taking that as the average speed, it would have taken more than 80 days to update the entire fleet - while burning through batteries and the data plan!
The result?
The developer had to scrap the project due to the hefty price tag and slow. 
Ultimately, it was more cost and time effective to take a loss and start from scratch, developing a solution with a more efficient method for incremental FOTA updates.
Balancing FOTA demands and LPWAN capabilities
The majority of today's LTE M modules have a large firmware image size averaging between 18 and 27 MB. Incremental FOTA eliminates the need to overwrite the entire firmware package, allowing updates to only the parts of code that need revision. 
However, the 5 MB average size of the reduced incremental FOTA packages is still too large to preserve the business case for LPWAN technologies. 
A closer look reveals why.
Following 3GPP standards for stationary LTE-M devices on cell edge, download speeds are around 300kb/speak. Updates are limited by eNodeB capacity, which can only support updating an average of ten devices at the same time. 
To update a 5 MB incremental firmware package for 10 devices, it would take a little more than 1 hour using approximately 150 mAh battery capacity plus data overage fees of around USD 2.50.
Not only would this take over 90 days to complete an update of 20,000 devices, but it would also cost upwards of USD 50K plus the cost of replacement batteries and service visits. 
And that assumes a best-case scenario. It can be worse depending on the module's location or if it's moving. 
In those cases, the battery capacity needed for upgrades can be as high as 0.7Ah, and it can add many hours to the project.
Our unique incremental FOTA solution ensures a future of LPWAN success
The fact is the speed of business, and the fast pace of network evolution will always necessitate software updates, new features, design improvements, and ongoing security updates. 
For technologies like LPWAN that did not mature in consumer products first, it is incumbent upon the IoT innovators to support product evolution. 
Virtually all global operators require FOTA to enable firmware updates that keep networks operating at peak performance. However, not all FOTA solutions are created equal. 
When LPWAN emerged as the connectivity solution of choice for IIoT applications, Thales foresaw the need for innovation in FOTA efficiency. 
The company developed a purpose-driven IoT Cat M module with a small firmware package and an advanced solution for incremental FOTA that balances update needs and LPWAN capabilities.
Cinterion Cat M module features industry-unique incremental FOTA solution 
Thales' Cinterion ELS31 Cat M IoT Module is the only Cat M solution on the market to solve the specific challenge of reconciling FOTA demands with LPWAN capabilities. 
The Cinterion Cat M module was designed to solve updating challenges and thus features a small firmware package of only 3.7 MB. 
Thales' efficient FOTA strategy reduces the total update file size by 95% compared to competing modules. 
This brings the incremental FOTA firmware package down to just 250 KB - a marked improvement over the 5 MB industry average.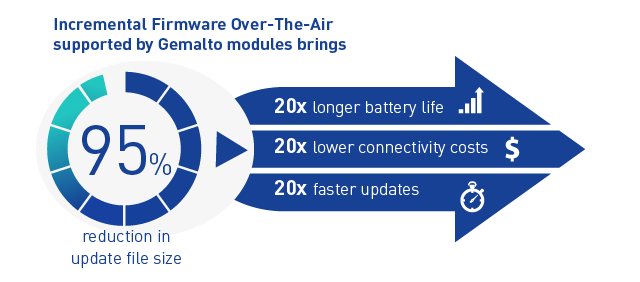 Leveraging average LTE-M connectivity throughput, the Cinterion Cat M module can update ten devices on one eNodeB in a little more than 3 minutes with an average power draw of 7.5 mAh and only $.13 in data fees. 
As a point of comparison, the fleet of 20,000 smart city devices in the previous example could have been updated:
in just over 4.5 days without exhausting the battery, 
at a price of only USD 2,600. 
This performance marks an enormous improvement over competitive modules. 
Thales'  ELS31 Cat M IoT Module is setting new standards for incremental FOTA efficiency that reduces TCO for IoT deployments while maintaining reliability for the long life of devices. 
Thales Module Services: update, control, and secure IoT module fleets
Reduced firmware image and best-in-class power efficiency in the industry are only half of the story. 
When developers update a small fleet of IoT modules in the lab, they use a proprietary HTTP server and a simple triggering mechanism to facilitate the update. 
Executing reliable and secure FOTA updates over tens or even hundreds of thousands of devices requires careful planning and tools to help orchestrate the process. 
Besides, FOTA updates require a carefully considered end-to-end security strategy to ensure that update images are legitimate, secure and coming from a trusted source.   
Thales offers an optional Module Services Platform that provides trusted device lifecycle management to simplify updates, control device performance, and secure devices and data. 
Update and Control services help customers monitor devices as well as plan and execute FOTA campaigns seamlessly, securely and efficiently. 
Security services leverage identity and access credentials designed into the root of every Thalesmodule to ensure the integrity of devices and exchanged data, and the easy onboarding to cloud platforms.
To learn more about Thales' incremental FOTA update capabilities, contact your local Thales representative here.