The IoT industry adopts LTE technology. 
Self-driving cars, smart homes, connected cities - the Internet of Things (IoT) is optimising the way we work, live, and play - and growing at lightning speed. 
Statista estimates 30 billion IoT connected devices by 2020 and 75 billion by 2025.
Gartner is projecting $300 billion in revenues for IoT suppliers alone.  
To provide bandwidth for the constant flow of new connections, the wireless industry is evolving to LTE technology (LTE for Long Term Evolution), which offers greater bandwidth, faster speed, and ultimately, better reliability. 
With the sunset of 2G and 3G networks on the horizon, the IoT industry moves to LTE to preserve the longevity and reliability of solutions with a typical lifespan of 10 years. 
The challenge is, the vast majority of IoT applications – metering, track and trace, fleet management, and many more – don't need the speed and throughput of LTE. 
These solutions send small bits of data with low latency. 
So, how can developers strengthen the business case? 
Enter LTE Category 1! 
LTE Cat 1 - an intermediate speed standard
Specifically designed for Machine-to-Machine (M2M) and industrial IoT applications, LTE Cat. 1 provides a maximum of 10 Mbit/s downlink speed and 5Mbit/s uplink compared to LTE's peak downlink speed of 300 Mbps. See some LTE speed tests done across the U.S. in November 2019.
The result?
LTE Cat. 1 is ideal for solutions not dependent on speed that still require the longevity and reliability of 4G in the decades ahead.
LTE Cat. 1 Modules
Thales was the first to innovate LTE Cat. 1 M2M modules launching a family of solutions combining efficient connectivity with lower power consumption and improved cost efficiency.
Cinterion® ELS31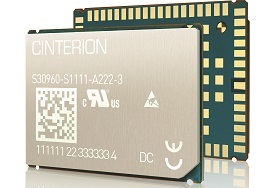 The award-winning Cinterion ELS31 delivers single-mode M2M-optimized connectivity for industrial IoT solutions in LTE exclusive environments.
Cinterion ELS61
The Cinterion ELS61 offers embedded Java and seamless fallback to 2G and 3G networks for mobile solutions and areas where LTE rollouts are ongoing.

Thales's LTE Cat. 1 family is the industry's first step toward true Machine Type Communications, offering advantages in size, power, and longevity. Our future-proof designs are easily integrated with M2M-optimized SIMs - the MIM™, as well as security technologies for significant value, added benefits.
The Cinterion LTE Cat. 1 modules feature:
Future proof design allowing easy migration
Improved efficiency for reduced power consumption
VoLTE Cat. 1 delivering simultaneous data and voice capabilities* 
 

Fallback to 2G or 3G*
Java™ embedded processing*
​
* Available on selected module variants
​