The IoT industry embraces the benefits of LTE Cat.1bis 
In Europe and other regions, the most popular cellular standard for IoT, LTE Cat1 is expanding to a new cellular standard: LTE-Cat1bis. 
A key benefit of LTE-Cat1/Cat1bis is it does not require software and hardware upgrades for the base stations, so LTE cat.1bis can work seamlessly in existing LTE Cat.1 networks. 
For MNOs, that means no additional network coverage costs, making for easy adoption. 
For device makers, LTE-Cat1bis allows to approve designs with a single antenna, which lends itself to smaller, simpler designs and reduced efforts and costs for approvals.
With that comes a faster time to market for new designs utilizing LTE Cat1bis as well as overall reduced BOM costs, making CAT1bis well-suited for more streamlined, less demanding designs.  
LTE Cat1bis offers easy migration from Cinterion 2G/3G/LTE Cat1 modules and devices can work seamlessly in existing LTE networks. 
The result?
LTE Cat.1bis is ideal for solutions that are designed to be compact and cost-effective, but have standard demands in terms of performance.
LTE-Cat.1bis Modules
Single antenna with 2G fallback provides full design flexibility, fast time-to-market, and future proof technology ideal for security solutions, e-metering, smart cities, and many more – Thales has designed a module that supports the LTE Cat.1bis standard as one of the first, and offers its well-established additional service, features and support on top.
Cinterion® ELS62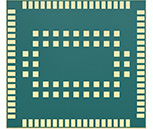 The Cinterion ELS62 "plug-and-play" module delivers multi-region, LTE network coverage with 2G fallback. 
The industry's first LTE Cat.1bis full-service module with single antenna, ELS62 offers the latest network bands grouping 1, 2, 3, 4/66, 5, 7, 8, 20, 28, 38, 40, 41 and supports VoLTE with CSFB.
Delivering IoT-optimized speeds of 10Mbit/s download and 5Mbit/s uplink, ELS62 LTE Cat.1bis is ideal for applications such as connected security and home-alarm systems, smart-metering and more that would benefit from a more compact footprint as well as efficient, long-term, 24/7 connectivity and easy integration.