​​​​According to figures published by Ericsson in June 2021, massive IoT would make up 46% of all cellular connections by 2026.
The number of connections is planned to increase by almost 80% in 2021 alone.

Our planet is getting connected faster than we can imagine! 
LTE-M: the Long Term Evolution for Machines
To accommodate our growing need for bandwidth, wireless networks evolve to LTE (Long Term Evolution or, simply put, 4G), which offers higher bandwidth, speed, and reliability. 
However, the vast majority of new IoT connections don't require 4G's maximum speed and throughput. 
That's where LTE-M comes in.
For typical IoT solutions like alarm systems, asset trackers, smart meters, digital city controllers, wearables, and industrial sensors, an optimized category of Low Power Wide Area Network (LPWAN) LTE is preferred.
The latest generation of IoT-optimized wireless technology, LTE-M, short for LTE Cat. M1 follows Cat. 1 and takes network efficiency and simplicity to a whole new level.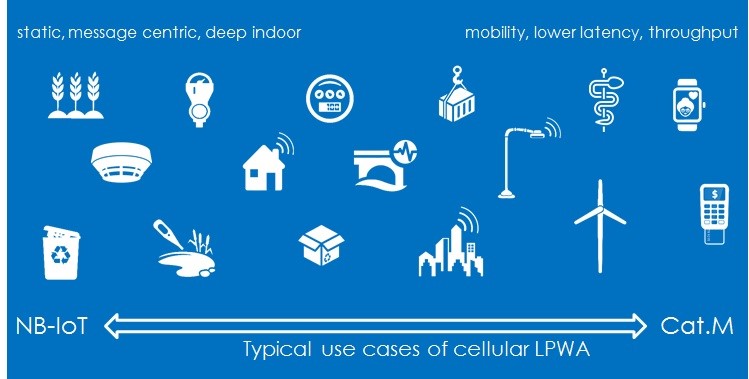 In other words, LTE-M connects simple devices that transmit low volumes of data over long periods and with the benefits of low power consumption (extended battery life), low latency (more use cases), and better penetration of radio waves (enhanced indoor coverage).
Innovative LTE-M modules
Thales and Sequans are the first to innovate Cat. M1 for the IoT market enabling reduced power consumption and cost through optimized wireless speeds at 375kbps while simultaneously boosting reliability and range for indoor installations.
Offering advanced power management capabilities and efficient use of the network, Thales's Cat. M1 technology enables long standby times and ten years of battery-powered operation, making it ideal for remote solutions without easy access to power. 
Offered in Thales's proprietary industrial footprint, the Cat. M1 module enables smooth migration from 2G and 3G devices without major design overhauls - a mission-critical achievement for many IoT business models.
As a dedicated LPWAN standard, IoT LTE M enables lower costs, small footprints, and innovative low-power optimization.
It fills a growing need for IoT solutions and drives the marketplace forward as billions of new devices get connected.
142 Mobile IoT networks in 2020
The LTE for IoT ecosystems on both the network and device side progresses rapidly in terms of global commercial readiness.
Visit the GSMA report for Mobile IoT network commercial launches.
This is also evidenced in a recent demonstration where Ericsson's LTE Cat. M1 eNodeB software and an IoT module based on Sequans' Monarch LTE Cat. M1 chip is successfully communicating, compliant with 3GPP Rel13 specifications for Machine-Type Communications.
What's the difference between NB IoT and LTE M?
In a nutshell, LTE-M has a better (faster) latency, higher bandwidth, and throughput and includes voice for simple use cases.
See below this comparison table. 
Let's be clear, CAT M and NB-IoT are not competing with each other. They are two different wireless technologies.
Topics related to LTE-M