A Proven Enterprise Partner onboard and onshore
The people we trust to ensure the Royal Australian Navy (RAN) is always mission ready, trust Thales in Australia. 
For over 26 years, we have worked closely with the RAN and other partners to ensure the Navy's diverse fleet of surface ships is provided dependable and reliable support, sustainment and lifecycle management services – making sure ships go out from Thales managed facilities on time, every time.
As a critical component of the Australian Government's National Naval Shipbuilding Enterprise, our Ship Support, Sustainment and Lifecycle Management business employs a local workforce of over 350 skilled employees. In 2020, Thales Maritime Service and Support spent $188 million with 511 suppliers, and directly supported 606 supplier jobs across Australia (read more).
Our skilled teams in Darwin, Newcastle, Cairns and Fleet Base East at Garden Island in Sydney, have extensive experience and expertise across both Defence and commercial ship building and maintenance industries. Over the past 10 years we have qualified over 100 apprentices and trainees as part of our commitment to continue to grow industry and develop skilled Australian jobs for the future.
skilled apprentices and trainees qualified in the past 10 years
Thales Ship Repair permanent workforce
Australian partners and suppliers
Garden Island Naval Dockyard, Sydney NSW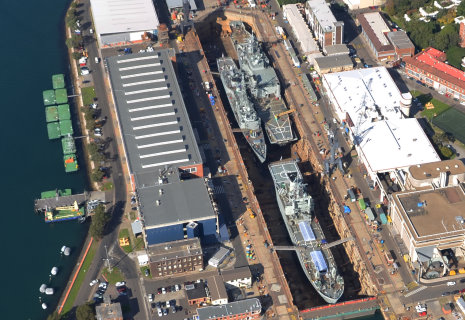 The Captain Cook Graving Dock at Garden Island (GI), is the largest ship repair and maintenance graving dock in the Southern Hemisphere, and a strategic asset of the Australian Defence Force. 
Since 1999 the Commonwealth of Australia has entrusted Thales with the ongoing operations and services of the dock and other services at Garden Island Naval base. 
Recognising our role as strategic partner of the Australian Government's National Naval Shipbuilding Enterprise, we have consistently invested in improvements and upgrades to the Garden Island Naval Dockyard including,  the introduction of the 65-ton capacity fixed dock side crane, electricity sub-stations and dry dock civil infrastructure. The health and safety of our people, customers and stakeholders is a key priority and we continually conduct systematic safety and environmental modernization programs at Garden Island as part of our reticulated services (power, water, sewer and compressed air) delivery. 
Our key capabilities at Garden Island include: 
Project Managers, Ship Repairs, Electronics/Combat Technicians, Mechanical/Weapons Technicians, Shipwrights, Fabrication and Specialist Welders and Safety/Environmental Managers.
Our ecosystem of specialist workshops include electrical, mechanical, sheet metal, structural and plumbing are supported by on site logistics, warehousing, scheduling, training and safety specialists.
We partner with various Defence Primes, OEM, SMEs and other local businesses as a part of our Industry Engagement program to manage the execution of maintenance and repair related activities. We are a proud link in the chain that delivers Seaworthy compliance and materially ready ships for RAN operational taskings.
Thales also repairs and maintains a wide array of commercial vessels in the dock and in GI such as; tug boats, cruise ship, workboats, ferries, dredges and super yachts.
Maritime Precinct, Carrington (Newcastle) NSW
Thales has managed and operated the Maritime Precinct in Carrington (Newcastle) since 2017.  To modernise the capabilities of the existing site, we recently completed the refurbishment of the TMP 1000t Slipway and wharf area which is capable of accommodating vessels up to 750 tonne and 52 metres in length.
Key capabilities at Newcastle include:
an undercover blast and paint facility with full recovery and ventilation;  
a 5000 sqm workshop capable of housing multiple vessels undercover for construction and engineering works; 
Five overhead cranes of up to 20 tonne lift capacity; and   
onsite Services for all aspects of marine and ship repair.
Carrington was the location for building the MHC, the LPA overhaul docking and continues to provide specialist MHC support services.
Thales is a member of the CASG scrapping and disposal panel for defence material and has the capacity to manage concurrent deconstruction, ceremonial events, maintenance and construction activities.
The Thales Team across Northern Australia has over 100 staff delivering Integrated Supply Support services for the Armidale Class Patrol Boat (ACPB) and, won the 2019 Essington Lewis award for ACPB sustainment. Under the contract we plan, schedule, cost and risk manage the execution of intermediate and depot level maintenance. We work alongside the Commonwealth to deliver engineering management, certification, condition monitoring, engineering investigations and configuration changes, technical instructions and data support with configuration management.
Thales service delivery model uses local SME; many of whom we have supported in becoming defence ready (compliance with standards of HSE, QAQC as required by the Commonwealth). Thales also works with Navy Fleet Services Unit (FSU) to deliver tasks that support sailor skill development and program efficiencies.
We support visiting warships as well as commercial vessel maintenance, repairs and overhauls.
Thales has warehousing, training, workshop and repair facilities in Darwin.
The Cairns Project Team delivers expert ACPB sustainment. We manage the homeported vessel routine sustainment and, conduct the ACPB major maintenance periods in Cairns through a thin prime model. We have multiple Service Level Agreements in place in the region and, utilise the existing local capabilities for the ACPB 60 monthly dockings.
Accreditations
Accredited to ISO 9001 Quality Management Certification to ensure the highest quality of ship repair and maintenance
Application for DEFAUST 5000 certification is in final stages with the Naval Technical Bureau
Registered Training Organisation  
Industry Awards:
Essington Lewis Armidale Class Patrol Boat sustainment 2019
Excellence in Innovation by the Asset Management Council of Australia, Minehunter In Service Support Contract, 2018
Essington Lewis FFG Enterprise (industry partner to SPO) 2017
Investing in Australian Capability