This is a programme for the next generation of engineering specialists and leaders who'll shape the future of engineering at Thales in the UK. It's rotational, so you'll be moving around the country and across different business units and engineering disciplines over the course of 3 years. But we'll support you every step of the way, because it's really important that you learn and see as much of our diverse business as possible during your training. It's what will set you up for success in the later stages of your development journey.
If a rotational programme isn't what you are looking for, please click here for our entry-level engineering positions. For more about us, read here.
Our 2024 Graduate Engineering roles our now live! Apply now
Our engineering graduates are offered a competitive salary. You'll benefit from structured assessments that will inform your pay review. Additional benefits include:
Competitive salary
Performance-related pay uplifts
Rotational programme
Development programme
Support towards professional accreditation
SMART working
10 volunteering days
201 hours holiday a year
Competitive pension scheme
Career mentors to help guide your journey
Healthcare cash plan
Recognition and reward schemes
Discount portal & cash-back

What we're looking for
We welcome applications from recent graduates with or without work experience and mature students from all universities. If you have significant work experience, you may be directed down the professional hire route.
Equally important is the ability to:
Think Big 

Imagine the Future 
Inspire to engage 

 Make it happen

 Deliver user-centric solutions
Act with agility 

Together 

 Grow others and self

 Include others 
All of our roles require you to undertake security clearance – please check the requirements against the position you are applying to.
Because the programme is rotational, with placements based across a number of different UK sites, you must be UK mobile. But we welcome candidates from any degree background, - just bring us your ambition, intellect and commercial savvy.
Supporting you to success
We're committed to turning raw graduate potential into innovative, effective professionals who can grow our business.
Our Graduate Development Programme comes with on-the-job training and plenty of time and space to explore your skills, find your strengths, and see where you can develop.
Expect excellent training from the brightest minds in our organisation as well as access to unique opportunities and courses that'll broaden and deepen your expertise.
Throughout the programme, you'll also have the opportunity to work with fellow graduates on innovation projects, growing new skills whilst building important networks with colleagues and business leaders.
But the journey doesn't stop there. You'll also be supported towards professional registration with the help of a mentor and your very own structured technical development plan.
You'll spend your first three years with Thales under the guidance of the Engineering Leadership team. We'll structure this time to make sure you develop experience in the full engineering lifecycle and the various engineering disciplines that contribute to it. With help from your mentor you'll figure out the career path that's right for you, then spend the rest of your time shadowing and building experience in your chosen area.
WHERE CAN YOU JOIN US?
You'll find the results of our pioneering work everywhere you turn, but it's all carried out in carefully selected locations across the UK – each with its own unique attractions. See where you can start your Thales career.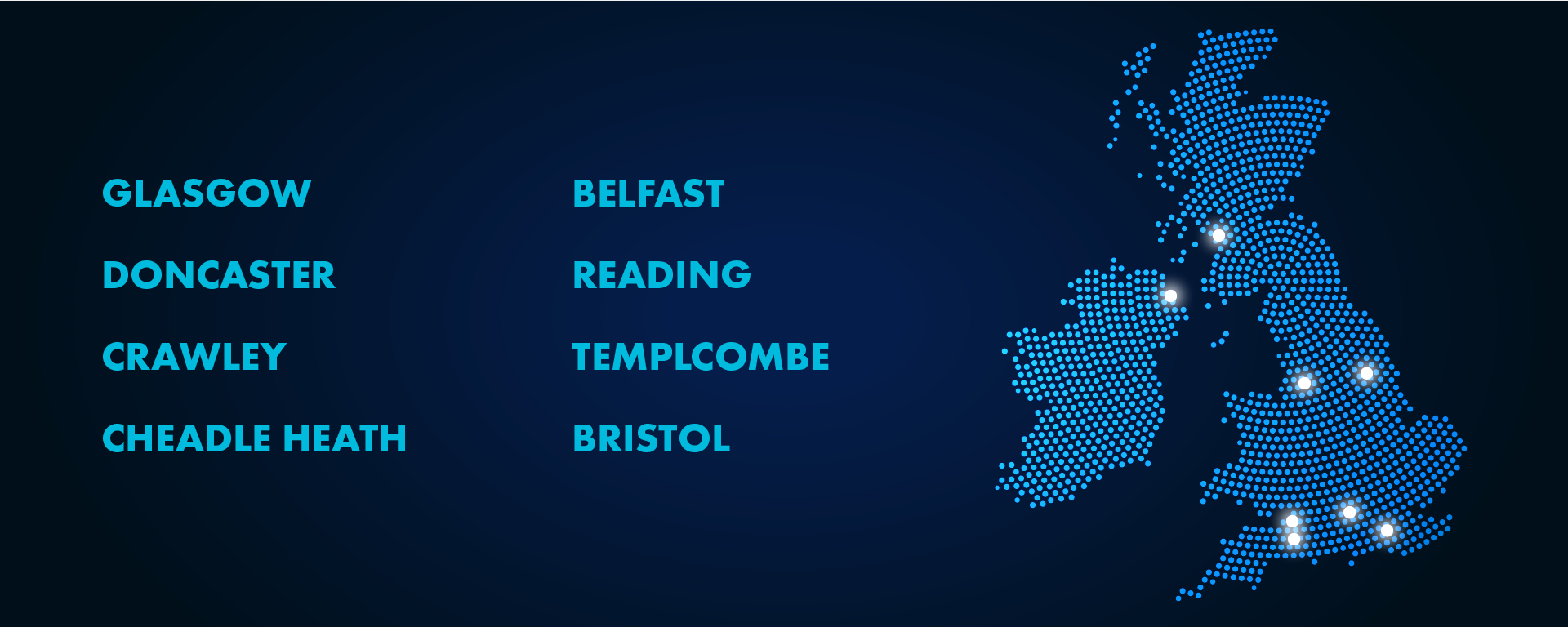 First things first. Search our jobs and see if there are any open roles in your chosen field.

Application form: This is your opportunity to tell us a bit about yourself
Online testing: These tests measure whether you are a good fit for the role you've applied for and whether you'd be a good fit for Thales.
Assessment Centre: Assessment Centre: This is where we get to see you in action. It's your opportunity to find out more about our organisation and learn about our culture and values. You'll demonstrate your skills in a variety of exercises including a competency interview, technical interview (Graduates only) and group exercise. Successfully complete the assessment centre stage and you'll be offered a position at Thales.