Beyond "jointery": supporting Multi-Domain Integration in a new world
The nature of conflict is changing. Potential adversaries have learned not to challenge modern western military powers on the open battlefield, but with information, constantly but deniably using every asset at their disposal to seek out vulnerabilities across domains and exploit them. Their targets range from opponents' C4ISTAR systems to CNI computer systems and public opinion and their weapons are mis- and dis-information, EW and software. 
The UK military's response is multi-domain integration (MDI), defined as: "…the posturing of military capabilities in concert with other instruments of national power, allies and partners; configured to sense, understand and orchestrate effects at the optimal tempo, across the operational domains and levels of warfare."
This doesn't just mean being better at joint operations or simply adding new domains to the list and using them all; it means extending the range of activities and capabilities available and selecting the most appropriate ones to create and find our own opportunities for exploitation, coordinating assets nationally and between allies.
Information advantage is at the heart of MDI, the capacity to get inside the adversary's decision cycle by bringing together many sources of information from across different domains to sense and understand the battlespace in order to support informed, rapid decision-making.
Arguably, the best example of MDI in action today is the multi-domain, multi-national UK Carrier Strike Group-21 (CSG-21).

© Crown Copyright
CSG-21: multi-domain by design
The deployment of CSG-21 to the Indo-Pacific region meets all of the key definitions of MDI in action, operating across the air and maritime domains, above, on and below the surface of the sea and in collaboration with NATO allies USS The Sullivans and HNLMS Evertsen.
CSG-21 has also operated with air and maritime forces from international partners including France, Denmark, Greece, Italy, Turkey, Israel, India, UAE, Oman, the Republic of Korea, Australia, New Zealand, the United States and Japan, all of which demands a high level of systems coordination and connectivity.
This serves to reinforce the multinational element and challenge of coordination and connectivity required.
In addition to its involvement in the Carrier Alliance Group to design and construct HMS Queen Elizabeth, the most powerful surface ship ever to serve in the Royal Navy, Thales has contributed much of the C4ISTAR systems working within the group, ensuring they work synergistically across the task group and with other platforms to form a system of systems, greater than the sum of its parts.
These include underwater sensors such as the 2076 sonar on onboard the group's Astute class SSN escort, 2087 ASW sonar fitted in the T23 frigates Kent and Richmond and the FLASH dipping sonar carried by Merlin.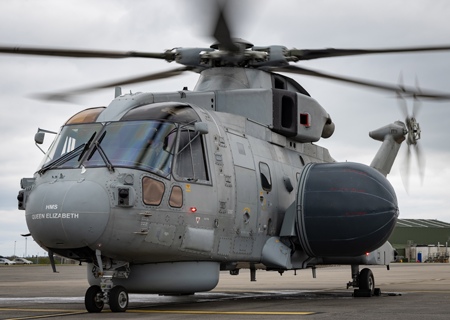 In the air, the Crowsnest airborne early warning system is also mounted in Merlin helicopters, and the SMART-L long range surveillance radar fitted on board the carrier, the two UK T45 destroyers Defender and Diamond and Evertsen provide air defence cover for the entire group. The Thales multi-domain mission support system (MD-MSS) fitted to HMS Queen Elizabeth ensures cross-domain situational awareness in support of F-35B Lightning II operational planning and maritime warfare operations.
Behind the scenes, state-of-the-art communications and combat management systems bring these varied elements together as one effective fighting unit.
CSG-21 will feature prominently at Thales's stand at the Defence and Security Equipment International (DSEI) event in London, the theme of which is multi-domain integration. As well as highlighting its involvement in CSG-21, Thales will showcase some of its key enabling products, including MD-MSS.
MD-MSS
Originally designed to provide RAF Nimrod aircrew and planners with situational awareness, MD-MSS brought together multiple information streams into a common picture. Since these early days, Thales and the MOD have jointly developed the core concepts of information management and defence middleware to provide a flexible digital platform serving the information needs of a wide range of users and their systems. This evolution and broadening user appeal has recently lead to the adoption of the "Multi Domain" prefix to its "Mission Support System" descriptor.
Today, MD MSS delivers information advantage to aircrew and ground-based planners alike, supporting air platforms from the Lightning II combat aircraft to Poseidon MRA1 as well as Air and Space Operations Centres. Its potential for supporting decision advantage across domains has also been recognised with MD-MSS supports maritime operations on board HMS Queen Elizabeth.
From this unique background, MD MSS now offer an open, MOD owned, interface to a flexible data platform in support of its MDI aspirations.
Risks and opportunities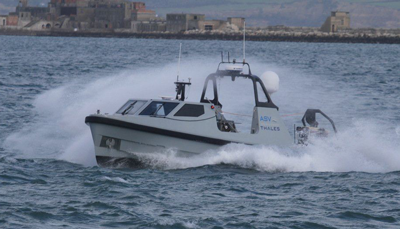 Digital technologies, such as autonomy, AI and machine learning, will play a key role in achieving the UK MOD's MDI ambitions. Autonomous sensors could swarm the battlespace, but they will generate vast amounts of data. However, digital technology will likely provide a solution through the application of machine learning and AI to process, understand and utilize all of this new information.
Manufacturers will be expected to underpin the UK MOD's MDI ambition by contributing technologies in each of these areas which are more multi-purpose and capable of operating across different domains, tasked by customers who may not be their "owners".
Systems must be accessible yet, at the same time, secure and resilient from attack. Digital trust must be at the heart of any MDI environment as information will be more vulnerable to attack in temporary, multi-domain, Cloud-based information-sharing communities. The stove-piped, firewall-protected IT environments of old will not work under the demands of MDI.
The world of commerce may offer solutions in terms of authenticating the digital identities of users in "zero-trust" ecosystem, perhaps by applying biometrics, allowing information to disseminate more widely, from HQ to soldier's handheld device. The problem of spoofing and authenticating the sources of information is already being tackled by the designers of control systems for driverless cars.
Bank customers trust that their money will go where they intend it to go. The Defence industry must engender the same level of trust among its own customers.
Integration of new and disparate systems needs to be de-risked and the best way to achieve this is by closer collaboration between erstwhile competitors in the industry, sharing information to ensure new capabilities can be integrated with existing ones.
Trust is key and this can only be built by putting collaboration into action. Thales has been active working with other companies, SMEs and academia on a number of research programmes in the maritime domain and building frameworks to make it easier for small companies to work with them and share information.
A new thinking around contract frameworks could also help develop the trust needed for collaborative work, protecting IP and ensuring that pain and gain are shared equitably.
Open systems and collaboration
The UK MOD and allies are taking MDI seriously and so must industry. Paul Baller, Lead for Business Development for Information Advantage at Thales, said:
The importance the UK MOD is placing on MDI is already being reflected by Thales as a company. Our displays at this year's DSEI, will demonstrate key programmes we feel will enable MDI for our customer.
"For us, MDI is a continuum that must deliver incremental enhancements. While these enhancements may be triggered by technological advances, MDI will only be realised through these elements working in concert. Thus, I believe the shift in emphasis required to support MOD's MDI concept is less about individual technical breakthroughs and more about System Integration supported by Open Architectures and the trusted working relationships that underpin their implementation."
Thales enjoys a strong track record in supporting the UK's Armed Forces, and her allies, at sea, in land and the air, with the equipment needed to face the threat of the day. As threats evolve, so does Thales and the company is able to leverage its position as a leader in digital transformation as well as its heritage to drive MDI forward by developing new capabilities, from sensors to effectors and from combat management systems and secure communications to mission support systems - all underpinned by digital trust and by integration through collaboration.