Britain's industrial powerhouse meets tech valley: A tale of regeneration
Ebbw Vale is a technology town.
It wasn't always. It was once rural, a place of tiny farms on rural mountains. All of that changed when enterprising engineers and businessmen discovered what was underneath. There was coal, good coal, steam coal, the "black gold" that powered ships and factories. Iron ore was there in abundance.  
The owner of the Penydarran Ironworks in nearby Merthyr Tydfil saw his opportunity, and founded a small ironworks at Ebbw Vale in 1789. The tale of Ebbw Vale became the story of the South Wales valleys. 
The Ebbw Vale Iron and Coal Company that grew here once rivalled great engineering names of Victorian Britain, in an era when South Wales built and powered the machinery of an empire. Technology patented from Ebbw Vale revolutionised the industries of the nineteenth and twentieth century.  
When deals were struck and exports made by frock-coated magnates in the busy ports of Cardiff, engineers and managers came to learn their trade and technology at the Ebbw Vale works. Vibrant, polluted, noisy, alive, this melting pot once employed 34,000 people at blast furnaces and rolling mills. 
Boom and bust 
But Ebbw Vale has always been vulnerable. With new builds, rebuilds, patents and the discovery of steam coal, fortunes were made. Fortunes also fell, with liquidations and layoffs as the global markets for steel dipped. The great depression hit hard. The area was identified as needing assisted area status in 1935. Cutbacks, recessions, investment decisions in distant boardrooms all took their toll on the town.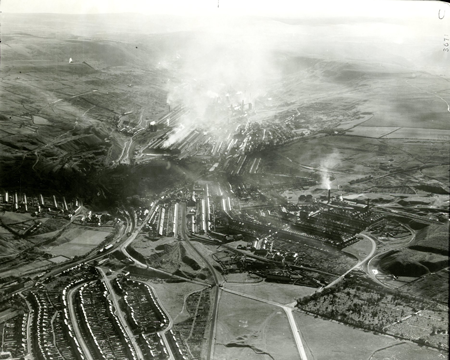 The steelworks closed for good in 2002. 
Government interventions have come from all quarters. The nationalised British Steel pumped money into the works. In the 1990s, Michael Heseltine's Garden Festival programme aimed to regenerate post-industrial towns, and Ebbw Vale had its own event. After closure, the National Eisteddfod, Wales's annual cultural and language festival came here. 
A major injection of European money has seen a new FE college, school, a hospital and a leisure centre on the site of the steelworks. But all of this has been in the context of a more fundamental question, as the town searched for a new purpose in a world that works in international markets. What next?
A technology town 
Ebbw Vale is no stranger to the white heat of technology
"OT," the Operational Technology now part of digitalised factories, was part of Ebbw Vale's DNA long before computing was invented, with words like tinning, galvanising, automation, furnaces and plants, electrolytic production lines part of the industrial language of the town. 
The Welsh Government's bold £100m, 10-year Tech Valleys programme aimed at forging Wales's own Silicon Valley amongst the remnants of the coal mining, iron and steel making works that dominated the first industrial revolution, has prioritised support to the town.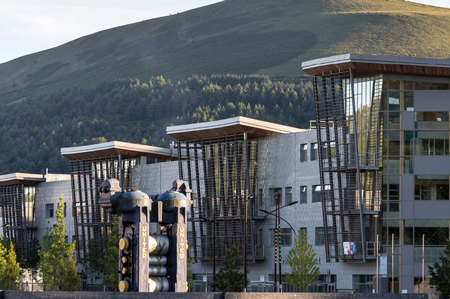 Ebbw Vale's National Digital Exploitation Centre (NDEC), a co-funded and co-developed project between Thales and the Welsh Government to create a centre of cyber and digital development and education for the UK, and has recently seen the addition of a new technology campus.
The development adds two new centres alongside the NDEC to create ResilientWorks, a campus including research laboratories and a test track and model street complex. Organisations from startups to major international companies and governments will use ResilientWorks to test and develop trust in operational technology and key infrastructure for growth sectors in the economy and critical public services.
As the Thales UK lead for secure communications and information systems, Gareth Williams is the driver behind ResilientWorks, the new technology campus on the steelworks site. He puts the strategy of the new development into context:
Gareth explains: "A number of centres across the UK and the globe are testing single elements of the cyber challenge in safety critical systems, Connected Autonomous Vehicles or electrification and smart grids. It will not be possible to meet the real world challenges that will occur in the second half of the decade until you provide an integrated test and evaluation capability where resilience, energy distribution and use and connected autonomous systems are put into an end to end use case."
NDEC, and its ResilientWorks, has been developed in a new approach, based on partnership between industry, government, and education. 
"We work together: it's not just about government interventions or private investors doing their own thing without each other. We're both contributing, putting skin in the game." 
"Where once Ebbw Vale exported coal and steel to the world, now we'll be exporting knowledge around the globe."
Before joining Thales, NDEC Business Manager Leanne Connor worked for Blaenau Gwent Council through the 2000s, brokering grant support and regeneration incentives to investment and jobs into the area. 
"We have to have an impact locally. An emphasis on buying local was part of the NDEC. The Foundational Economy runs through 85 local suppliers and a workforce more than 90% from South Wales. 
"But what we do needs to have a purpose and an identity. That's whether we're promoting business in Wales across the world or giving our young people a sense of what careers may be there for them. 
"If we do this right people will be able to say: 'This was once a steel town. Now it's a technology town.'" 
Find out more about  the National Digital Exploitation Centre.