Collaborative Combat at DSEI 2019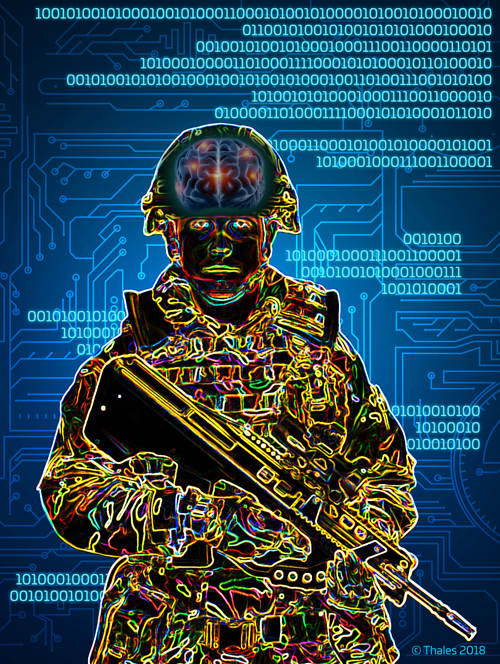 Military forces are on the edge of experiencing a 'smart everything', where 'collaborative combat' takes place using an 'internet of battlefield things', and where AI will make 'man-machine' partnerships possible, and revolutionise how information becomes intelligence and insight.
Before we know, military battles will be fought by a single, unified combat machine composed of soldiers, vehicles, and sensors, all operating in complete synergy and in real time.
Battlefield decision-making time will be reduced to seconds, giving a critical on-the-ground tactical advantage over the adversary. We call this Collaborative Combat.
Stop by our stand S6-100 at DSEI to find out how Thales is contributing to the transformation towards collaborative combat through smarter, safer more efficient and more ethical opportunities, available at every level, from strategic command through to the front-line. Whatever it takes.
Collaborative combat takes advantage of Thales' mastery of four major advances in the digital transformation:
Internet of Things (IoT) will connect all players on the battlefield – soldiers fighting vehicles, and weaponry – through cameras, sensors, GPS, and computers, for a transparent and continuous flow of information. Soldiers will be equipped with electronic devices that monitor physical functions such as blood pressure or heart rates, which transmit this information to local medical teams.
Big Data will gather data from battlefield action, analyze it, and then store it in the Cloud.
Cyber Protection will provide cyber solutions such as sensors and firewalls necessary to detect abnormalities and to store data safely.
Artificial Intelligence will provide algorithms for an automatic merger of all data to support the decision making process. 
Stop by the Thales stand S6-100 to find out more.