A deeper understanding: Thales and Plexsys join forces to support the next-generation Air Force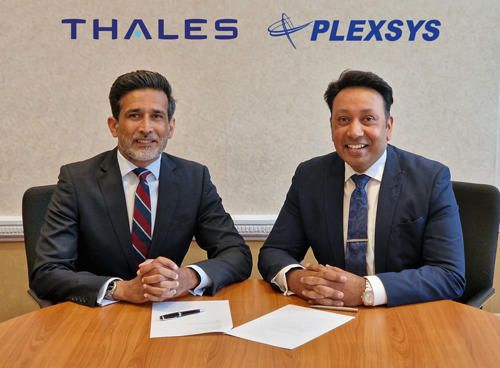 Military training for pilots has evolved a lot in recent years, with services and solutions becoming ever-more digitally oriented. And in signing a Memorandum of Understanding (MoU) with Plexsys, a leading simulation platform provider, Thales in the UK will be looking to accelerate this evolution. 
The MoU will enable both companies to collaborate closely to develop a unique set of complementary expertise, tools and capabilities that offer even more advanced integrated training and simulation solutions to MOD customers – particularly in the air domain, but also across land, sea, and space.
Plexsys' Advanced Simulation Combat Operations Trainer (ASCOT) 7 offers a cutting-edge, dynamic and intuitive computer-generated forces (CGF) platform, simplifying the development of complex scenarios to create the most high-fidelity immersive background in today's synthetic battle-space. 
Combined with Thales in the UK's own immersive digital simulation systems, AI, training, data capture, modelling, and integration expertise, the partnership will look to develop truly unique services and products that solve real-world challenges for today's forward-thinking multi-domain Armed Forces. 
By joining forces to compete for larger contracts, Thales in the UK and Plexsys are laying the foundations for a successful partnership. One that promises the highly advanced multi-domain solutions the MOD demands.
Leading the charge
Daz Rawlins OBE is MD of Thales Training and Simulation in the UK. He moved straight into industry after serving 29 years in the RAF. As a Staff Officer, he specialised in training, capability development, and requirements management. With operational tours in the Falklands Islands, East Timor, Iraq and Afghanistan, he happily admits the military training he received saved his life on numerous occasions. He's now passionate about providing next-generation training solutions to support the complex requirements of current and future warfighters.
Like all good partnerships, this MoU is a great example of the sum being greater than its parts. Ultimately, it's about fostering an environment for real innovation across the multi-domain training ecosystem, so we can develop the advanced solutions our customers need.
Daz Rawlins OBE, Managing Director, Thales Training and Simulation, UK
Sanjay Khetia is Director of Plexsys Interface Products in the UK, which serves as the hub for growth and operations in the UK and EMEA regions. Recognised nationally and internationally as an authoritative expert within the field of modelling, simulation and training, Sanjay's career spans over 20 years, with a demonstrable track record of designing, developing and delivering solutions that are innovative and progressive to a variety of sectors globally.
"We are excited about the alliance between Thales and Plexsys. Together, we're well placed to provide high-fidelity training by matching Live, Virtual and Constructive (LVC) training readiness requirements with innovative product and world-class support, ensuring that all our defence and non-defence customer ambitions are realised." 
Sanjay Khetia, Director, Plexsys Interface Products, UK
The MoU with Plexsys is the first step in a series of MoUs Thales in the UK will be announcing in the near future, as it looks to expand its strategic partnerships with leading SMEs in operational analysis, digital twins, and next-generation operational training.