An in-depth look at Project Marshall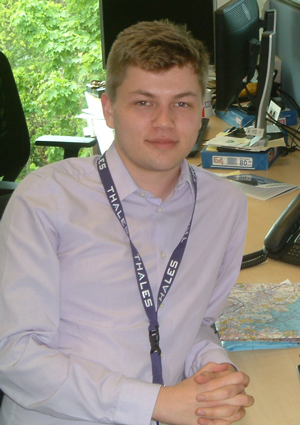 In the last issue we saw that a major milestone for Project Marshall had been reached, as it has now been handed over to AQUILA, the joint venture between Thales UK and National Air Traffic Services (NATS). In this issue we take a more in-depth look at what Project Marshall is and how graduate Software Engineer Elliot Rosemeyer is involved.
In October 2014, the Thales-NATS joint venture AQUILA was selected by the UK Ministry of Defence (MOD) to transform military Air Traffic Management (ATM) in the country and overseas in the form of Project Marshall.
Marshall is a large and wide-ranging project for the provision of terminal air traffic management. This is essentially the provision of air traffic services to military and civil aircraft operating in and out of government aerodromes in the UK and overseas. It seeks to ensure a safe, efficient and sustainable ATM service for the UK Armed Forces, modernising ATM at over 100 MOD locations (including more than 60 airfields and ranges), in a contract worth an estimated £1.5bn over the course of its 22-year lifespan.
Elliot Rosemeyer is a Software Engineer who joined the Thales Graduate Development Programme (GDP) in September 2014, just before the contract award was announced. He is based at the Crawley site and has recently been assigned to Marshall. Speaking of his involvement, Elliot says, 
"Just after I joined, Thales won Project Marshall, a £1.5 billion deal to upgrade the MOD's aviation sites. I'm currently working on a tool that uses the raw navigational data provided by the MOD, to automatically generate maps that can be displayed on their radar screens."
Elliot particularly enjoys the level of responsibility afforded to him as a graduate,
"What's best about this task is that it's all mine. I get to plan how I will tackle it, how it will be designed, how it's used, how it looks, all based on the requirements provided by the MOD!"
Marshall is a very large and very important contract for Thales UK, and it's great to see that graduates are involved and are given a number of learning opportunities and responsibility to really contribute.