The drone economy: flight of fancy or poised for take-off?
Did you know that by 2030, global management consultancy and accountancy firm PwC predicts there will be 76,000 drones flying in the UK's skies by 2030? These drones (also called unmanned or uncrewed aerial vehicles – UAVs), can either be pre-programmed to fly or be controlled remotely by a pilot.
Whether they'll be delivering Amazon packages, the weekly shop, or dinner from your local chippy anytime soon, time will tell. Initially though, they'll more likely be used initially for things like blue-light operations (emergency services), linear and perimeter surveillance and light goods deliveries. And they're set to have a huge impact, too. The same PwC report estimates that by 2030 the "drone economy" could increase UK GDP by £42bn, save the UK economy £16bn, and create 628,000 jobs. It's no surprise there's a lot of interest in these flying computers and the payloads and cargo they deliver.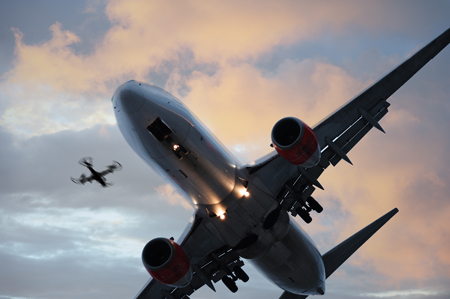 It's busy up there
But before we can usher in the drone economy in the UK, there's a lot of work to be done in terms of how to mix, manage, and track commercial drones safely in what is already some of Europe's most congested airspace. This is the responsibility of the Civil Aviation Authority (CAA), the organisation that sets, monitors, and enforces safety standards in the UK for all types of airspace users. These include hot-air balloons, gliders, and helicopters, as well as general aviation like private and commercial aircraft.
Consider the UK's already congested skies, and the scale and complexity of ensuring the safe and efficient co-existence of crewed and uncrewed air vehicles becomes abundantly clear.

Neil Watson, Market Development Manager, Thales UK
So introducing drones into the mix represents a major challenge. But it's a challenge that Thales, its partners like NATS (the UK's biggest provider of air traffic control services), and regulators like the CAA are taking on.
NBEC to the future
Currently, most drones are operated by a person who can see them and therefore control them to avoid obstacles in the air and on the ground. But for drones to be really useful, they need to be able to fly much greater distances and altitudes. Distances that go beyond our visual line of sight (BVLOS), but that creates all sorts of control, safety and security issues because you can't see the drone directly. So to help develop the technology to enable long-distance drone flights Thales, the Government, and other players in the drone industry came together to create the National BVLOS Experimentation Corridor (NBEC). 
NBEC is basically a volume of airspace 16km long and half a kilometre wide in the Bedfordshire countryside that allows organisations to test the infrastructure, sensors, drones, and airspace management systems we'll need to fly commercial drones. In effect, it's a big test environment to make sure unmanned vehicles can operate safely and securely and co-exist in airspace used by other uncrewed and crewed aircraft, without being able to see them directly. 
Up, up and away
Last December, Thales and its partners carried out the first end-to-end test flight along the corridor using air and ground sensors to track and manage the drone's return journey. Another experiment tested the resilience and accuracy of its "electronic conspicuity". This is so operators know exactly where a drone is at all times in relation to other airspace users, and can trust it to act safely if it loses its communications link. For example, does it hover where it is, go to ground, or return home?
Managing a single drone flying low-level in carefully controlled and limited airspace volumes is a small but important step. Now, imagine scaling that up to tens of thousands of drones flying across the UK's skies. That will require cutting-edge technologies, high-capacity communications, and advanced unmanned traffic management (UTM) systems. Plus, all the infrastructure that these things will need to run on.
Leading the charge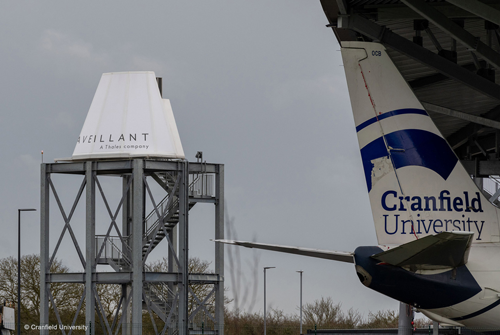 To add to the holographic radar (a high-tech radar that can track multiple small objects the size of birds) already deployed at NBEC, Thales is also deploying its own UTM system called TopSky UAS Airspace Manager. And we'll be drawing on our expertise and experience gained building the communications and surveillance infrastructure for the Vantis BVLOS network that's up and running in North Dakota in America. In fact, this network has become the proving ground for testing, training and commercialising unmanned aircraft systems in the US. The NBEC, located close to Cranfield University (which even has its own airport), looks set to become the UK's equivalent testing facility.
"The sooner we integrate drones into manned airspace the sooner we start enjoying the benefits across society. This includes cutting pollution and our national carbon footprint. And fuelling UK growth, prosperity and sustainability." 
Julia Jiggins, Head of Strategic Marketing – Aviation & Space at Thales UK
Of course, there's a long way to go before drones become mainstream, and the UK is still in the early stages of its journey, but, so far, the trials have been extremely encouraging and show safe BVLOS operations are possible. However, to realise the true economic and societal benefits of drones will mean safely deploying them in the real world. Only then can we begin to really develop their full potential. But that will also mean convincing the general public of the benefits drones can bring to our everyday lives and the wider society and that might take time. 
What we can be sure of though is that 2022 is likely to be the year that the quest to realise the drone economy really picks up speed.
For a more technical perspective on how Thales is helping bring Unmanned Traffic Management (UTM) to the UK, check out this article.