Maritime Pioneers Day: Exploring AI in the Maritime ecosystem
Digital Transformation is changing the way both Defence and commercial organisations are operating in the maritime, land and air environments. Artificial Intelligence, Machine speed decision making and Virtual, Augmented and Mixed reality visualisation tools will all be part of our digital offers in the future. Thales is looking to rapidly assess these new technologies and build collaborative relationships with best of breed partners from wider markets by conducting a Maritime Pioneers day on the 24th June 2019 at the Digital Catapult in London.
Thales reviewed 21 applications from some of the UK's brightest and best start-ups and scale-ups in digital technologies, down selecting the six that responded most closely to the criteria, and whose products and expertise impressed the selection panel the most. 
Thales is exploring novel approaches to strategic decision-making, assessing tools and techniques that are applicable and scalable across all domains. Thales is keen to take SMEs on this journey as part of a range of activities that include building a maritime technology ecosystem, around its new maritime autonomy centre in Plymouth, Devon. This is part of Thales' continued engagement in the development of the South West and the region's contribution to national productivity.
Matt Hunt, Mine Warfare Product Line Manager in the UK for Thales, and part of the team leading the UK Maritime Autonomy Centre Development in Plymouth, said:
Thales is very keen to engage with SMEs in this exciting area, finding and delivering the best capability to our customers. We are looking to take technologies uncovered today, and understand how to rapidly exploit into our product lines.  By working collaboratively with Thales on these exciting projects it is hoped that the whole eco system will benefit on a global scale. Our growing digital portfolio and relationship with the Digital Catapult is a clear example of success. Together we will deliver some ground breaking digital technology in 2019, look out for us at DSEI in September
Turnchapel Wharf and Maritime Autonomy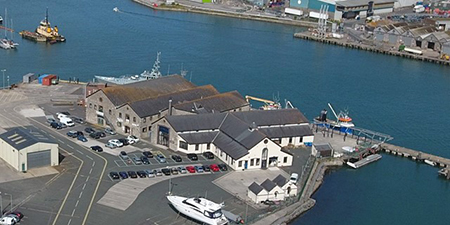 Thales launched the UK Maritime Autonomy Centre at Turnchapel Wharf in October 2018, with the aim of making it a centre of excellence for testing autonomous, digital technology in the maritime environment.
The centre is fast becoming the vision it was created for and is a unique facility for proving autonomous vehicles above and below water, with access to shallow and deep water test areas. Thales now intends to build a maritime operations control centre at Turnchapel Wharf to manage, monitor, test and develop manned and unmanned assets such as drones, ships and submarines. This facility will enable the progressive and persistent at sea testing of unmanned systems nationally at first but it is hoped globally in the near future.
The site is already becoming the nucleus for an ecosystem of research and development within industry and academia with which Thales plans to collaborate in order to create, evaluate and certify viable products for the Royal Navy and global customers.
The aspiration is for the facility to become the exemplar for a network of similar operations centres around the world for the command and control of unmanned and autonomous vehicles at sea, on land or in the air.
Digital pioneers
The Maritime Pioneers Day is a chance for Thales to network and discover the exciting, innovative and disruptive technologies being developed by start-ups and SME across the country. It is a chance for these industry partners to showcase their tech and join a flourishing eco system that is pushing the boundaries in digital transformation. It is hoped that this pioneers day will be the start of a long and profitable relationship with Thales. 
The event is hosted at Digital Catapult, a digital technologies hub, partly funded by Innovate UK, tasked with driving the early adoption of digital technology in the UK economy. Digital Catapult has been working with Thales for five years, using its extensive network across digital technology ecosystems to reach out to start ups and help Thales build relationships with them. 
The companies selected  are: DIEM consulting, Daden, Modux, Singular intelligence, and decisionLab, with a joint entry Arion and Kadlytics. 
Each company will have the chance to network with each other and explore with Thales how digital technologies such as AI and machine learning, data visualisation, Internet of Things technology, Augmented/Virtual Reality and Mixed Reality can be applied to maritime operations management. 
They will then have the opportunity to pitch to Thales  innovators and decision makers, demonstrating their products while receiving valuable feedback in return and an understanding of how their products could apply to future Thales solutions.