Meet the Robot A-Team that will be vital to the future of offshore wind and Net Zero
Thales innovation at the heart of robot wind farm team
Thales has been at the heart of one of the UK's most ambitious robotics projects to prove the concept for robotic teams repairing offshore wind farms. 
Led by the Offshore Renewable Energy (ORE) Catapult, the project paves the way for human-robot teams at wind farms within 10 years and wind farms designed for robotic maintenance by 2050 – a scenario that will be vital to the UK achieving its net-zero ambitions.
The two-year £4 million MIMRee project, funded by Innovate UK, has just concluded this month and the team – drawn from industry and academia - say they have successfully proven and demonstrated the core technologies at the heart of the concept.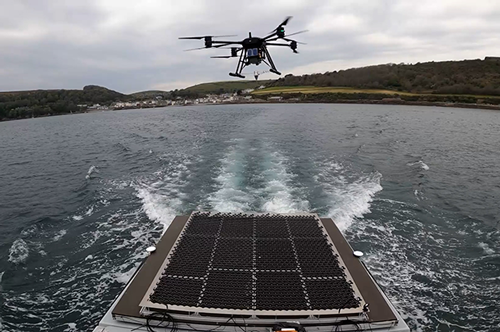 Under the MIMRee scenario, a Thales autonomous mothership called Halcyon detects defects on wind turbine blades using an onboard camera inspection system that can scan the structure of blades while they are still turning at up to 200mph at their tips. The mothership then signals the blades to stop and launches a specially adapted drone that can transport a six-legged 'blade crawler' onto them to carry out the repairs.
Technology from Glasgow
The onboard Moving Wind Turbine Inspection System was developed out of Glasgow and incorporates world leading optronic technology currently used on submarines, tanks and armoured vehicles.
Barry Connor, Innovation & Technology Manager for Optronics, said: "Using Thales' experience in stabilising systems in harsh environments, the moving wind turbine blade camera system is able to overcome wave motion and take stable, multiple images of the turning blades from 100 metres away and detect defects such as cracks, erosion or lightning strikes."
"The system uses an electro optic system with AI processing to detect defects on the blades without interfering with wind turbine operations."
"The stabilising capability and sensor technology used are derived from technological solutions to stop swaying imagery on optronic masts fitted to the Royal Navy Astute Class submarine or cameras fitted to the Challenger tank."
Inspired by space missions
The project's inspiration was drawn from space exploration, the epitome of an extreme environment. Professor Sara Bernardini, from Royal Holloway, The University of London, previously worked on mission planning for space operations with NASA, developed the AI system that controls how the MIMRee robots work together and communicate with humans.
She said: "Space provides a good example of humans working with robots. The current Mars exploration programme uses a team of robots - from helicopters to rovers - that can withstand extreme conditions. Astronauts are deployed selectively, where human ingenuity is most needed and risk to life is lowest. Likewise, future offshore work will be about humans being in the control room, developing and managing robotics and learning the skills required to work in teams with them."
Dr Paul Gosling, Chief Technical Officer for Thales in the UK, said: "Increasingly we are seeing the technologies around robotics, autonomy sensing and AI providing solutions enabling activities involving harsh environments to be undertaken using unmanned systems. 
"The MIMRee work is a perfect example of a UK team of experts using this evolving technology to benefit society and the environment in the future. I am delighted Thales was able to contribute its expertise in the form of the autonomous mothership, camera sensing and AI technology to make this activity a success." 
Other team members include Plant Integrity, Wootzano, University of Bristol, University of Manchester and The Royal College of Art.