New acoustic shot detection system to protect Ajax vehicle crews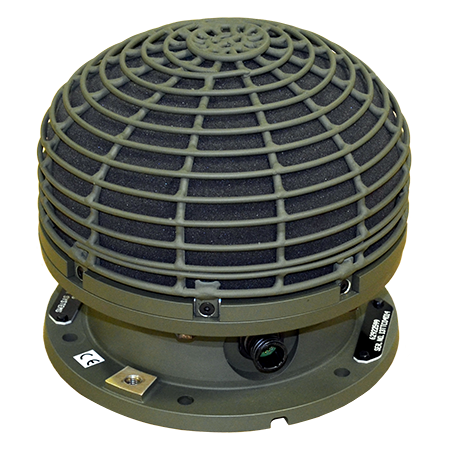 The contract is with General Dynamics Land Systems–UK for the installation of our vehicle-mounted acoustic shot detection system on the Ajax vehicle.
Designed to accurately sense and report the direction of incoming enemy fire, the Acusonic system gives the vehicle's crew the critical situational awareness to react to the threat.
Its innovative sensing system is based on Thales's world class sonar technology that provides the 'ears' for ships and submarines around the world.
Under the terms of the contract, 735 Acusonic systems are now on order for integration onto Ajax. Thales is already on contract to supply the primary and secondary sighting systems on the vehicle.
The Acusonic sensor is manufactured at Templecombe in Somerset, which employs more than 800 people in highly-skilled manufacturing and technical roles.
Fitted with powerful acoustic sensors, the system itself is extremely rugged thanks to its shell-like design, which allows it to be seamlessly installed onto the side of any vehicle.
Each Ajax will be fitted with three Acusonic sensors, giving the crew a 360 degree threat-detection capability.
"It is fantastic news that the Acusonic system is now being integrated onto the Ajax vehicle. We very much value our working relationship with General Dynamics Land Systems–UK.

Highly-sensitive and accurate, Acusonic is designed for the modern battlefield and can provide the crew with life-saving situational awareness under the most testing of conditions.

It's also testament to the skills of our people and investment we have made in Templecombe that a world class maritime sonar site has produced an innovative life-saving system that is perfectly designed for the demands of land-based operations."

Phil Jones, head of Thales UK's maritime business
Thales UK has already been selected by General Dynamics to supply the primary sighting system for Ajax, and by Lockheed Martin UK, the sub-contractor responsible for the design and manufacture of Ajax turret, for the secondary sighting system.
XPI Simulation, a Thales company specialising in training and simulation solutions will also provide the driver simulators for the Ajax programme.