Focused on people, enabled by transport, powered by technology
'Failing to put people above technology in the planning of smart cities and transport networks could lead to divided and socially exclusive communities across the UK', says a new report published today by PwC and London Transport Museum in collaboration with Thales and international law firm Gowling WLG.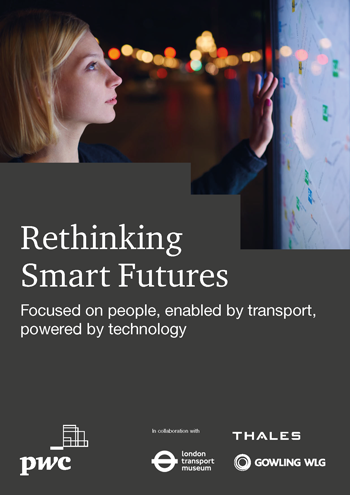 Rethinking Smart Futures outlines a new vision for smart cities that are socially inclusive and focused on people, enabled by transport and powered by technology and data. The report identifies the challenges to achieving this vision and calls for central and local government, the public sector, and private industries to join forces to take forward key recommendations. These include: 
Defining a shared vision for the UK's smart future and re-defining measures for success 
Creating trusted and regulated processes and networks for data sharing that are resilient to cyber-attacks
Establishing a new, regulated national transport framework for public-private procurement and investment in innovation and technology  
Collaboration between central and local government with the private sector to invest in and fund local schemes that support 'blue-sky' innovation  
Rethinking Smart Futures draws on five expert roundtable discussions that took place with industry leaders, policy makers and academics throughout 2018 as part of Interchange, London Transport Museum's thought-leadership programme. In collaboration with Gowling WLG and PwC, Interchange provokes debate and discussion about the future of transport.
Mark Garrity, Director, Strategy Sales & Marketing for Thales Ground Transportation Systems said:
Transport is the bedrock of a Smart Future. Countries, cities, and transport operators are adapting to rapid urbanisation and the changing way people travel within and between cities. To enable this evolution, we need to understand, anticipate, and meet users' needs in real time, through the use of data analytics and technology. This report articulates a roadmap that encourages collaboration across the public and private sector to facilitate connected, more intelligent journeys for a smarter, safer, future.
Download the full report from the Documents area below.