Rolling lab will gather data to enhance railway safety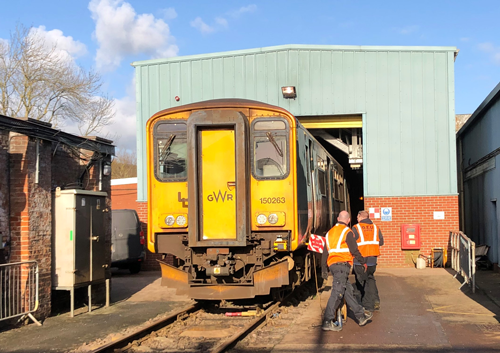 A "rolling lab" on the UK railway network will provide critical data on a hyper-accurate train positioning system that aims to further increase the safety and efficiency of Britain's railways.
This month (January 2022) Thales is installing its Robust Train Positioning System (RTPS) technology onboard an in-service GWR Class 150 cab, which marks the start of at least one year of data gathering in order to test the viability of the solution under realistic conditions.
The equipment is composed of a range of sensor systems, collating inputs from all sensors and combining them with a digital map of the track to provide an accurate and continuous positioning output. Through combining this system with existing Train Protection and Warning System (TPWS) technology, the train can be supervised against permitted movements and speeds and activate the emergency brake in the event of a "signal passed at danger" (SPAD) or excess speed incident.
The onboard system will not require trackside infrastructure, which makes it quicker, cheaper and safer to install and maintain than similar systems. The current TPWS protection works on powered grids at specific points of the track to stop the train if it approaches a red signal too quickly, or upon passing a red signal. The new system effectively "upgrades" TPWS and turns the entire track into a virtual continuous power grid. This will enhance safety trackside by allowing continuous communications and early warning of red signals and obstructions anywhere on the network, such as track maintenance and repairs.
Alex Stockill, Thales Product Line Manager, said: "We are fitting this equipment and connecting it to a general-purpose computer platform onboard, which will provide a range of potential benefits. It's giving us a rolling lab for testing integration with TPWS, as well as many other opportunities for innovation. 
"We have dozens of applications we want to investigate over the coming years to quickly test viability and conduct proof of concept demonstrations. Particularly usefully for this initial train is that we will be able to continuously generate and analyse data as it runs in passenger services, so it lets us test ideas at a low cost and high speed. It gives us a much quicker way of responding to customer needs and demonstrating solutions.
"We are aiming to get at least one of those ideas, once successfully tested and demonstrated, to market quicker as a new product so that it can potentially save lives and money for Network Rail."
The trial is sponsored and supported by Network Rail and Great Western Railway, which has made one of its cabs available for the project. Contractors in Exeter began installing the equipment on the 17th of January and it will immediately start to gather data on return to normal passenger service. It will be in constant communication with Thales's secure data centre in Cheadle, sending data for analysis.
The RTPS system will not be connected to the train's control or communications systems during the trial, only drawing power from the cab, so that the driver will not be distracted.
However, Alex hopes that demonstration trials will be organised for Network Rail and other interested parties such as the Department for Transport and Train Operating Companies.