Supporting frontline staff, both military and NHS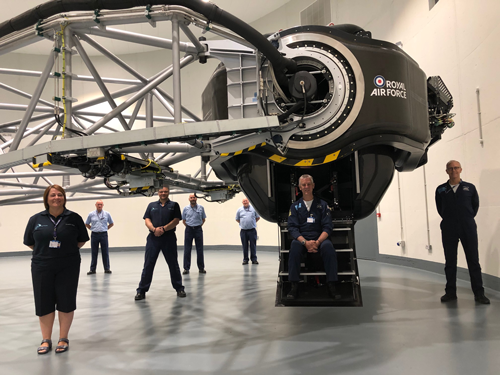 Thales has a worldwide reputation for developing and applying the latest synthetic training methods and equipment to prepare military aircrew for the most demanding of working environments.
The COVID-19 lockdown has added new challenges to every workplace, particularly for key workers involved in the fight against Coronavirus. Thales Training and Simulation teams are stepping up to the plate to ensure that military aircrew can continue to operate safely.
At the same time, they are now supporting engineers manufacturing critical ventilator equipment and training frontline NHS staff in using it.
Maintaining the UK's Defence
Business must continue as normal for Thales's remote site teams working on RAF bases across the country. When it comes to delivering training services to support the UK Military's non-discretionary tasking, everyone is a key worker; Thales's people are working alongside military colleagues to deliver training and maintain a range of complex synthetic training equipment despite the challenges of COVID-19.
Maintaining operations has not always been easy, especially ensuring the availability of key personnel and supplies required for continued training. Keeping our people and our customers safe has been the priority throughout this difficult period, necessitating additional cleaning of training equipment; modifying training equipment and procedures to adhere to social distancing requirements and, where necessary, providing PPE for specific critical tasks. These changes have proved challenging to implement. However, the Thales Training Services team, working alongside military personnel, Health and Safety and Facilities Management teams, has demonstrated the strength of the RAF's "Whole Force" approach in keeping sites running safely.
The Thales team based at RAF Brize Norton continues to provide synthetic training for RAF crews flying Voyager Air to Air Refuelling missions for the Typhoon Force and to the Air Tanker crews maintaining the South Atlantic Air Bridge to the Falkland Islands and repatriating UK citizens from abroad.
In more normal times, pilot instructors would be in the cockpit along with the pilots for synthetic training sorties of up to four hours. However, the Thales engineering teams designed and made some rapid, low cost modifications to existing, but previously unused, equipment.
These upgrades included reconfigurations of the touch screen displays, the creation of repeats of the avionics and Mission System Operator (MSO) panels and modifications to the communications set-up which included designing and 3-D printing a junction box to allow the use of personal noise-cancelling headsets. Working collaboratively in just a couple of days, the Thales Engineering Teams completed these modifications and improved functionality of the off board Instructor Operating Station (IOS) from where the pilot instructors were able to train more effectively. This greatly reduced the infection risk to both the instructors and the aircrew without impacting on training.
The Thales team in the High G training facility at RAF College Cranwell is continuing to provide centrifuge training to ensure the safety of operational and trainee fast jet pilots. Thales's site engineering team, working closely with the centrifuge design authority AMST, has carried out additional maintenance activities on the device because of the restrictions on AMST personnel travelling from Austria. This has enabled safety critical training to continue for Typhoon and F35 crews.
The Thales teams supporting the BAES Typhoon Training Facility (TTF) at RAF Coningsby and RAF Lossiemouth are enabling the crews of our Typhoon aircraft to continue to fly safely, keeping our fighter pilots in the sky. BAES commended the efforts of the TTF teams at both sites, including the support provided by colleagues from Thales. The RAF Typhoon Force Commander, Air Cdre Mark Flewin, also praised the continuation of essential Typhoon training during the Covid-19 pandemic:
"It has been very pleasing to see the TTF Whole Force rapidly adapt in these challenging times – continuing to deliver critical conversion, Front-Line and Operational training – where our synthetic solution remains an important and essential element in support of Typhoon Force Operational output."
Ventilator Challenge UK: Supporting the NHS
Thales has also joined industry partners to make more medical ventilators available for the National Health Service (NHS). As part of the Ventilator Challenge UK consortium, Thales Training and Simulation teams are developing and delivering essential virtual training methods to engineers manufacturing ventilators.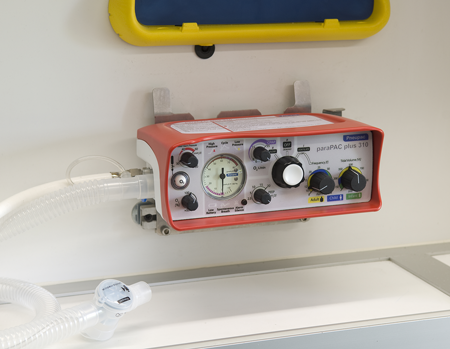 Thales has worked with Smiths Medical which supplies the NHS with portable paraPAC plus™ ventilator, which is used in ambulances and for moving patients within NHS hospitals.
While health workers are experienced in using medical equipment, many have volunteered to return from retirement and need training in the specific operational and technical challenges of using modern ventilator systems.
Usually, healthcare professionals who come into contact with new equipment will use a demo model to build familiarity in a very hands-on process, but this is no longer a viable option. Knowing how the equipment works, however, is a vital part of the puzzle which leads to saving lives.
In just three weeks, Thales personnel have produced operator training modules for NHS workers, using an eLearning platform which maintains distancing measures.  
Thales is also providing specialist training for companies setting up new assembly lines to manufacture ventilators, which require a range of new tools and skills.
At the start of the project, skill levels on assembly lines were assessed, and skill gaps identified, to produce training modules to upskill more than 100 engineers across the UK.
For example, when dealing with electronic components, static electricity is an important factor.  Assemblers can unintentionally pass on static electricity which can damage components. In response to feedback from manufacturing operators, Thales offers a new module for workers to learn about electrostatic discharge.
One Team, One Thales
With support from the Thales Crawley team, frontline trainers, engineers and administrators at sites across the nation have demonstrated the company's "One Team, One Thales" ethos.
In agile and innovative ways, they continue to deliver for the customer during difficult circumstances, wherever their frontline happens to be.