Thales and Outreach 3 Way partner to build inclusive playground in Crawley
Thales and Sussex based Outreach 3 Way, part of Dimensions, the national not-for-profit support provider, have worked together to build an inclusive recreational area for people with learning disabilities and autism.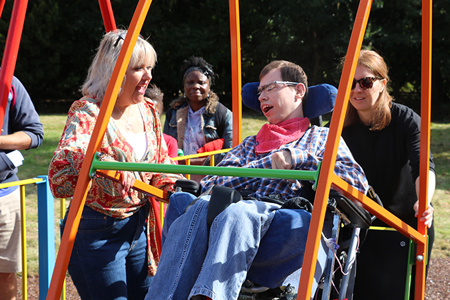 The Willow Tree recreation area was opened on the 23rd of September and is a welcome addition to the Crawley area. It has been designed to provide a safe, fun and stimulating area for the people that Outreach 3 Way supports, as well as local schools and other visitors.
The project first began as a shared idea between two Outreach 3 Way colleagues when they realised that the local area didn't provide a suitable playground for the people who the charity supports. The logistics and cost to travel to a suitable playground would make such a trip expensive and challenging, so the charity was looking for a solution and some help to bring it to life.
After some initial fundraising success, Outreach 3 Way got in touch with Thales and it was decided that this would be an excellent project for Thales's Leadership Development Programme (LDP) team to address.
A key part of the Leadership Development Programme is looking at how Thales employees can support the communities that they work in and are a part of.  Outreach 3 Way, and the fantastic role they fulfil, has been the perfect partner to work with to make a difference to people with learning difficulties and autism in the area. The development of the park also provided an opportunity to include STEM-related equipment, in order to create fun learning experiences.
When commenting on the experience of working with Thales, Bob Leeves, O3W Project Manager, said "It has been a real pleasure and experience working with Thales to plan and deliver the Willow Tree recreation area. Usually within the Social Care sector we don't have the opportunity to work with business's and look at different ways of operating." He also added that "Working with Thales has proved that there are companies and organisations that want to support their local communities and not be afraid to make a commitment and make projects and ideas work."
At Thales we are passionate about supporting our local community and working with Outreach 3 Way has allowed us to develop a really positive partnership within the Crawley area. To be part of an innovate project that will develop a much needed outside space for Crawley is a great opportunity for this year's leadership cohort
Eve Maywood, Head of STEM Education and Partnerships, Thales in the UK
The Willow Tree recreation area provides bespoke apparatus for its visitors that are designed to create a safe, fun space. Local Member of Parliament, Henry Smith, said "My sincere thanks to Manor Royal based Thales's staff who so actively partnered with Outreach 3 Way to raise funds and help manage the new inclusive playground project for local adults with learning disabilities."