Thales Glasgow team recognised for sprint to Covid-detecting camera
A team from Thales in Glasgow has been recognised with a national innovation award for a project sprint to produce a camera that can scan accurately for people in public places with high temperatures.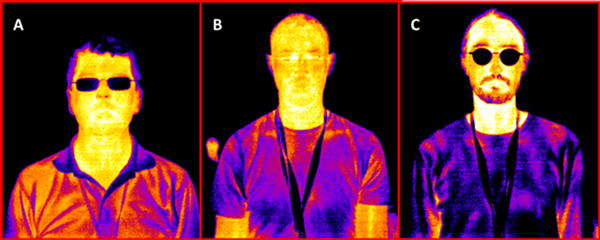 When the Covid-19 pandemic first struck, Thales people across the country mobilised to help the NHS, from making protective mask components at home to taking part in the UK Ventilator Challenge.
A group from Thales in Glasgow whose day job is usually focussed on military technology application  wanted to apply their expertise in imagery processing software in order to support nearby Queen Elizabeth University Hospital. A critical challenge faced by the hospital was to detect visitors and staff with higher than normal body temperatures, who could be infected with Covid-19.
Thales's lead for the project, Dr Iain Carrie, said: "We asked ourselves what we could do to help the hospital keep staff and patients safer.
"We looked at existing thermal cameras on the market and didn't think they were up to the job, due to their accuracy, expense and size. We wanted to see if we could do something better, and in just a few weeks."
Variations from the normal range of human body temperatures that could indicate febrile temperature can be too small for current cameras, with a typical accuracy of +/- 0.3°C, to detect accurately enough.
As part of the COVID-19 Thermography Challenge, Iain's team generated ideas for new software and hardware, incorporating facial feature detection technology to improve accuracy so that thermal imagery of human faces can be used to produce a body temperature as accurately as that from an ear thermometer.
Working with the University Hospital staff, the team put several prototype test-rigs through data-gathering trials involving volunteer patients. The resulting prototype was quickly trialled and the system deployed throughout the hospital.
Thales's solution has an accuracy of +/- 0.1°C which greatly reduces the likelihood for false readings. The new software and hardware designs reduce calibration drift without the need for a thermal plate to compare against, which is a common feature of many other devices. This makes the system more portable for deployment in public spaces.
In November the team's efforts were recognised when the COVID-19 Thermography Challenge won the Health and Safety category at this year's IdeasUK Idea of the Year awards.
IdeasUK is a not-for-profit network organisation which, as promoted innovation for over 30 years, by encouraging organisations to recognise employees' ideas which have a wide beneficial impact.
Responding to the prize, Iain said: "It was great just to be nominated for the award so winning was a surprise and a very great honour. Our team worked hard through the lockdown, putting in a lot of late nights and working from home, but it was also a team effort across different parts of Thales.
"We felt that working with the NHS at such a difficult time was the right thing to do. We now have a product that can help other organisations."
He also believed that Thales has benefited from the experience: "We used agile methods to get to the prototype over such a very short timeframe, often using non-standard procedures, and I'm sure we'll continue to use some of those new methods for other projects."
The result of their work is now being productionised as a valuable tool which can scan large numbers of people at the same time at entrances to hospitals, large scale events and transport hubs.