Thales joins new taskforce to support Wales through the Covid-19 crisis
Thales has joined Tech Taskforce for Wales, which was recently formed to give a first line of free advice and support to businesses of all sizes as the COVID-19 pandemic develops.
The taskforce brings technology firms, government organisations, financial establishments and sector support initiatives together, creating a single source of knowledge and expertise on essential products and services. Thales will contribute world-class cyber and digital skills to help keep businesses safe and resilient during this difficult time.
Some individuals, criminal organisations and nation states are using the pandemic as cover to launch phishing attacks. The worry is that, hastened by a sense of urgency, people are more likely to trust unsolicited emails which appear to be from utility companies, healthcare providers, government departments and other credible sources.
Don't be fooled: the links in these emails can install malware on your computer which then goes on to infect your entire network or extract your personal information. 
This is more than just a nuisance. At a time when businesses are already facing an uncertain future, a single successful cyber-attack could cause irreparable damage.
Protecting the Welsh economy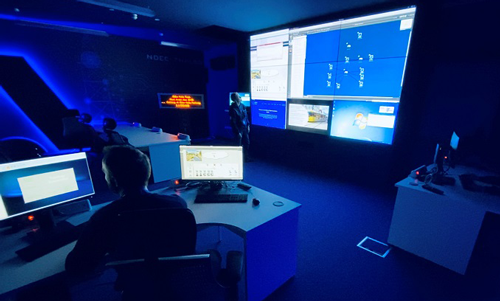 Because Thales already has a substantial long term investment in the Welsh economy, epitomised by  the National Digital Exploitation Centre (NDEC) in Ebbw Vale, Blaenau Gwent – a £20 million site which is used for digital and cyber security training and research – it was natural for us to step forward to help.
We have the technology to simulate, analyse and nullify even the most sophisticated cyber-attacks. And we stand ready to educate businesses about the various attack methodologies and how to respond to them. We can also monitor networks remotely to detect and defeat attacks before they can do any damage. This monitoring, at a time when so many people are now working from home with reduced cyber security, could be crucial.
This isn't just a technology issue. It's about resilience. The survival of our economy depends on good governance, contingency planning and disaster recovery for dependable business continuity – all areas on which Thales can advise and assist.
Preparing for the future
No one knows how long the pandemic will last. When it is over, the way we work from home - with phones, email and videoconferencing, plus the advanced cyber security that goes along with that - might well become the new normal.
The taskforce in Wales is being replicated in other countries. The names are different, but the aims are the same. By working together, we will survive Covid-19. And it's an investment not just for now, but for the years ahead. We can all take comfort from knowing that the work we are doing today is securing the foundations of our future economy.
New horizons in cybersecurity
You can read the interview with Gareth Williams, VP, Secure Communications and Information Systems UK at Thales by the French Chamber of Great Britain.