Thales part of new robot team facing up to autonomous wind farm challenge
Imagine a future where the world's first fully autonomous team of robot bugs, drones and unmanned vessels work together to inspect and repair offshore wind farms in the unforgiving environment of the open sea.
The unmanned vessel will sail out to the farms with its robotic crew on board, ready to co-operate on a remote mission that would not look out of place in outer space in lessons learned directly from NASA operations. 
The drones will then fly around the turbine, conducting visual inspections using HD cameras.
The six-legged crawling robot bugs will use hyperspectral imaging which is much more sensitive than the human eye to carry out close-up inspections of the blades, and an electronic skin to 'feel' the surface and use a robotic arm to repair the blades.
But this is no fantasy project. Thales is excited to be part of a new two year project between industry and academia to help deliver this autonomous robotic solution that will help support this growing energy sector.
Offshore wind energy is becoming increasingly critical to the UK with the Government predicting it will be providing one third of all our electricity by 2030 as part of its clean growth strategy.
The Innovate UK-funded MIMRee (Multi-Platform Inspection, Maintenance and Repair in Extreme Environments) project brings together a consortium of eight industry and academic partners.
All bring respective expertise around the fields of robotics, artificial intelligence, space mission planning, engineering, autonomy, non-destructive testing and nanobiotechnology.
By their very nature, wind farms are isolated and subject to the harsh effects of the open sea. Human inspection teams have to battle weather, long sea journeys and being roped up on turbines in small windows of opportunity when the blades have to stop turning and therefore stop producing electricity.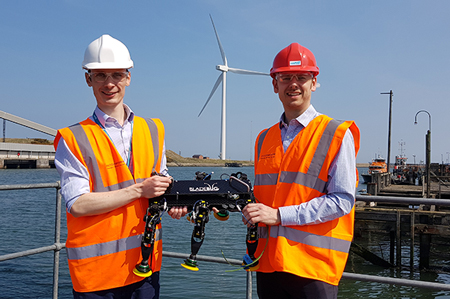 The project is expected to save the average wind farm approximately £26 million over the course of its lifetime.  It will also involve upskilling technicians to more land-based roles.
Plant Integrity leads the consortium and the Offshore Renewable Energy (ORE) Catapult will provide offshore wind industry insight and access to test facilities.
Thales brings its expertise in autonomous systems in the form of the unmanned surface vessel or 'robot mother-ship'.
Having recently opened its new maritime autonomy facility in Turnchapel, Plymouth, Thales will deploy one of its unmanned vessels to work with the rest of the MIMRee team in the deployment of the drones and newly-developed BladeBug robots that will deploy on the turbines.
Read the Press Release to find out more about MIMRee repair and inspection solutions.