Thales enhances its Train Protection and Warning System
Thales' Train Protection and Warning System (TPWS) has delivered excellent reliability and availability for over 20 years, reducing the likelihood and consequences of a Signal being Passed at Danger (SPAD)
The new TPWS Mk4 Single Cab Control Unit is compact in size, ideal for retrofit upgrades of the Mk1 and Mk3 systems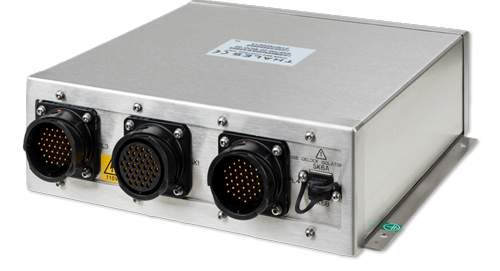 Ahead of Railtex 2022 exhibition in London, Thales announced the launch of its enhanced Train Protection and Warning System (TPWS) Mk4 Single Cab Control Unit, expanding on over 20 years of excellent reliability and availability, and delivering major enhancements, all through a simple, time-saving and cost-efficient software upgrade. 
For years, TPWS has been designed to reduce the likelihood and consequences of a Signal being Passed at Danger (SPAD), automatically applying a train's brakes if it approaches a designated point. Today, the solution must be able to interface with the European Train Control System (ETCS) and recognise the lines where ETCS is fitted, taking over as the priority safety system where it is not. TPWS Mk4 delivers just this, providing a protection and warning system with built-in suppression and un-suppression, so it can automatically recognise and adapt depending on the signalling system on the line.
The new system offers a host of additional features to ensure it continues as the go-to solution for train operators, train builders and rolling stock companies alike, including: 
More compact system for Single Cab Installation: Mk4 Control Unit has been reduced to fit the same footprint as existing Mk1/Mk3 Control Units – the Single Cab Control Unit omits the connector for the second cab to save space
A future-proof solution: upgrading to Thales TPWS Mk4 paves the way to both ETCS and RBLS. Offering single and dual cab options, Thales TPWS Mk4 delivers a high degree of reliability and availability following the safety standards for the digital railway and provides In-Service Testing advocated by the Office of Rail and Road (ORR)
No configuration required: when installing or replacing Thales TPWS Mk4 equipment, no reconfiguration is needed, just run the routine proof test and the vehicle is ready to enter service
Easy to fit and run with existing systems in both single and dual cabs, with no need to change anything underneath the vehicle, TPWS Mk4 is a straightforward, cost-effective upgrade that requires minimal staff training, whilst ensuring interoperability with European Train Control System (ETCS). 
"Train Protection and Warning System has served the industry well for over 20 years, offering an unprecedented reliability and availability track record, and we are excited to announce this latest upgrade. The new solution is designed for ease of use and made for the future of rail." - Tristian Crawshaw, Head of Product Sales, Thales Ground Transportation Systems
About Thales 
Thales (Euronext Paris: HO) is a global high technology leader investing in digital and "deep tech" innovations — connectivity, big data, artificial intelligence, cybersecurity and quantum technology — to build a future we can all trust, which is vital to the development of our societies. The company provides solutions, services and products that help its customers —businesses, organisations and states — in the defence, aeronautics, space, transportation and digital identity and security markets to fulfil their critical missions, by placing humans at the heart of the decision-making process.
Thales has 81,000 employees in 68 countries. In 2020, the Group generated sales of €17 billion.