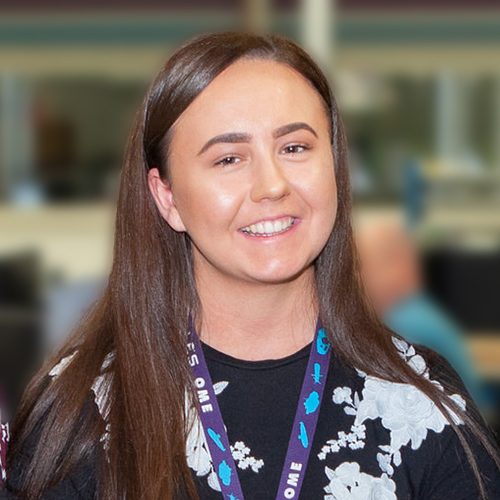 Abby Wilson
Abby Wilson
Competitive Apprenticeship Programme
Glasgow
Abby was in her first year of university when a chance to join the Thales business apprenticeship programme came up. After succeeding with the online tests and assessment day, she earned her place on the competitive apprenticeship programme and has been based at the Thales Glasgow site for 18 months and is the third generation of her family to work at Thales! Abby tells us what inspired her to join the company, why she thinks Thales is great for Scotland and the opportunities she has been able to take advantage of since joining the business.
What led you to join the Thales apprenticeship programme?
I was actually in my first year of University studying finance when my mum, Alison Wilson, who also works at Thales as a logistics planner within the manufacturing division, 'said that the annual recruitment window for applying to the apprenticeship programme was open.
My Gran, Great Auntie and Grandpa had all previously worked for Thales and so I had heard a lot of great things about the company. This meant that I knew the opportunity was too good to miss.
I was concerned that I might not be able to complete my degree if I took the apprenticeship, however, Thales have been so supportive in allowing me to complete my studies alongside work and I now go to university two nights a week.
If I ever need extra time to dedicate to my studies, then Thales are always there to provide me with the support that I need. I am now due to finish my third year this summer.
What do you love most about your role?
My role gives me the opportunity to learn new things on a daily basis, whether it be a new aspect to my job role or learning about a different section of the business. I started my apprenticeship in manufacturing and have also worked in the finance division, now I am in the naval group doing planning, which involves ensuring we have the resources that are required for incoming contracts.
Next, I hope to get involved with the project management side of the business.
What is it like working at Thales in Glasgow?
Thales in Glasgow is a small community. Everyone is really supportive, helpful and friendly. You know that if you are ever struggling you shouldn't worry about asking for help as everyone is happy to give assistance when needed.
The business also provides lots of opportunities for you to work in different sectors of the company so that you can explore your interests. This also helps you to gain a really detailed understanding of the business. 
How important is Thales to Scotland? 
Thales is really important to the people of Glasgow, which you can see from the amount of people within my family that have worked for the business!
It gives people lots of learning and development opportunities and plays a big role within the Scottish economy.