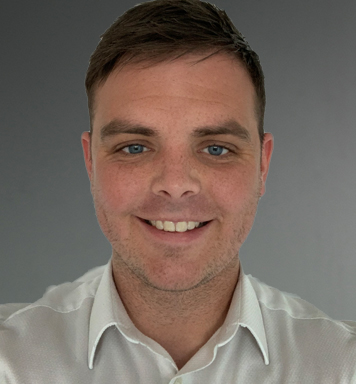 Colin Scouller
Colin Scouller
Mechanical Engineering Manager
Glasgow
From apprentice to technical subject matter expert in 10 years, Colin explains why he believes the company provides the perfect platform to succeed for those that are hungry to excel in their career.
What led you to join Thales and can you tell us about your career within the company so far?
Within 10 years I have moved from being a manufacturing apprentice straight out of school with no skills and expertise, to moving through three different job roles and becoming a subject matter expert in an exciting role.
In March 2009, I got the opportunity to visit the Thales site in Glasgow as part of the National Science and Engineering Week and was inspired to join the business as a manufacturing technician.
During my four-year apprenticeship, I got the opportunity to try lots of roles within the business, from working on periscopes and optronic masts, to thermal imaging cameras and handheld devices, lasers and integrating new technologies onto vehicles.
In August 2012, I started studying for a degree in Mechanical Electronic Systems at Glasgow Caledonian University for one day a week, alongside working in the mechanical design engineering department within Thales.
This led me to solidifying my position as a Mechanical Design Engineer and growing to the position of Mechanical Engineering Manager for the design team in 2017, which is a role that I still hold.
For this role I manage a team of designers and recently started managing the 13 engineering apprentices that we have in our Glasgow site. This involves liaising with the university to ensure that they are receiving the correct training and have development plans in place.
More recently, I have been made the technical and subject matter expert for model-based definition (the practice of using fully annotated 3D models) within Thales.
What are some of your career highlights during your time at Thales?
Only three months in to my role as a mechanical design engineer I was put on a new as the lead designer. This was an exciting opportunity to put my knowledge from my manufacturing apprenticeship into a practical design.
For 18 months I worked on developing the product alongside a senior engineer, all the way from concept stage, to through to it being production ready.
Being recognised as a subject matter expert has also been a highlight, as it is great to have the opportunity to help spread learning and development within the business.
Scotland has a huge engineering history, from the shipyards to the technology that Thales makes today, such as ground transportation systems on our rail network all the way through to the periscopes being deployed to submarines in Scotland.
I get a real sense of pride in seeing the technologies we work on being used and deployed in Scotland.
What are some of the best things about working at Thales?
The people make Thales. I work with an amazing team of people who are really supportive and want to help you succeed in your ambitions. 
The business' approach to its people and flexibility is another great thing. For example, I work a condensed week so that I can look after my daughter for three days over the weekend.
It is also great to work for a company that is a world leader in certain fields, which is rare as lots of companies follow in the footsteps of other businesses.
How is Thales evolving as a business to ensure that it remains a world leader?
Digital transformation is  a big part of our evolution. We are embracing technical innovation and continually looking at how we can grow and develop and grow the business by investing in new technologies. This will enable us to continue to be a world-leading organisation as we embark on the fourth industrial revolution.
What advice would you give for someone that would like to get into engineering?
I would advise students that are leaving school to heavily consider an apprenticeship of any form, as there are countless benefits and opportunities. The graduate level apprentice scheme, as opposed to a full-time degree, is a massive opportunity to kick start your career. It means your degree is paid for, you get to benefit from the business support network, you get paid to attend university and you get to develop your expertise and skills, whilst undertaking your studies.
Graduate apprentices also have far more experience than a graduate that is straight out of university, as they have had the opportunity to put their learning into practice through their work.
The opportunities are out there, you just need to find the right one for you.