Disruptive technologies are reshaping the world, and the aerospace market is no different. In aviation, the changes brought about by digital transformation have tremendous potential to impact flight efficiency, customer service, maintenance and security, with more than just airlines realizing the benefits.  Air traffic control, airports and passengers are just a few of the groups that will be impacted by the digital transformation in this ecosystem.
As connectivity becomes more prevalent across the aviation ecosystem it is helping to enable the proliferation of artificial intelligence, big data, cloud, mobility and social media components.  These are key aspects of digital transformation which Thales is leveraging for our customers.  What's more we're using these concepts to develop solutions for aviation that will achieve a level of disruption on par with what has occurred in personal for-hire transportation (on-demand taxi applications), delivery services (unmanned aircraft system solutions) and residential security systems (smart phone monitoring).Yet behind the scenes, many aviation businesses are still working to figure out how digital transformations enabled by a connected ecosystem will benefit the bottom line.
With most airlines already recognizing that connectivity is just the first step, they are now seeing that it's what a company such as Thales can do next that will really be transformative for both the front and back of the airline. This includes the addition of critical safety services, improved operational performance, a seamless ground/air experience for passengers and increased revenues for airlines. Beyond providing an enhanced experience for airlines and their passengers we are also helping to cyber secure the aviation ecosystem, improve travel safety and support better operational performance. 
ENHANCED EXPERIENCE
Airline passengers are already experiencing some of these transformations first-hand through in-flight broadband access, enhanced entertainment options and other services.  Thales is at the forefront, with more than 750,000 airline passengers using our InFlyt Experience systems every day, and delivering capabilities that allow a broadband Internet connection and live TV viewing at 36,000 feet in the air.
 
The connected airline gives air carriers an enormous opportunity to link aircraft, airports and their third-party service providers in a way that will help them understand their passengers' DNA and provide a new level of customer service, whether an aircraft is in the air or on the ground.
 
Just like an online consumer at home who is constantly fed a set of recommendations, airlines will soon be able to use data in the same way to help them improve their passenger experience and, in the process, achieve greater revenues.  This ability already exists in the terrestrial consumer world; Thales is working to apply it to the airline passenger world as well.
 
The same algorithms that provide information about online consumer purchases can help airlines know their passengers even better.  For example, airlines will see the flight patterns and preferences of their frequent fliers. Taken to the next level, airport and passenger data could be used to help a mother traveling with kids find helpful services, products and destinations during an airport layover.  During the same layover, business travellers, seniors and young couples could be similarly identified and notified of services that would create a unique, tailored experience.
 
Driving this transformation, of course, is an insatiable appetite for the connectivity of personal digital devices, and the expectation that they will be connected anywhere and at any time.  It's relatively easy to stay connected at home, in the office and in the airport, so why not on an airline?
 
The barriers to seamless in-flight connectivity are falling quickly.  Naturally, there is some additional infrastructure build-out required to remove the barriers that remain.  This infrastructure build-out, primarily space-based, will ultimately support broadband access to all airlines around the world.
 
In the meantime, "personalization" is going to remain the key word for airlines, and work is underway to enhance the experience with better advertising and shopping content by destination, and the creation of access to an always-connected travel experience – including scheduling/rescheduling information in the event of a delay, re-routing or cancellation.
 
Soon, we will enable pairing of personal electronic devices such as smart phones, tablets, fitness trackers and smart watches with an aircraft's on-board experience solutions – allowing airlines to monitor an in-flight micro-social network, with insight into what is "trending on board."
 
These capabilities will give airlines a critical look at passengers' interests to enable more personalized experiences for each passenger, which will drive brand loyalty, greater client satisfaction and stronger ancillary revenue streams.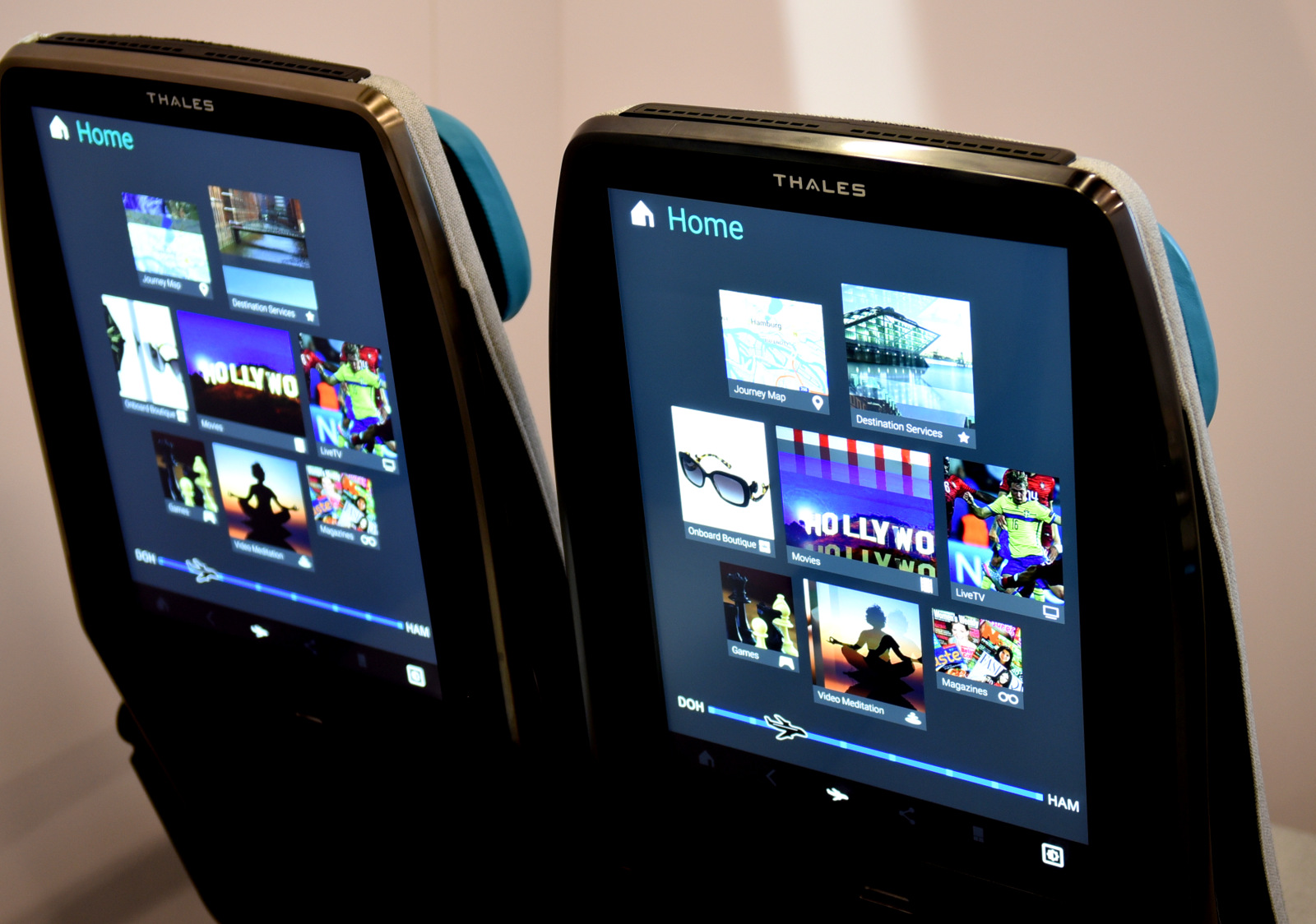 CYBERSECURITY
That isn't to say the enabling technologies behind this transformation are not without risk.  With such large amounts of operational and passenger data traveling wirelessly and shared through multiple systems, there is a natural concern for the security and integrity of a connected airline's passenger data, payment transaction information and IP of stored or streamed content. 
Thales' efforts to manage these risks are well underway.  We bring the technical knowledge from our security business – serving multiple markets across the globe – to our work in the aviation marketplace. This means we are also applying the same cyber scrutiny to our aviation  products that we would to defense, banking or other critical systems.  This is a differentiator for Thales, as we already protect 80% of the world's banking transactions, supply identity management systems in more than 25 countries, and have deployed the world's most extensive urban security system in Mexico City, Mexico.
In the aerospace environment it is our aim to tell customers that their systems are cyber secured by Thales.
SAFER TRAVEL
Ultimately, digital transformation of the aerospace market will make air travel safer.  The FAA's NextGen and the Single European Sky ATM Research (SESAR)  for example, are the respective U.S. and European  initiatives that will transform the existing, antiquated airspace systems. These initiatives to address outdated technology are deploying new satellite-based air traffic management capabilities and technologies to replace a radar and transponder systems which is decades old. These upgrades are necessary to prepare for the forecasted increases in air traffic. Demand into 2030 is expected to balloon according to the International Air Transport Association (IATA) doubling to 7 billion passengers by 2034.
In addition to supporting future air travel, these transformations will result in reduced flight delays, more efficient air traffic management and minimized environmental impacts from air travel. These systems are also making travel more predictable, quieter, cleaner and more fuel-efficient – and more importantly, safer.  Many new capabilities associated with these initiatives have been deployed at airports in the U.S. and Europe, and are already having an impact.
In the U.S. alone, the FAA expects NextGen to deliver $134 billion in direct airline, industry, and passenger benefits (passenger value of time and carbon dioxide emissions) through 2030.
Globally, the aviation industry is working to harmonize these systems.  What that means for air carriers is that any equipped aircraft in their fleet that travels across these systems will be able to benefit from these transformations wherever they fly.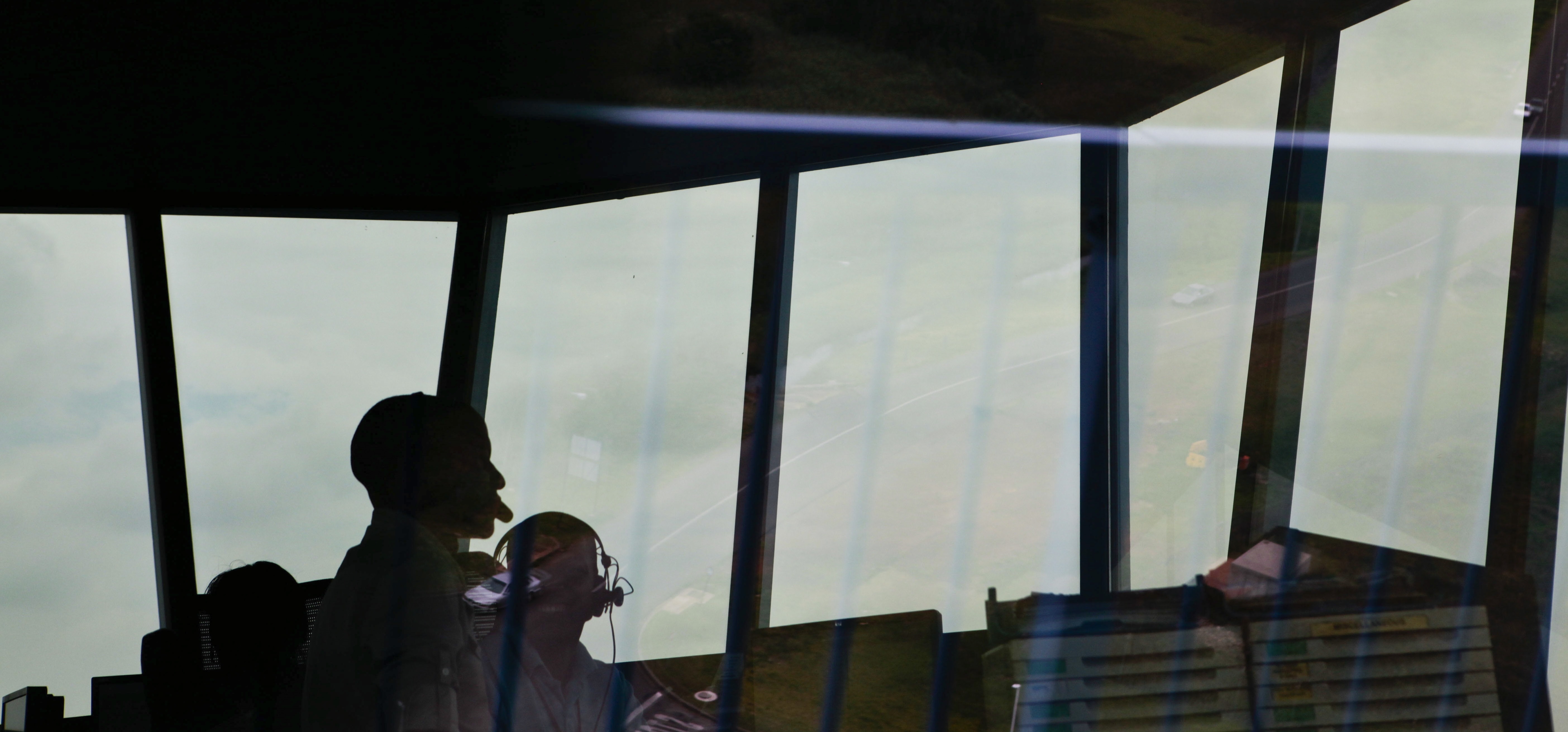 BETTER OPERATIONS
Enabled in part by global air traffic modernization and other systems coming online, big data analytics will play a major role in the digital transformation of the aviation ecosystem.  With close to a terabyte of information generated from each passenger airline flight – and even more from newer models such as Boeing's 787, Airbus' A350 and others – we are in possession of an embarrassment of data riches, which we are now able to leverage for our customers' benefit.
Data analytics are predicted to be one of the strongest transformation factors for airlines because of big data's potential to improve ground operations, support faster turn times and enable more effective airspace management solutions.  All of these improvements will inject efficiency into the system and generate savings for airlines that are typically operating on the slimmest of margins (an estimated 4% for 2015, according to IATA).
This new wealth of data is also leading us to a connected airline that understands more about its customers and meets their connectivity expectations – from booking a ticket, to arriving at the airport, taking a flight and beyond.  The right amount of in-flight bandwidth and the effective use of big data will get us there.
According to airline executives, industry leaders who want to stay competitive have no other option but to engage in this digital transformation as quickly as technology will allow.
Today, 60 percent of U.S. business travellers demand in-flight WiFi.  Recently, JetBlue CEO Robin Hayes acknowledged that within 5 or 10 years, ubiquitous in-flight broadband connectivity feet is going to be a basic requirement for 100 percent of air travellers.  So industry leaders who move early will have a tremendous advantage, he says.
But when he considers that some airlines still don't think that digital transformation is about giving customers what they want – by controlling or limiting Internet access, for example – he says, "It's enough to make your head explode."
At Thales, we will continue to work with industry partners to bring about these digital transformations which the airlines and the flying public demand.