Lucie, a pioneer in night vision!
The Lucie night vision goggle, the big sister in the growing family of Thales night vision goggles came into the world in 1995 at Saint-Héand. Since then, more than 70,000 units have entered service around the world.
Lucie, big sister of a large family of googles
 In 1995, the French defence procurement agency (DGA) launched a call for tenders aimed at equipping French infantry troops with night vision goggles. At the time, Angénieux had just been acquired by Thomson CSF*, enabling the firm to combine its in-house capabilities in opto-mechanical design with Thomson CSF's expertise in light intensification. Angénieux decided to take the plunge and join the adventure. Starting from a blank page, the teams at Saint-Héand were able to propose three functional prototypes to the DGA on schedule in just 10 months.
The new night vision goggle was named Lucie, from the French acronym meaning "economical intensified compact goggle", and referencing the Latin word "lux" or "lucis", meaning "light". Based on an original architecture patented by Angénieux, the goggle stood out from the competition thanks to its lightweight design, an extra flat profile to keep it close to the user's face and a wide field of view. An initial contract with the DGA for 10,000 units came in 1996, followed by numerous other successes in France and export markets that have boosted the number of Lucie NVGs currently in service around the world to 70,000.
These orders placed production activities at Saint-Héand on a secure and sustainable footing. The site's catalogue now encompasses around ten night vision goggle designs covering the full spectrum of applications (conventional dismounted soldiers, modern infantry soldiers connected to a combat system, special forces, vehicle drivers and helicopter/combat aircraft pilots). In just a few years, the teams at Saint-Héand became internationally renowned for their expertise in night vision goggles.
Following Lucie (1996), the family expanded with the arrival of Monie (2003), Minie (2010), Helie (2011), Minie-D (2012), Minie-D/IR (2013), Bonie (2015), Elfie (2018), Minie (for the ONYX contract, 2019 ) and Nellie (2020). All of the products in the family have retained the feminine resonance in their names provided by the final two letters – "ie", which stands for "intensified equipment".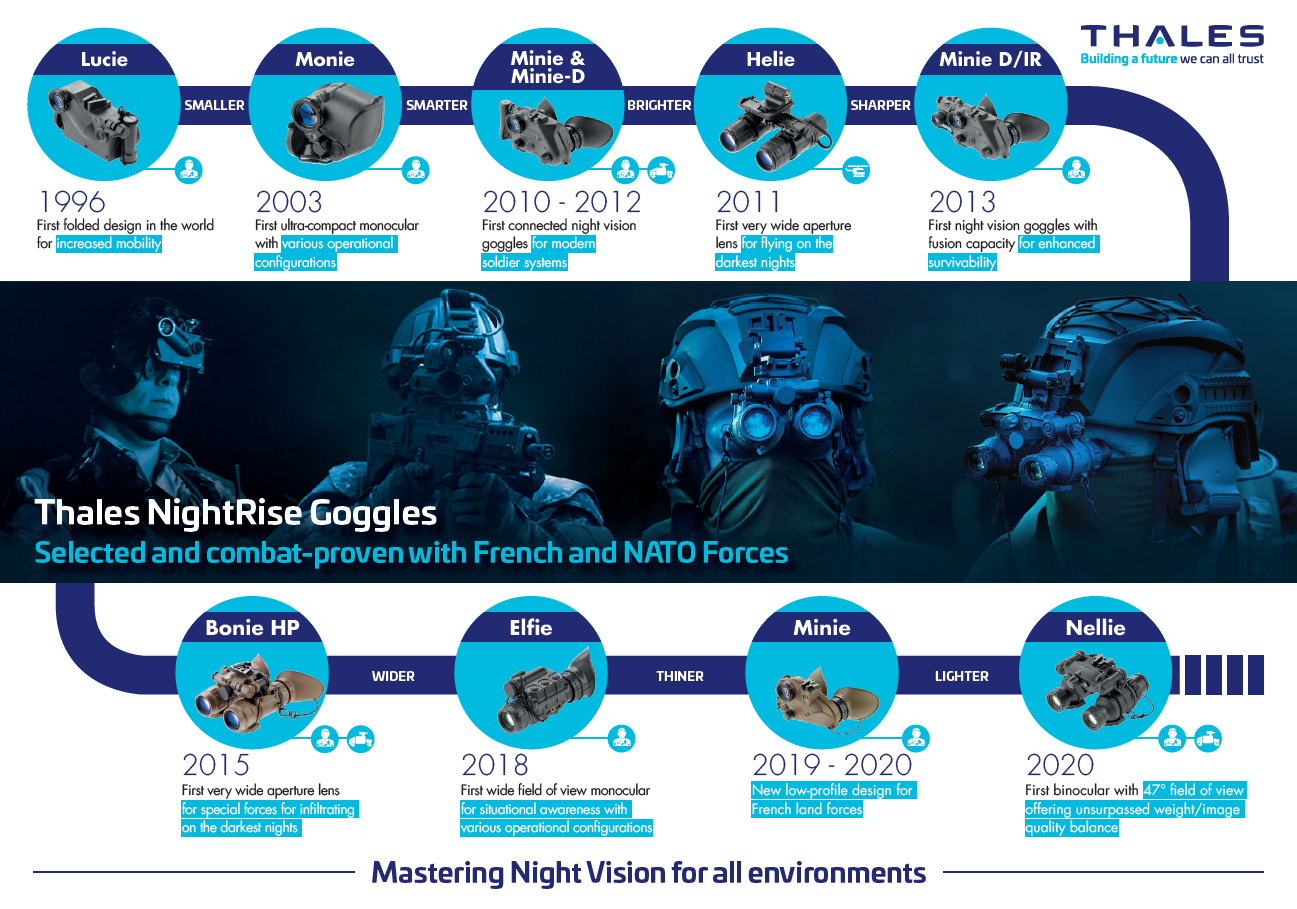 Challenges for new NVGs
"The challenge when developing a new night vision goggle is to achieve the best possible combination of compactness, power consumption, and wide field of view with no loss of image resolution. Our objective is to optimise the equipment's overall SWaP (Size, Weight and Power) performance to enhance the autonomy, perception and mobility of infantry soldiers." explains Gabriel Narcy, Product Design Authority
The choice of tube is a key element of NVG design.
Inspired by the eyesight of nocturnal animals, night vision goggles operate by amplifying residual light. Just like the retina in an animal's eye, the electronic components of the goggle capture photons passing through the lens, and convert them into electrons. In a night vision goggle, these electrons are then accelerated at high voltage in a vacuum tube, and projected onto a phosphor screen, which acts like a cathode-ray screen, and converts the signals back into images.
Various tube types are available (18 mm, 16 mm, glass-to-glass, twisted-fibre), and selecting the best type for each device and architecture is a key decision in NVG design. 
Learn more on Night Vision Goggles here.
Did you know?
While daylight binoculars magnify the image to supplement the capability of the human eye in daytime, night vision goggles have no magnification but their hands-free design allows infantry soldiers to see at night and be more mobile. 
Find out more about the science behind the choice of tube for night vision goggles. 
How to choose the right image intensifier tubes for night vision goggles by clicking here 
*In 1993, Angénieux was acquired by Thomson CSF, which changed its name to Thales in 2000 after the merger with the defence businesses of Alcatel and Dassault Electronique. The Saint-Héand site, with 350 employees, is now Thales's centre of excellence for dismounted soldier optronics, and remains the design and production centre for Angénieux cinema lenses. Angénieux is a Thales Group brand.