Thales to showcase its cutting-edge solutions for smarter and safer skies
World ATM Congress is the world's largest international air traffic management (ATM) exhibition and conference; Each year, the Congress brings together the world's leading product developers, experts, stakeholders, and air navigation service providers (ANSPs) to present and discuss the latest trends and developments in the sector.
From June 21 to 23, the Thales stand #515 gives visitors a scope of its Air Traffic Management and Surveillance solutions.
Supporting ATM around the world
Thales is engaged in all ATM major modernization initiatives and continually adapting to the ever changing needs of the aviation industry.
Thales offers a powerful modular system used to control traffic in continental en route, terminal approach, transcontinental and oceanic airspaces ; it has developed both radar and non-radar surveillance solutions to address all customer needs and cover a global surveillance for a safe and accurate airport, approach and en-route surveillance.
We look forward to meeting you on our booth!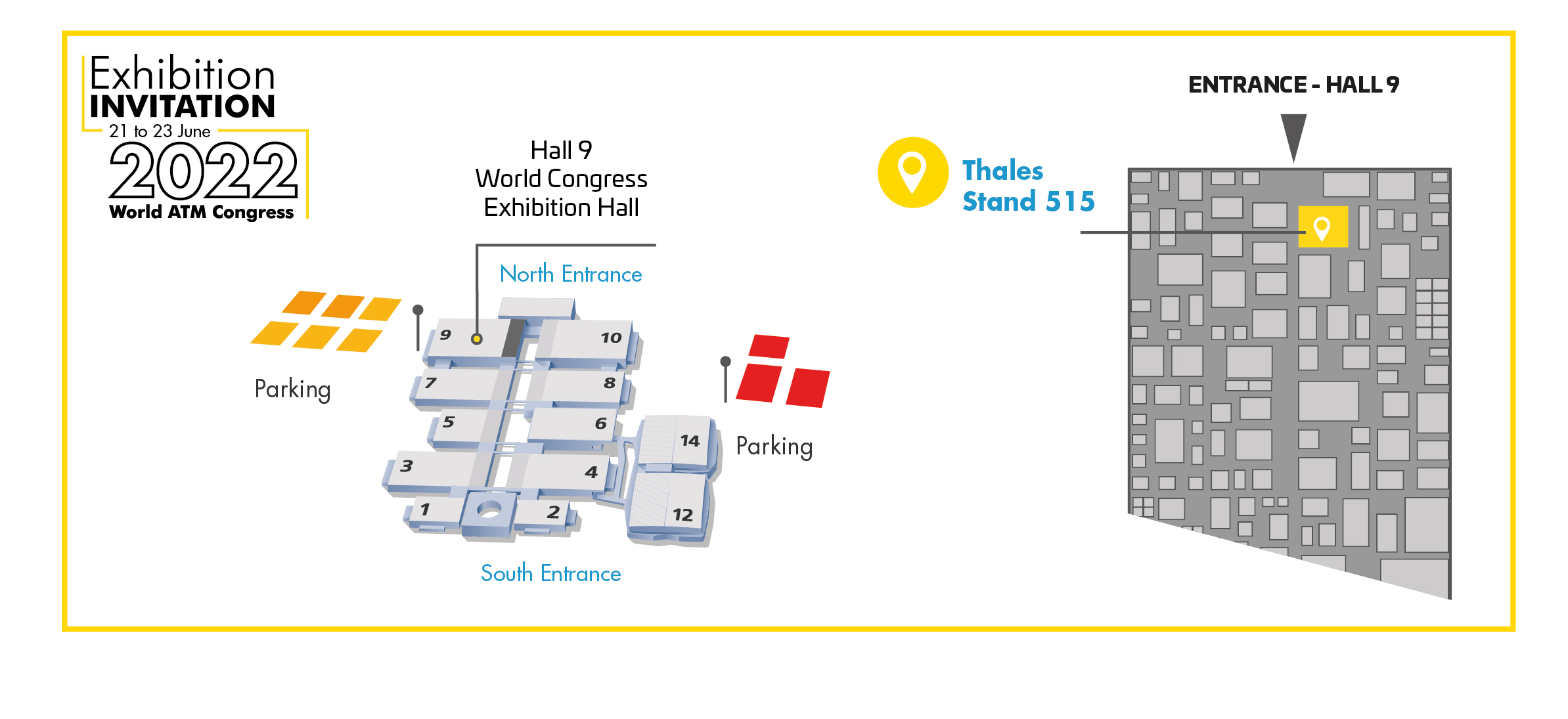 ON THALES' BOOTH 
Do you want to know more about how to boost and optimize your ATC efficiency, navigate safely, maintain situational awareness and airspace safety with an increasing diversity of UAVs to pin down, ensure safe and accurate air navigation as well as airspace surveillance coverage? 
Do you want to know how Thales is committed to build and implement a sustainable and greener aviation?
Our experts will welcome you on our booth to present our wide ATM portfolio and ask your questions.
CONFERENCES
Tuesday, 21 June - 16H45  - Wing ATM Theatre
Green Flag : a collaborative process & tools to perform more often eco-friendly operations
David Antonello - Product Line Manager, Thales
Didier Lucas, DSNA
Tuesday, 21 June - 17H20 - Wing ATM Theatre
Applying OT Cybersecurity in ATM Safety context​
Fabien Pouget  - Cybersecurity practice and discipline Manager, Thales
Wednesday, 22 June - 16H40 - Wing ATM Theatre
Getting to BVLOS: How to Build a Shared-use UAS Network
Frank Matus  - Director, ATC and Digital Aviation Solutions, Thales
Wednesday, 22 June -  14H10 - Tower Theatre
Performance-Driven ANS... Be Proactive!
Hervé Puget - Product Line Manager, Thales
Ahmed Abdulhameed Khatir Yahia - NavComm Engineer, SANS 
Wednesday, 22 June -  11H40 - Tower Theatre
Eagleshield Idtect for Drone Detection – Protecting Airports with an Integrated Solution
Younes Fada - Radar Manager, Thales
Wednesday, 22 June -  15H10 - Tower Theatre
Windfarm and Renewable Energy – How Sustainable Energy and Aviation Can Be Compatible
Steve Smith - Programme Manager, Thales
---
Visit World ATM Congress website