Inspecting power lines by drone
Drones have become a vital way of monitoring and maintaining industrial infrastructure. In the Meurthe-et-Moselle department of Eastern France, power grid operator Enedis is using drones to automatically inspect medium-voltage overhead cables.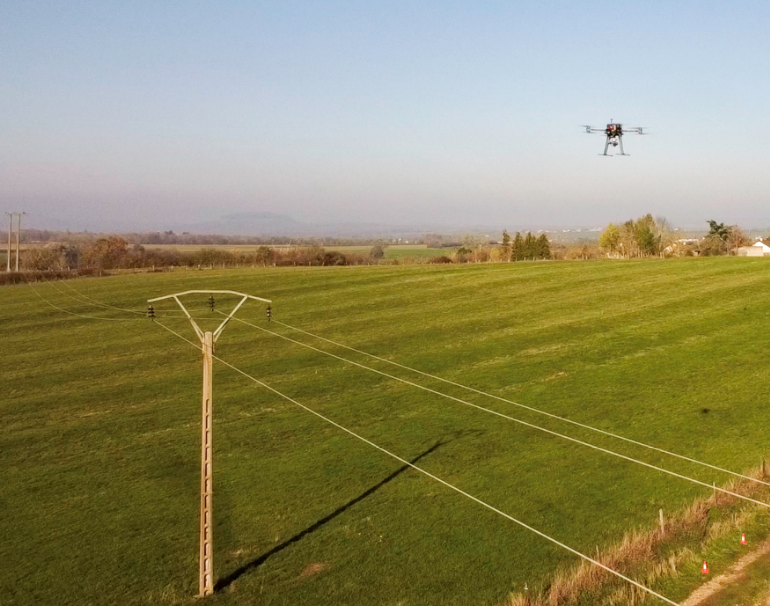 Safety around overhead cables and power plants is a priority. Each year, as part of its preventive maintenance programme, the power grid operator Enedis carries out inspections of one-third of its medium-voltage network, the equivalent of 110,000 kilometres of cable.
As an expert in critical infrastructure safety and security, Thales is supporting the drone trials as coordinator, systems integrator of supplier of secure 4G communication solutions. The purpose of this latest trial was to perform further tests with drone-borne communication technologies and algorithms.
These full-scale trials were part of the CEOS project, which is developing AI algorithms to help automate perimeter surveillance at airports and inspections of overhead power lines and penstock pipes for hydro plants. The CEOS project was launched in 2017 and field trials are now under way to develop a way of using drones to automatically inspect overhead cables. The latest tests were a chance to validate the new technology and prepare for fully automated inspections in the near future.
Drones have become a vital way of inspecting industrial infrastructure and can sometimes replace helicopters in this important role. They can fly into hard-to-reach areas, perform more frequent inspections and improve diagnostics by acquiring data more quickly and more exhaustively.
Thales is pleased to be part of the adventure and proud to be helping to keep critical infrastructure running smoothly and safely to build a future we can all trust.