Environmental responsibility in practice
After a forced absence of almost two years, the global COP26 conference is just around the corner, and will be taking place from 9-19 November in Glasgow. It's a good opportunity to take stock of some of the measures that are in place at Thales to address environmental issues.  We asked Sophie Le Pennec, Thales Group Vice President for Health, Safety & Environment, to tell us more.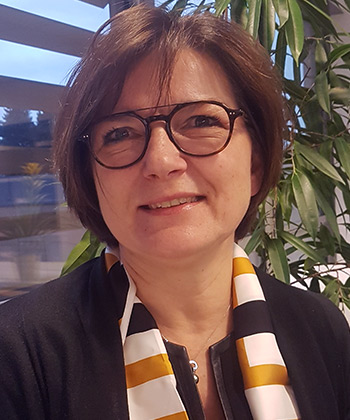 © Thales
Compared with other industries, Thales's activities do not cause a great deal of pollution. But the Group is no newcomer to the fight to raise awareness and take concrete action on environmental issues.
Thales has had a clear and consistent environmental policy in place for more than 15 years. Back in 2007-2008, we had already set ourselves ambitious objectives to measure the impact of our activities with a view to reducing their effect on the environment.
Since then, our efforts have gathered momentum [see infographic]. In 2019, we pushed ourselves to go even further by adopting our strategy for a low-carbon future. And last year we signed up to the principles and recommendations of the Task Force on Climate-related Financial Disclosures (TCFD), which is promoting the transition to a low-carbon economy based on the scenarios outlined in the Paris Agreement.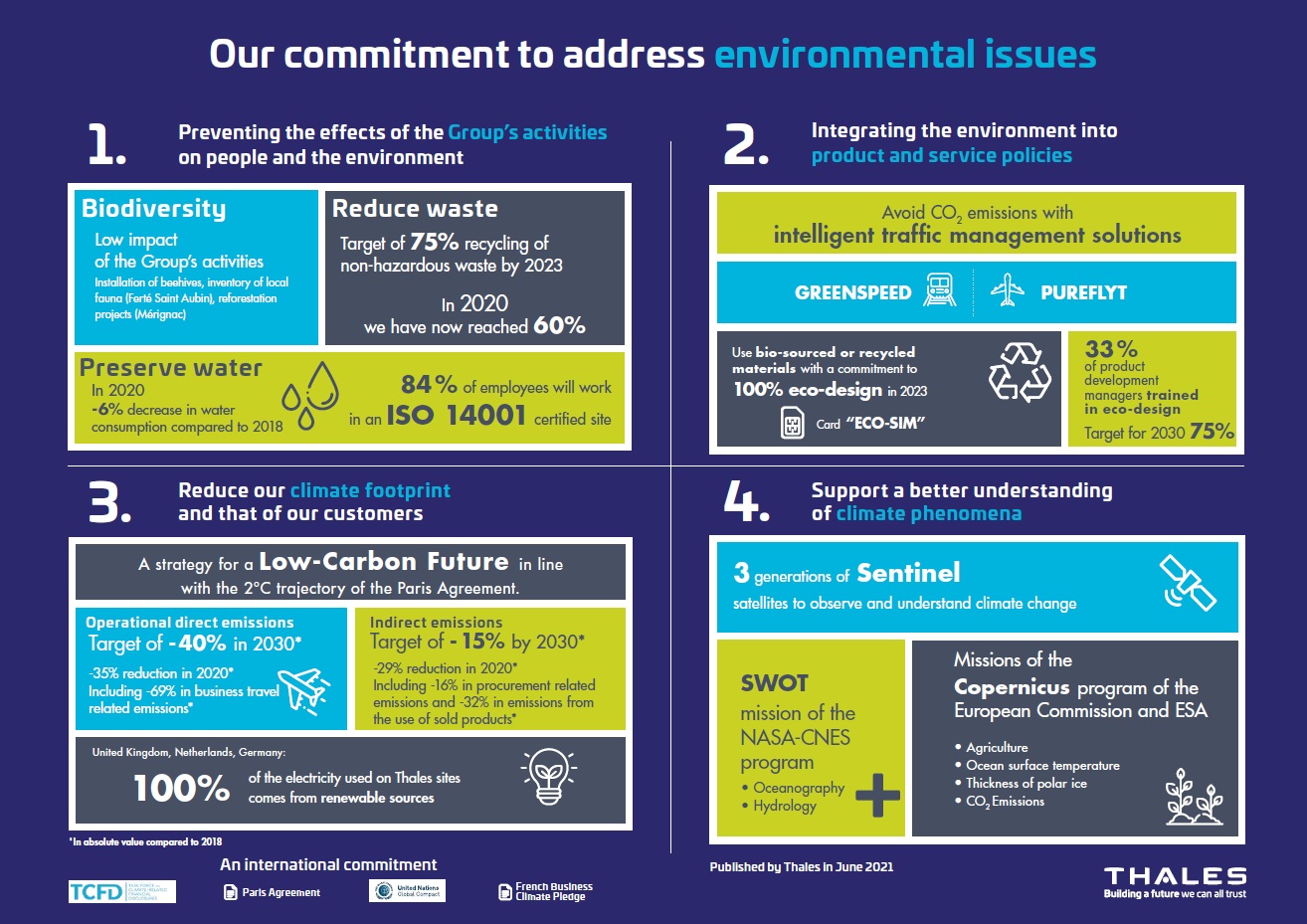 © Thales
How do you plan to meet this commitment?
Our strategy for a low-carbon future is built on three pillars: reducing our direct emissions and those due to our products and equipment; providing our customers with eco-responsible solutions; and supporting a better understanding of climate change, particularly through our involvement in space programmes. 
Let's start with greenhouse gas emissions …
We have already made a lot of progress by reducing the Group's direct operational emissions by 35% between 2018 and 2020. But we need to stay focused, especially in view of the crisis we have all been through in the last year, to ensure we reach our 2030 targets of cutting our direct emissions by 40% and our indirect emissions by 15% compared with 2018 levels.
How are you going to achieve those objectives?
Group-wide employee engagement is the first key to success, and innovation will also play a crucial role. We are exploring a whole range of ways to reduce the energy requirements of our products and activities: establishing the green identity of our product lines, improving the energy efficiency of our buildings, system miniaturisation, shared resources within a single device, energy-autonomous products, green mobility, solar-powered battery chargers, and more.
The second pillar of your low-carbon strategy is to offer customers more eco-responsible solutions…
Seventy-five percent of the world's population will be living in cities by 2050, so one important priority is to create the conditions for the kind of sustainable mobility that will bring down CO2 emissions. For air and ground transport operators, we are working on eco-designed solutions that are not only more efficient in operational terms but will also significantly reduce the environmental footprint of tomorrow's transport systems. For example, these solutions will reduce flight times, secure flight paths, reduce fossil fuel consumption and adapt traffic to user needs in real time.
More broadly, customers in every sector of the economy are becoming increasingly demanding when it comes to environmental responsibility, sometimes including specific terms and conditions in their requests for proposals even before a contract is awarded. 
All of us at Thales are highly motivated to develop products and systems that support the Group's environmental responsibility objectives and meet current and future environmental regulations, and we systematically try to include functions that reduce the environmental impact of our solutions. It creates value for customers and differentiates us from the competition at the same time.
This is a long-term undertaking, because environmental criteria need to be factored into every stage in the product lifecycle.
And how are you addressing climate change?
A better understanding of climate phenomena is a pre-requisite for modelling climate change, particularly with respect to global warming. The data used to build these models needs to be precise and reliable, and Thales is recognised as an expert in this field, partly based on our experience with Earth observation satellites.
Thales Alenia Space was prime contractor for the vast majority of the European geostationary weather satellites in orbit today. Last year, the company was selected once again for five of the six new missions of the Copernicus constellation of Earth observation satellites in the programme led by the European Commission and the European Space Agency. In particular, Thales will be the prime contractor for the CHIME mission (hyperspectral imaging for agriculture, food security, soil conditions, biodiversity, etc.), the CIMR mission (to measure the surface temperature of the oceans) and Rose-L (monitoring soil moisture and polar ice thickness). The Group will also be responsible for the payload on the CO2M emission monitoring mission.
What is Thales doing internally to reduce its own environmental footprint?
Waste reduction and recycling are among our main areas of focus, and we have undertaken to recycle 75% of our non-hazardous waste by 2023 compared with our 2018 baseline. This will call for a behavioural shift, in particular so we can avoid producing so much waste in the first place.
We have introduced a whole range of other measures over the last 20 years or more to limit our water consumption and protect biodiversity, and this has helped to shrink our environmental footprint quite substantially. Clearly, most of these initiatives have been taken at the local level, and I can tell you that we are not short of ideas, and that many of them are quite innovative. I would like to take this opportunity to thank everyone involved and encourage them to keep up the pressure!
Digital technologies are playing an increasingly important role in the world today. But digitalisation also consumes large amounts of energy…
Absolutely. This is an aspect of digitalisation that we are looking at very closely. To take just one example, we are currently developing innovative cooling and energy management systems for data centres and for our own cloud solutions.
Our research into quantum technologies and artificial nano-neurones could also revolutionise the environmental performance of digital technologies. These breakthroughs could reduce the energy needs of artificial intelligence applications by a factor of 100 or even 1,000.
There are many more innovative ideas and examples of technological progress — not to mention the day-to-day contributions of individual Thales staff — that will help us to tackle environmental issues. Because Thales's purpose of "building a future we can all trust" also means protecting our planet and assuming our environmental responsibilities to future generations.
Download Thales's Annual Environment Report 2020.
Thales Solidarity in step with the spirit
Thales's community engagement programme, Thales Solidarity, is also working to deliver on the Group's commitment to environmental protection, with a particular focus on the following areas:
•    resilience of populations to environmental risks
•    environmental damage prevention and management 
•    development of low-tech, non-profit solutions at the local level.
Find out more about the Thales Solidarity programme here. 
Don't cry wolf before you've seen him move! 
Revered, respected or feared by humans, the wolf has always held a special place in our collective imagination. Far from the fables and superstitions, Jean-Marc Landry and his foundation are studying these creatures' behaviours from a scientific perspective, using hand-held thermal imagers to watch their every move at night as if it was broad daylight. "Before we had these thermal cameras, we could only guess how wolves behave at night and how they interact with livestock. We had to rely on what we heard from local farmers and shepherds — but now we know for sure. Today we can record their movements and study their behaviours scientifically. It's a real revolution in our understanding of wolves," enthuses Jean-Marc Landry, director of the foundation that bears his name1.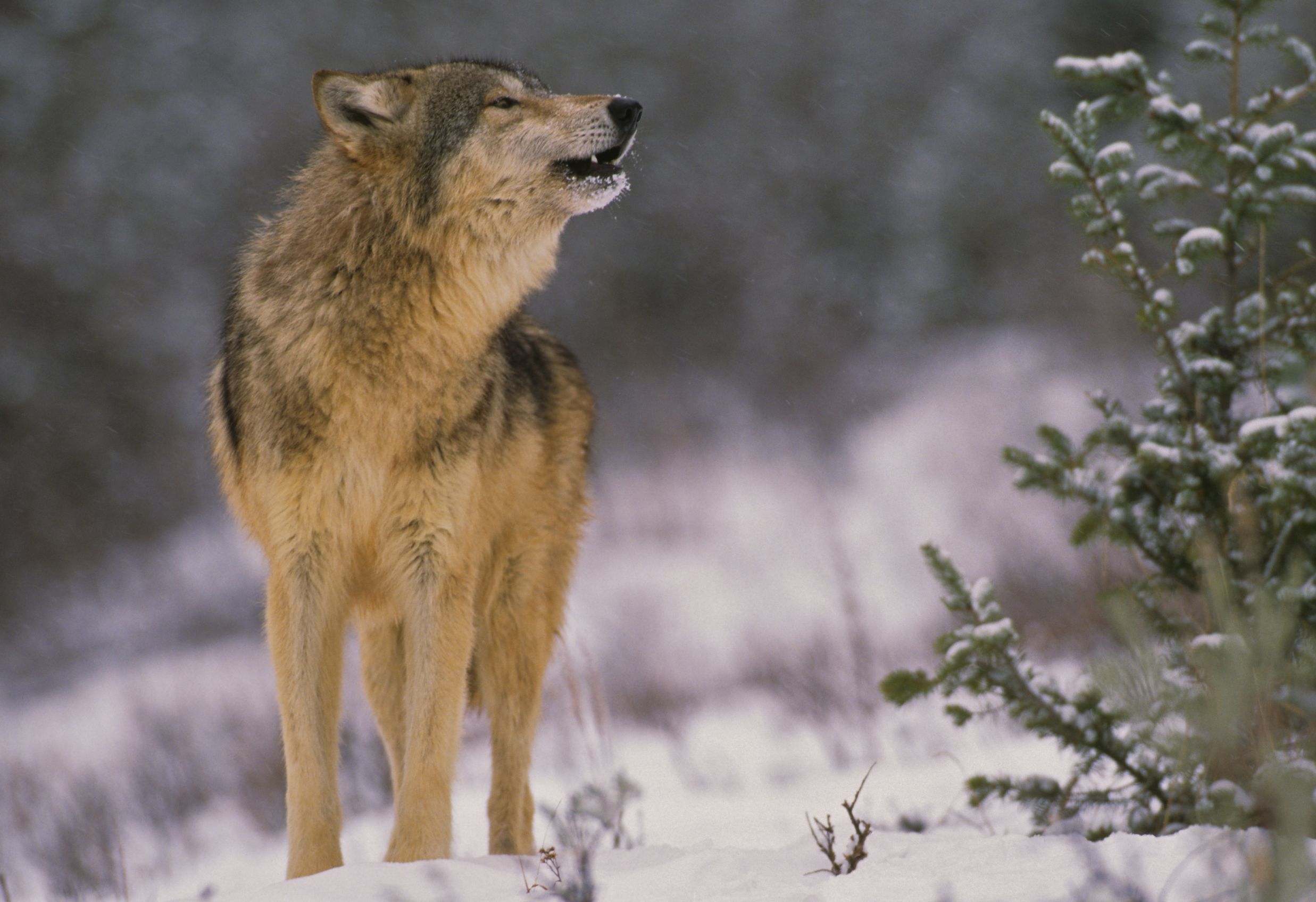 © 123RF/tom tietz
Thales's partnership with the Jean-Marc Landry Foundation over the last four years or so is nothing if not unusual. What could a small Swiss non-profit organisation possibly have in common with a global technology leader? Well, for starters, they share the same passion for scientific discovery, as Jean-Marc Landry explains: "
These Sophie thermal imagers have made a huge difference to our work, letting us film at night and zoom in on wolves from several kilometres away. The cameras are lightweight, extremely stable and easy to use — you can even change batteries with your gloves on! Above all, the image quality is outstanding, and we've been able to observe certain behaviours for the first time ever: how they jump fences, how they attack a lamb or even a calf, and also how a cow tries to protect her young from danger. One night we even saw a wolf curled up next to a herd of sheep, fast asleep! This equipment is expanding our knowledge in quite remarkable ways
." Since the beginning of its unique partnership with Thales, the foundation has had an opportunity to try out several models of the Sophie hand-held thermal imager. 
Peaceful co-existence 
The Jean-Marc Landry foundation doesn't take sides in the ongoing controversy about wolves and livestock. By studying wolf behaviours scientifically, it wants to work with livestock farmers to find the best ways protect their herds and see how humans can co-exist constructively with animals.
The partnership has provided plenty of insights for Thales too. Christophe Salomon, Executive Vice President of Land and Air Systems at Thales, says: "The team from the foundation provides valuable feedback about how our thermal cameras for land forces perform in a setting that isn't what they were initially designed for. And while everyone says the armed forces rely on commercial technologies to boost their operational capabilities, in this case it's quite the opposite. For this project, Thales was able to supply military-grade equipment to address a number of scientific and environmental challenges. Providing equipment as a service calls for a lot of agility, but it's certainly something we could explore with other non-military users, and it would be fully in line with Thales's commitment to environmental responsibility."
1
The Jean-Marc Landry Foundation is a non-profit organisation registered in Switzerland. Active at European level, but especially in France and Switzerland, it works to preserve biodiversity, protect endangered species and habitats, and improve the way large predators co-exist with humans. It has a particular interest in wolves and how they interact with livestock activities. For more information:
Fondation Jean-Marc Landry
 and
https://ipra-fjml.com
.