Thales once again in the Top 100 Global Innovators
Thales has once again been included in the list of the Top 100 most innovative global companies and research institutes, published by Clarivate Analytics. This is the eighth time the Group has been on the list since its inception ten years ago.
© LIGHT EX-MACHINA
Philippe Valéry, Strategy & Partnerships VP of Thales's Technical Directorate, draws some conclusions from this 2021 vintage.
Philippe, can you tell us a little about the criteria Clarivate1 uses to establish its annual list of the most innovate companies and research organisations worldwide?
The list drawn up by Clarivate – and it is a list, not a ranking – is based on the number of patents that companies and research institutes apply for over the long term – which demonstrates a continued effort on their part – as well as on their quality. This is measured both by the number of times they are cited in other patents and by the rate at which the initial requests are converted into actual patents. It also takes into account the international scope of the patents.
What strikes when you read the Top 100 list for 2021?
I think that the first thing of note is the number of companies on the list that have been around for more than a century – 29 out of 100, to be exact. The oldest of them, Saint-Gobain, was founded in 1665, and has been on the list for the past ten years! This goes to show that just because a company is old doesn't necessarily mean that it's unproductive, and also that companies with a long history – such as Toshiba (1875), GE (1876) and Thales (1893) – are still at the forefront of technological innovation today, and capable of inventing the world of tomorrow.
 
What we can also see in this year's Top 100 is the arrival of new companies and research institutes from China, Taiwan and South Korea. On the flipside, a number of French and Japanese companies have come off the list.
The third thing to note is the prominence of firms specialised in electronics and semiconductors, with the inclusion of companies such as Bose, Kinpo Electronics, KLA, ASUS, Arm and Qorvo.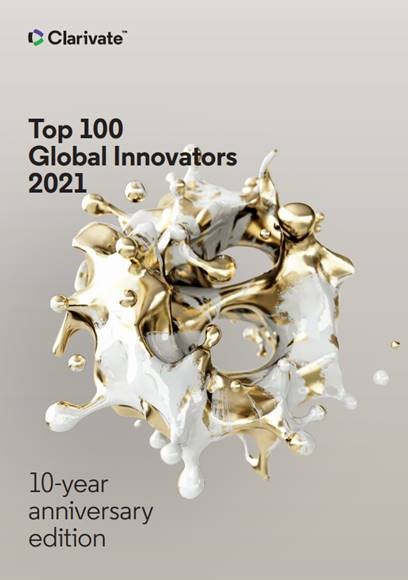 © Clarivate
What does this mean for Thales?
First of all, let's not be shy about how proud we are to be in the Top 100 global innovators, and, what's more, for the eighth time. It's a fantastic acknowledgement of the quality of our intellectual property, of our international reach, and, above all, of the vitality of our patent portfolio. I use the word vitality because we're talking about a five-year period over which our patents have been cited in other patents, which shows that the influence of our intellectual property is not just a kind of historical legacy, but is in fact very much relevant today.
 More broadly, I think it's also a fine reward for the quality of our R&D, and for the excellence of our teams and their creativity.
Our inclusion in the list underlines the soundness of the Group's strategy with regard to R&D and the significant human and financial resources it commits to it. 30,000 staff – almost a third of the company's global workforce – work in technical fields, and Thales invests 20% of its revenue in R&D, and more than €1 billion euros a year in self-funded R&D. 
At Thales, we've long understood that we can't innovate on our own. Our whole strategy in this area involves building an infrastructure that is co-developed with our customers and based on academic and entrepreneurial partnerships.
We intend to maintain this dynamic, even in these current times of crisis, because innovation is at the very heart of our DNA, and only through innovation can we build sustainable development.
 
1 Clarivate Analytics is a British company that owns and offers tools and services based around intellectual property and the creation of scientific knowledge. It publishes many scientific journals.